Summer dainties: cherry semifreddo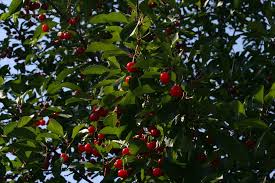 This cherry and chocolate semifreddo is one that you can make for your family celebrations.
The joy in semifreddo is in its fluffy, soft texture. In Italian, semifreddo means "half cold", which is a perfect description for this mousse-like ice-cream that remains velvety, even straight out of the freezer. The mixture is whipped, so it contains a lot of air and sugar, which keeps it from becoming too hard. Better still, no ice-cream churner is required!
Cherry and chocolate semifreddo
serves 6–8
250g cherries, pitted (fresh, frozen or drained jarred morello cherries are fine), plus extra to serve
170g (3⁄4 cup) caster sugar
375ml (1 1⁄2 cups) thickened cream
6 egg yolks
125ml (1⁄2 cup) milk
300g dark chocolate, melted and cooled
Line a bar or loaf tin (about 20–25 cm long is best) with plastic wrap, making sure there is enough overhang on all sides to fold over the top of the semifreddo.
Place the cherries and 115g (1⁄2 cup) of the caster sugar in a saucepan and simmer over a low heat, stirring, for 3 minutes, or until the sugar dissolves. The cherries will release some of their juices. Remove from the heat and allow to cool.
Whip the cream until soft peaks form. Place in the fridge to chill until required.
Beat the egg yolks in an electric mixer on medium speed for 4–5 minutes, until thick and creamy.
Meanwhile, heat the milk and the remaining 55g (1⁄4 cup) of sugar in a small saucepan, stirring, until the sugar dissolves. Bring to a simmer, then remove from the heat. With the mixer motor running on the lowest setting, very slowly trickle the milk mixture into the beaten egg yolks. Increase the speed to medium and continue to beat for about 4–5 minutes, until the mixture is fluffy and cold (feel the bottom of the bowl to gauge whether the mixture is cold).
Stir the cooled melted chocolate into the mixture, then gently fold in the softly whipped cream until it is all combined. Don't stir or fold too vigorously, as you want the mixture to stay light and airy.
Fold half of the cherry syrup into the chocolate mixture. Spoon the rest of the cherry syrup over the base of the loaf tin, then pour the chocolate mixture over the top. Smooth the top with a spatula, cover with the overhanging plastic wrap and place in the freezer overnight or until firm.
To serve, cut into thick slices and serve with extra cherries.
Tips
Swap out the chocolate for pureed fruit such as raspberries and strawberries. The semifreddo can be made a week in advance – or longer.
This semifreddo contains raw eggs, so avoid serving to those who shouldn't eat raw eggs.