Artist Hugo Wilson on Myths, Human Nature, and Why Painting Matters.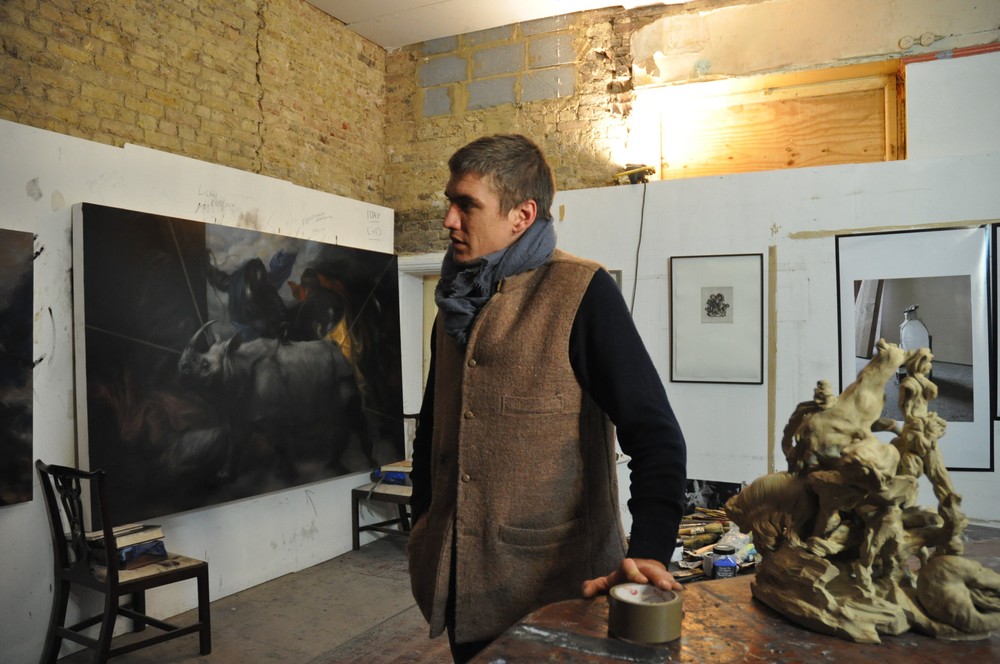 The young British artist Hugo Wilson is urrently exhibiting his second solo show at the London gallery Parafin, provocatively titled "Rape of Europe." Yet, the exhibition is not a straightforward exploration of the contemporary malaise that is currently engulfing both the continent and the UK. Instead, Wilson has taken a plethora of references from art history—including Greco-Roman and Baroque sculpture, and Old Master paintings by the likes of George Stubbs, Peter Paul Rubens, and Nicolas Poussin—and recombined them in configurations that tackle the way culture generates systems of belief and meaning.
artnet News interviewed the London-based artist to explore his enduring interest in animals, his special relationship with painting—despite embracing other media like charcoal drawing and sculpture—and what lies ahead of him in 2017.
Your exhibition is titled "Rape of Europa" which, in these turbulent circumstances, could be seen a quite a provocative title, besides of course referencing the classic myth. Are you addressing the Brexit vote and migrant crisis specifically?
Yes, it was a deliberately provocative title. What I am really interested in with my work is human nature and the need for ideologies. The decision-making behind these things is often based on constructs that were cemented a long time ago and haven't been questioned since. The reason I used the title "Rape of Europa" was initially to do with one of the parts of the painting that I had appropriated (as I do often in my practice), but as we were discussing titles for the show, it seemed more and more apt.
The idea that the name Europe is based on a myth in the first place echoed a lot of my frustration, and also interest in, the idea that history repeats itself, human nature doesn't change its simple factors, and that a lot of these constructs—including nationalism—are simply a way of creating a structure and feeling of safety, but actually often to the detriment of that safety.
So, while it was not directly a political thing to do with Brexit, all these issues are always incorporated into what I'm thinking.
How important is art history in your work as an artist?
Very, but actually what I'm interested in is the ideologies that allowed those pieces of art to exist. Why pieces of art are created in the first place, and not always what they are.
How does this last series of works relate to your artistic practice at large?
I'm comfortable at the moment in my conceptual framework, and I feel that actually I've created a little world in which I can kind of go anywhere, and at least feel comfortable in myself doing it. I think these works are more confident than ones I've made in the past, and I've begun to really embrace the theatrical nature of making large naturalistic oil paintings.
And actually the Corten steel sculptures are a direct acknowledgement of the Arcadian nature of what I'm up to, except I don't think Arcadia is vines growing over ruins any more.
What's next for you? Any new projects you are working on at the moment?
I'm just finishing up a show for Berlin Gallery Weekend at Galerie Judin next April, then a few presentations with Parafin, and I've been commissioned to make my first large outdoor sculpture, which I'm really excited about.
Hugo Wilson, "Rape of Europa" is on view at Parafin, London