Eric Lu from Boston won the Leeds piano competition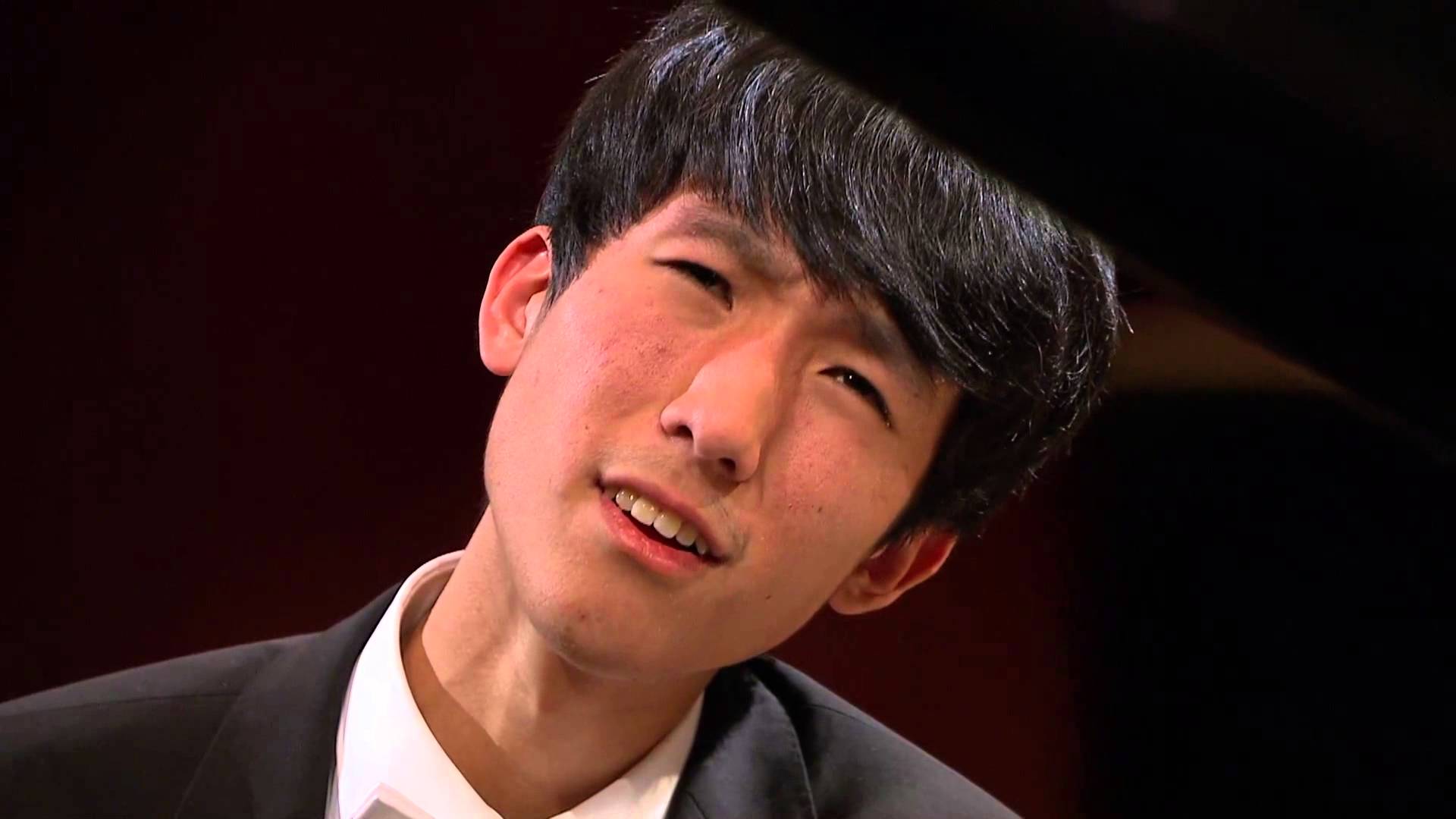 The 19th Leeds piano competition was won on Saturday night by Eric Lu, a 20-year-old from Boston in the United States, whose sparkling and supremely confident performance of Beethoven's fourth piano concerto secured him the top place, and also the Hallé orchestra prize.
The rebooted competition, held every three years, was co-founded 55 years old ago by Dame Fanny Waterman, and rapidly established itself as one of the world's foremost piano events, launching the careers of musicians including Radu Lupu, Murray Perahia, Mitsuko Uchida and András Schiff.
The competition's new directors, pianist Paul Lewis and Adam Gatehouse, announced an ambitious reboot that touched on every aspect of the competition. "We want to redefine what a music competition can give to young performers as well as audiences," said Lewis, who also stressed that the competition needed to nurture its winners in the long term to help them develop lasting careers.
Twenty-four finalists aged between 20 and 29 were chosen from first rounds held in April in Berlin, New York and Singapore. The second round, in Leeds in early September, whittled that number down to 10, from which five finalists were selected, who each performed a concerto with the Hallé orchestra and conductor Edward Gardner in concerts in Leeds town hall on Friday and Saturday night.
Musical rethinks, such as the addition of a chamber music round and contemporary music among the programme requirements, helped ensure that a more rounded and versatile musician was on show; finalists' communication skills were further tested with the submission of a short written piece about their choice of repertoire.
Masterclasses, talks and school and community visits from jury members and competitors have made the city the pianistic heart of the country these past 10 days. "The reach was crucial to us," said Gatehouse. "I was in Leeds for 2012 and 2015 and you could be forgiven for not knowing there was a competition taking place here."
This year, with the steps of the grand Victorian town hall painted into piano keys, the world's smallest concert hall just outside, and posters, banners, and a colourful piano trail across the city, no-one can have been unaware of the event.
Margaret Short, 74, who was among the audience at the packed town hall for Saturday's concert said, "It was always very good, but you can see some changes this year – everything needs to move on."
"It's really nice to visit this international musical event," agreed Jemima and Jackie Hawkhead. "I play the piano in my spare time – and am here because I love watching other musicians," added Jemima, 19.
James Grayston, 15, is also an amateur pianist. "It's my first time at the Leeds competition," he said. "I'm interested to see all the professionals. It's a great thing that this happens and that Leeds hosts it."
A new digital partnership with online classical music platform Medici also brought a large global audience. Over 500,000 people in 140 different countries watched the competition live or on catchup. Medici viewers were also able to vote for the Audience prize, awarded to 23-year-old Chinese pianist Xinyuan Wang, who placed third in the final ranking. As in previous years, homegrown talent was in short supply – two UK musicians were in the final 24 but neither made it to the final five, which also included Russian-born Anna Geniushene, Aljoša Jurinić from Croatia and 28-year-old German pianist Mario Häring, who was awarded the second prize and also the Chamber Music (Yaltah Menuhin Award) prize.
"Winning here is a great honour," said Lu, who was given his prize by superstar pianist Lang Lang. "This competition has such a rich history with so many of my favourite musicians among previous winners. Beethoven's fourth is such a miraculous piece; it was an inspiration and a joy to play."
Lu, the youngest finalist, had already caught international attention as a prize-winner aged only 17 in the 2015 Chopin competition. He is currently studying at the Curtis institute in Philadelphia, but can now look forward to a busy performing and recording schedule. The Leeds winner's first professional engagement will be next Thursday with the Royal Liverpool philharmonic orchestra and Vasily Petrenko, concerts at London's Wigmore Hall and the Southbank Centre. Tours in South Korea and Europe are also in the diary, as well as an album contract with Warner Classics.
Eric Lu said it was a 'great honour' to win the competition.
"In the end, it boils down to – would you want to hear this pianist again? Would you buy a ticket and then head out in the pouring rain to hear this person play?" said jury chair Paul Lewis. "The winner needed to have an individual voice which really communicates something without getting in the way of the music."
The jury made their decision based on performances in every round but, in accordance with rules established in the competition's early years, were not allowed to confer. "I've never been on an jury where you didn't discuss the matter in hand with your fellow jurors," said Gillian Moore, Southbank Centre's director of music and one of the nine jurors.
"You really have to trust and believe in your own knowledge and instincts. But it is remarkable how at every stage of the competition there has a form of consensus." She agreed with Lewis: "Ultimately you're listening to be bowled over and entertained – like you would be in any concert."