Are scooters the future of city transport?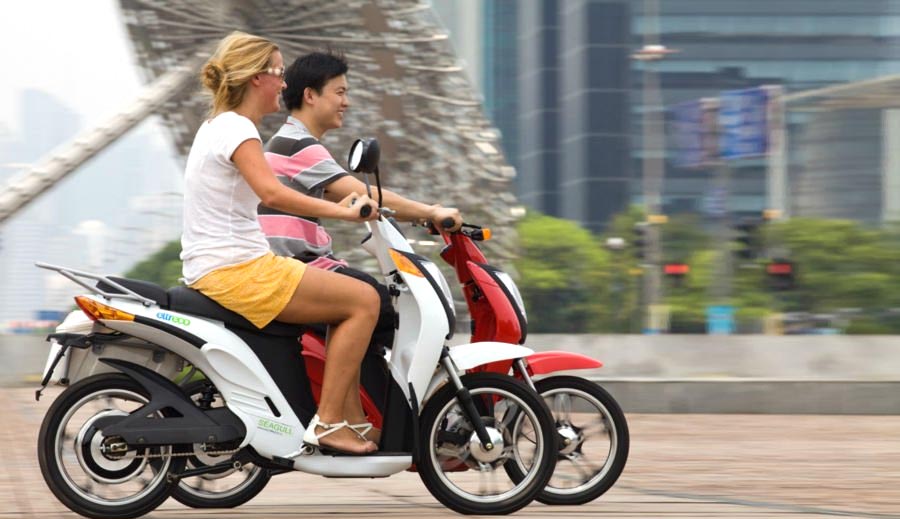 One of the biggest stories in technology this year is the exploding popularity of Bird, Lime, Skip, Spin and Scoot. They're all electric scooter-rental services, and their vehicles are suddenly buzzing along city streets and sidewalks around the world. These startups allow riders to locate and unlock scooters with an app. When they reach their destination, they just walk away. Some drivers and pedestrians see the scooters as dangerous contrivances that must be stopped, while some urban planners consider them, along with bikes, the future of city transport.
What accounts for the rise of scooters?
Cars often aren't the quickest way to travel in dense, urban areas. Many cities looked to bicycle-sharing services and bike lanes as a better option for shorter trips and as a way to reduce carbon emissions. Electric scooters, which can cost less than $2 per ride, are an offshoot of that. Investors looking for the next Uber Technologies Inc. and Lyft Inc., the app-based car-hailing services, are adding to scooter-passion by pouring money into companies like Bird and Lime, touching off a city-by-city race to become the premier scooter brand. Not to be left behind, even Uber and Lyft are launching competing scooter businesses.
How prevalent are scooters?
Bird, started by a former executive of Lyft and Uber, operates scooter services in about 40 U.S. cities, while Lime is in 23. Bird started the trend in late 2017 with its launch in Santa Monica, California, and suddenly it seemed scooters were everywhere. Scores of unattended vehicles on city sidewalks have resulted in pushback from people complaining of urban chaos, and some cities have started to cap the number of scooters they'll allow. But in most U.S. cities with sharing services, the number of scooters barely exceeds 1,000. By comparison, 45,000 Uber and Lyft drivers worked in San Francisco in 2017, according to the city's attorney.
What about outside the U.S.?
This year, Bird expanded to France and Israel. Lime has established a presence in France, Germany and Spain. Scooters are even more prevalent in parts of China, an early pioneer of the market. No company has been able to break into the U.K., however, because of strict laws that classify the scooters as motor vehicles requiring drivers' licenses and subject to tax and insurance. Even then, regulators won't allow scooters because they don't comply with "normal vehicle construction rules." Riding on the sidewalk isn't an option, either, thanks to a 19th century law stipulating footpaths are for the sole use of pedestrians.
Who makes them?
For now, most sharing services aren't building their own vehicles. Instead, they buy scooters from Chinese manufacturers, with various levels of customization, and then brand them. From its inception, Lime has tried to distinguish itself by designing its own scooters. Uber has announced plans to integrate bike- and scooter-sharing services on its app, and has even begun to engineer its own scooters in San Francisco.
Is this a profitable business?
Investors think they can be: The valuations of Bird Rides Inc. and its main competitor, Lime, are over $1 billion each. But skepticism is warranted. It could be a short-lived fad. Even if it isn't, scooter companies must have the capital to absorb costs beyond acquiring fleets of vehicles, including maintaining them and charging their batteries daily. There's little reason for riders to be loyal to one company, and if rivals compete by lowering prices, they could lose much of their margins. Lime has said it can raise revenue from advertising. Scooters could end up being one option in an integrated transportation service providing everything from short-term car rentals and bike-shares to ride-hailing and train tickets, putting the upstarts at a disadvantage to Uber. There's also the question of how city regulations will affect scooter economics.
Are they legal?
From the beginning, Bird and Lime said they had learned the lessons of ride-hailing companies, which had alienated many city governments by launching without explicit permission. Then both companies mimicked the "ask for forgiveness, not permission" strategy. As a result, the scooter-sharing companies have faced bans or cease-and-desist orders in a handful of cities, and city lawmakers have been quick to regulate them by requiring permits, limiting the number of vehicles, awarding exclusive franchises and allowing scooters to be parked only in designated areas.
Is this the next chapter in the fight over ride-hailing?
Yes and no. The scooter industry is experiencing some of the same problems as ride-hailing, with startups butting heads with local governments. But there are key differences. With ride-hailing, entrenched taxi industries argued that unregulated upstarts had an unfair advantage. There is no such incumbent industry opposing scooters. Urban congestion and climate change have also made alternatives to automobiles more popular with city governments. The controversies over scooters may end up being just growing pains.
Is this the future of city transport?
It's too soon to tell. Bike-sharing hasn't had a revolutionary effect in most U.S. cities. In many places, weather will make scooters a seasonal activity at best. Also holding them back is the country's deep-seated automotive culture. Unlike in Europe, riding a bike isn't seen as something a serious adult does to get around town, let alone taking a scooter. Transportation experts think city governments could change that attitude with protected lanes, convenient charging stations and dedicated parking spaces for scooters.