BLOOMBERG NEW ENERGY FINANCE SUMMIT, NY.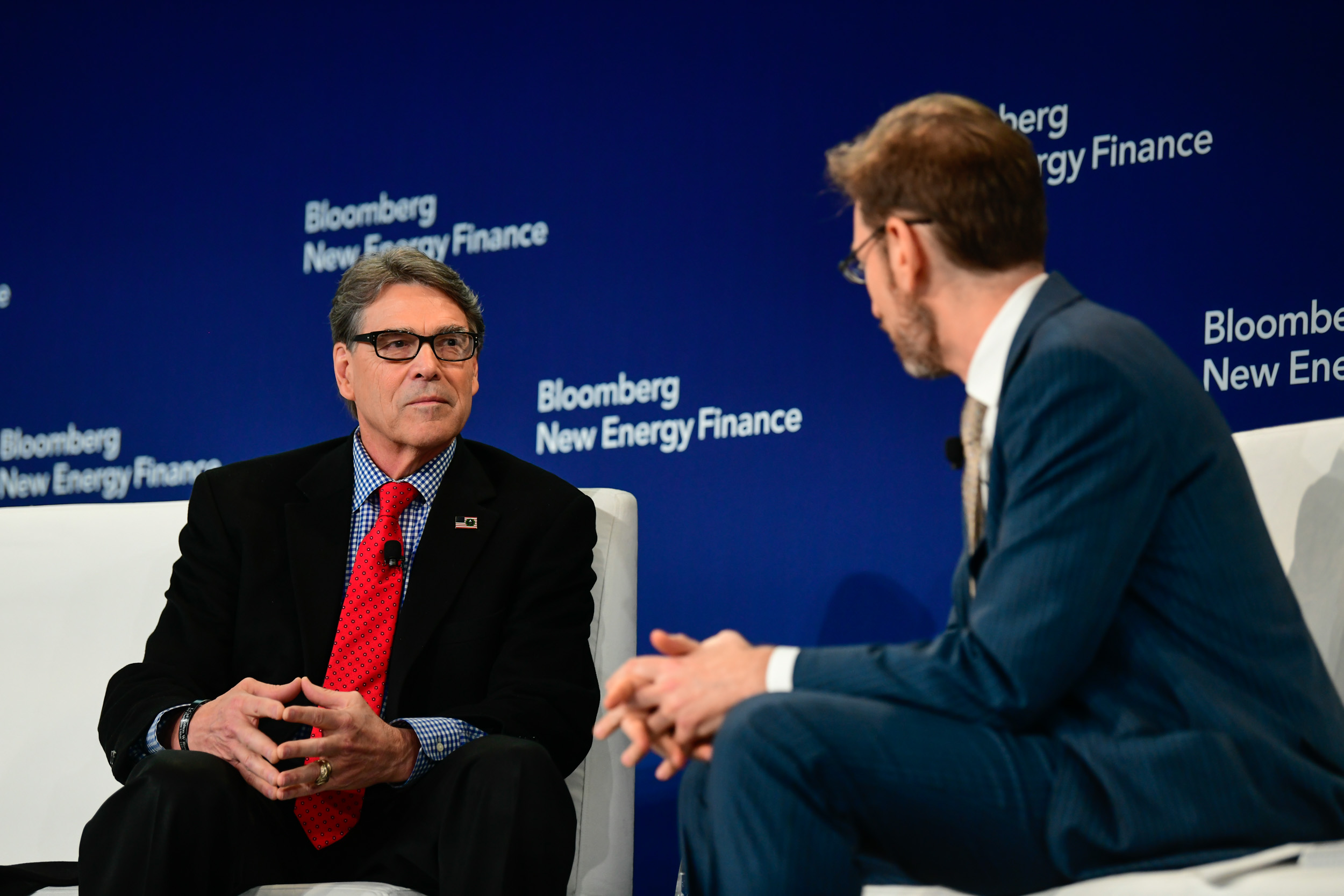 the 2018 New Energy Pioneers.
On April 9, Bloomberg New Energy Finance (BNEF) announced 10 winners of the 2018 New Energy Pioneers. The winners are responding to changes and disruption in the energy system, and are pursuing new opportunities in areas as diverse as storage, EV charging, digitalization, heat recovery, and blockchain, organizers say.
The ten winners were selected from more than 160 applicants from 47 countries. Each candidate was assessed against three criteria: technology or business model innovation, and what novelty it brought to the market; evidence of substantive progress in the form of strong commercial partnerships, the distribution channels in place and sales growth; and the potential to scale and have a global impact.
The 2018 New Energy Pioneers are:
Advanced Microgrid Solutions (U.S.) designs, develops, and manages portfolios of distributed energy resources providing dynamic grid management and value to wholesale markets.
data and provide its users with insights about their energy consumption.
Bidgely (U.S.) is a load disaggregation company that uses machine learning and data analytics to process smart meter
BURN (Kenya) has designed and manufactured over 370,000 clean cook stoves, improving both air quality and access to power for low-income households.
Climeon (Sweden) has commercialized the extraction of electricity from low-temperature heat (70-120 degrees Celsius), used in the context of waste heat or geothermal power.
 Enbala (U.S.) operates a real-time energy-balancing platform creating controllable and dispatchable energy resources from flexible loads, energy storage and renewable energy sources.
Greenlots (U.S.) is a hardware-agnostic provider of electric vehicle network management software and services. These give utilities, cities, communities and automakers the ability to control grid loads through smart charging and demand response.  Limejump (U.K.) is a demand response energy technology company and the largest virtual power plant operator in the U.K., using proprietary software to aggregate and manage a distributed fleet of flexible assets.
LO3 Energy (U.S.) is an early mover in peer-to-peer energy trading using blockchain technology, and is developing other applications for its blockchain platform.
 SaltX (Sweden) is an innovator in storing heat chemically, using a proprietary salt-based technology. This uses a nano coating and graphene to prevent salt crystals from growing when energy is stored, greatly improving the number of storage cycles whilst also reducing corrosion.
WiTricity (U.S.) has developed wireless charging through magnetic resonance technology, allowing high-efficiency power transfer for the electric vehicle industry.
Michael Wilshire, selection committee chair and head of strategy at Bloomberg New Energy Finance, said, "This year, we have seen a sharp uptick in the number of applicants that use digital technologies and software to help make the electricity system more resilient, flexible and efficient – all critical elements of a more decentralized and renewable energy system."
"Emerging technologies such as machine learning and blockchain are being used to improve decision making and to make operations more efficient, as well as to create new capabilities, such as peer-to-peer energy trading and the ability to manage complex sets of distributed assets. Transport is being transformed, with two of this year's Pioneers developing infrastructure, software, and services to support the rollout of electric vehicles. And we continue to see strong innovation in other areas, such as storage and energy in developing markets," he added.
FINALISTS OF $20M NRG COSIA CARBON XPRIZE
The NRG COSIA (Canada's Oil Sands Innovation Alliance) Carbon XPRIZE is a part of XPRIZE's portfolio of Energy and Resources prizes and long-term vision for accelerating revolutionary energy technologies to help move the world towards a clean, abundant energy future.
On 9 April, XPRIZE announced the 10 teams advancing to the final round in the $20M NRG COSIA Carbon XPRIZE. This global competition challenges teams to transform the way the world addresses carbon dioxide (CO2) emissions through breakthrough circular carbon technologies that convert carbon dioxide emissions from power plants into valuable products. The event was part of BNEF's Future of Energy Summit.
Ranging from carbon capture entrepreneurs and start-ups to academic institutions and companies that have been tackling the challenge for more than a decade, the finalists hail from five countries and have already demonstrated conversion of CO2 into a wide variety of products, such as enhanced concrete, liquid fuels, plastics and carbon fiber. The universe of potential CO2-based products crosses a variety of energy sectors, industrial processes and consumer products.
The NRG COSIA Carbon XPRIZE finalists were chosen from a field of 27 semifinalists. The competition is divided into two parallel tracks with five teams competing in each:
The Wyoming Track includes five teams that will demonstrate conversion of CO2 emissions at a coal-fired power plant in Gillette, WY:
Breathe (Bangalore, India) – Led by Dr. Sebastian Peter, the team is producing methanol, a common fuel and petrochemical feedstock, using a novel catalyst.
C4X (Suzhou, China) – Led by Dr. Wayne Song and Dr. Yuehui Li, the team is producing chemicals and bio-composite foamed plastics.
Carbon Capture Machine (Aberdeen, Scotland) – Led by Dr. Mohammed Imbabi, the team is producing solid carbonates with applications to building materials.
CarbonCure (Dartmouth, Canada) – Led by Jennifer Wagner, the team is producing stronger, greener concrete.
Carbon Upcycling UCLA (Los Angeles, CA, USA) – Led by Dr. Gaurav Sant, the team is producing building materials that absorb CO2 during the production process to replace concrete.
The Alberta Track includes five teams that will demonstrate conversion of CO2 emissions at a natural gas-fired power plant in Alberta, Canada:
C2CNT (Ashburn, VA, USA) – Led by Dr. Stuart Licht, the team is producing carbon nanotubes.
Carbicrete (Montreal, Canada) – Led by Dr. Mehrdad Mahoutian, the team is producing cement-free, carbon-negative concrete that uses waste from steel production as an alternative to traditional cement.
Carbon Upcycling Technologies (Calgary, Canada) – Led by Apoorv Sinha, the team is producing enhanced graphitic nanoparticles and graphene derivatives with applications in polymers, concrete, epoxies, batteries and pharmaceuticals.
CERT (Toronto, Canada) – Led by Dr. Alex Ip of the Sargent Group at the University of Toronto, the team is producing building blocks of industrial chemicals.
Newlight (Huntington Beach, CA, USA) – Led by Mark Herrema, the team uses biological systems to produce bioplastics.