Walt Disney: amazing and inspiring entrepreneurial courage and success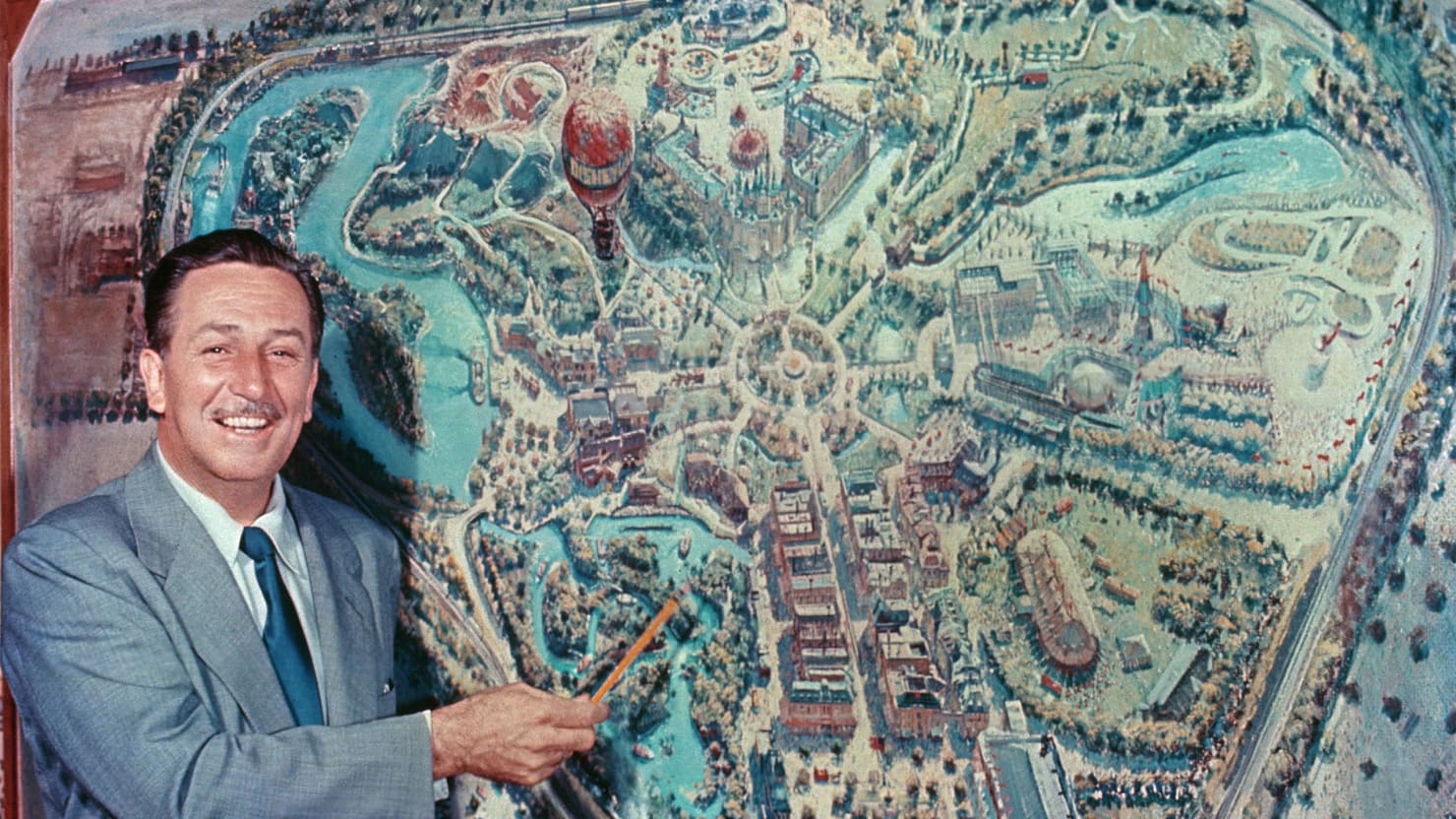 December 5 is Walt Disney's birthday. Born in 1901, Walt Disney passed away on December 15, 1966 at the age of 65. As a legendary and iconoclastic entrepreneur, his rags-to-riches life story is one of amazing and inspiring entrepreneurial courage and success.
Walt Disney was a tenacious visionary who dedicated his life to the pursuit of entertaining and educating people. Time magazine declared Disney as one of the top 20 "Builders and Titans" of the 20th Century, in good company with people like Henry Ford, Sam Walton, and IBM's Thomas Watson Jr.
In a poll conducted in 1967 by the University of Michigan to ascertain opinions as to the greatest entrepreneur in American history, Disney placed second, right behind Henry Ford, and ahead of such luminaries as Andrew Carnegie, Thomas Edison, Nelson Rockefeller, and other industrious giants of American business.
Curiosity, Confidence, Courage and Commitment
What made Walt Disney different from most was his possession of rare attributes of entrepreneurial tenacity, curiosity, confidence, courage, commitment and imagination. He lived a value-centred life that helped to guide his assessment of problems and opportunities, and most importantly, his decisions and actions.
Walt Disney was able, time after time, to organize capital, people, and processes in order to take an idea he conjured up in his imagination and create it in reality in a way that positively influenced the lives of millions of people.
In his heyday, Walt Disney was the world's most recognizable and popular entrepreneur and global celebrity. In 1966, the year of his death, an estimated 240 million people worldwide watched a Disney movie, 100 million watched a Disney television show every week, and 80 million read a Disney book or magazine. In 1968, there were almost ten million visitors to Disneyland in California, more people than visited the U.S. National Parks combined.
Prime Mover and Innovator
The key creative force and prime mover behind all of this was Walt Disney himself, as those who worked closely with him were quick to acknowledge.
Walt's career as an artist began in Kansas City in October 1919, at a time when technological innovation was just beginning to drive changes in cinematography and movie exhibition that would continue over the following decades.
While many companies were making cartoons 'shorts' to be exhibited prior to the feature movie back in the early decades of the twentieth century, Walt Disney's studio was the first to successfully add synchronized music and sound effects to animation (Steamboat Willie, 1928). His studio introduced the first full-color cartoon (Flowers and Trees, 1932), added depth to visual dimension with the multi-plane camera (The Old Mill, 1937). They also created the first full-length feature cartoon (Snow White and the Seven Dwarfs, 1937) which proved that animated features were viable if they were done with Disney quality and integrity; and expanded the audio dimension with RCA in the development of multi-channel sound ("Fantasound" for Fantasia, 1940).
Walt was the first Hollywood mogul to embrace television and establish its commercial value (1954). He introduced the first TV infomercial (one of his first TV shows was a documentary on the making of his soon to be released live-action movie 20,000 Leagues Under the Sea). Walt Disney demonstrated the educational potential of television through entertaining nature documentaries. He redefined the amusement park and invent the theme park (Disneyland, 1955). And demonstrated the viability of modern transportation systems like monorails and automated people-movers.
He was also a maverick of service innovation and set the benchmark for customer-focused managerial practices and service standards that more than a half a century later, most service companies can only dream of emulating.
Entrepreneurial Spirit
Walt Disney thrived on the challenge of pushing forward the boundaries of applied technology in the field of entertainment. He was the consummate first-mover and early-adaptor, and shrewdly and purposefully used these technological innovations to his competitive advantage. His perpetual forward momentum to pursue his ideals against all obstacles and nay-sayers made him the poster boy for the idealized American entrepreneurial spirit.
Walt Disney is the untiring business hero who, time after time, risks everything he owns to create something new, something bigger, something better, only to wake up the next morning with a new dream and a bigger vision to work towards as soon as he can muster up the time and resources to devote to it. He developed ideas, incubated projects, and experimented with concepts and technology development for years, and in some cases for decades, before bringing them to commercial fruition.
Walt assumed many roles over his 45 year career: he was a cartoonist, film-maker, technological innovator, TV celebrity, Hollywood Studio mogul, serial entrepreneur, business executive, urban planner, and real-estate tycoon. He was visionary and successful in each phase of his career, but success never came easily. The story of Walt Disney is the story of his struggles to overcome business challenges and obstacles along his life trajectory.
The Benchmark for Excellence
Walt was a chronic perfectionist. His explicit attitude was that he would spend whatever it took in terms of time and money to make Disney films like Snow White and Pinocchio, and other Disney projects such as Disneyland and his involvement in the 1964 New York's World's Fair the benchmark of excellence. Many times he drove his company to the brink of bankruptcy in pursuit of his unique vision of what could and should be, in terms of improved quality, technological innovation, "product" perfection, and overall excellence. He put top-line creation ahead of bottom-line profits, By committing to do more and go further than his competitors would dare even imagine, he was able to deliver unique value to consumers, and win their admiration, respect, and good-will.
Walt Disney was a passionate pursuer of values; a man struggling to create in reality the ideas he incubated in his imagination. He brought unbounded enthusiasm to each of his projects and had unshakable confidence in his own ability and that of his staff to achieve the desired results where others saw only looming disaster. The perceived recklessness of Walt's behavior helped him earn a reputation amongst bankers, competitors, and even employees and friends at times, as being difficult to do business with and needlessly irresponsible. They failed to see the world of business opportunity, risk, reward, and value creation the same way Walt did.
Time and again, Walt Disney proved them wrong.
Pursuing Opportunities and Overcoming Barriers
Where Walt imagined the possibilities inherent in opportunity and sought ways to overcome barriers so as to create valued products to make customers happy, others focused their imaginations on perceiving only the barriers and risks that stand between new ideas and success. Where others saw only storm clouds, Walt saw both the storm clouds and the rainbows that would inevitably follow.
Throughout his career, Walt held contempt for the viewpoint as popular in his day as it is now, that business leaders should provide products of the lowest quality standards the buying public will let them get away with, because doing so is the best way to minimize financial risks and maximize profits.
Value and Respect Your Customers As People
Customers are the people the business is organized to serve and who hold and play the cards that will determine whether a business will be successful or not. Walt never lost sight of the fact that to stay in business he had to find ways to balance his own personal passions, interests and values with those of audiences he sought to entertain.
Walt was "old-fashioned" enough to believe that success was achieved by earning an honest buck. His personal values were also his business values, and he held fast to those values throughout his careers in order to guide his difficult and turbulent path to entrepreneurial greatness.
How Walt put all of this together to build an empire that still dominates 50 years after his death is the story is told in the book The Business of Walt Disney and the Nine Principles of His Success (Theme Park Press). Illuminating Walt Disney's path to success can provide inspiration to anyone seeking to traverse their own paths to entrepreneurial and managerial success by turning imagination and future vision into tomorrow's reality.