World's biggest passenger plane flies from London to New York City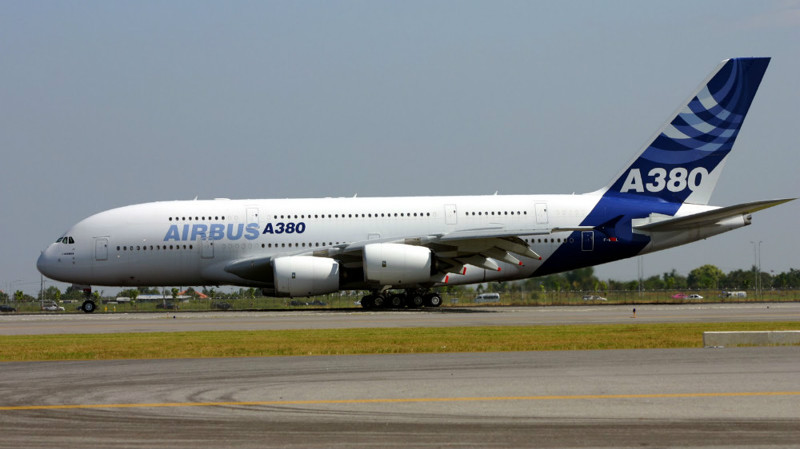 Eleven years after it entered service, the world's biggest passenger plane has finally been deployed on the planet's premier long-haul route: London to New York.
But the secondhand A380 will fly the route for only three weeks.
The "SuperJumbo" has been chartered by Norwegian for its Gatwick-JFK operation. It is needed to cover for Boeing 787 Dreamliners which are out of service due to continuing problems with their engines.
From 3 to 23 August one of Norwegian's two daily services on the route will be operated by an A380 belonging to the Portuguese charter airline, Hi Fly.
Hi Fly has acquired one of the A380s formerly leased by Singapore Airlines.
It has re-painted the jet with a campaigning slogan "Coral Reefs Gone By 2050".
According to Hi Fly's publicity, the cabin configuration has remained the same, with 12 first class "suites", 60 business class seats and 399 economy seats.
Passengers who have booked Norwegian's premium economy are expected to be offered lie-flat business class seats.
A spokesperson for Norwegian said: "We have hired a Hi Fly A380 to operate our evening London-New York service for several weeks in August as continued issues with a specific Rolls-Royce engine type affecting our 787 Dreamliner fleet has reduced our aircraft availability. This is in line with other airlines that have been affected by similar problems.
"We are pleased to be able to offer this solution to our customers to ensure that their journeys remain unaffected, the A380 SuperJumbo offers a high-quality experience between London and New York courtesy of Norwegian."
But the maiden flight on Friday evening is currently running four hours late due to "stand congestion" at New York JFK.
The Airbus A380 has so far been a commercial failure, with only 331 orders, experts say. In comparison, the Boeing 747 Jumbo jet has sold more than 1,500.
By far the biggest customer of the SuperJumbo is Emirates, with almost half the deliveries so far.
Virgin Atlantic, one of several airlines that originally ordered the plane, formally cancelled its order for six A380s earlier this year.
Airbus still believes there is potential for new orders for the jet because of the unrelenting growth of aviation and the fact that airport infrastructure is failing to expand at the same rate — especially at London Heathrow.
Yet while Emirates flies six A380s a day between Heathrow and Dubai, the plane has never been commercially deployed by any airline between London and New York – even though it is by far the busiest long-haul route in the world.
The SuperJumbo could potentially extract more value from "slot-constrained" airports, of which Heathrow and Gatwick are the most prominent examples.
British Airways, which has a dozen A380s, would be the obvious candidate. But instead it deploys a mix of 777s and ageing Boeing 747s from Heathrow. BA also flies a daily 777 from Gatwick to JFK in competition with Norwegian.
But the business travellers who pay handsomely – up to £6,000 one way – to fly between the world's main financial capitals have always appeared more interested in frequency than scale.
The temporary deployment of the A380, though, may provide data on whether a budget service between London and New York using the giant jet could be viable. In turn, that would boost the prospects for the A380 if a meaningful second-hand market were to develop.