Beauty and grandeur of antique Genoa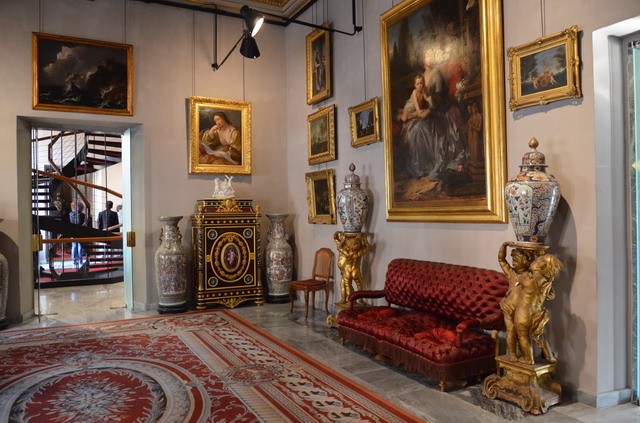 True art is eternally young and undying.  Beauty and grandeur of great canvases and architectural compositions fill our heart with celestial harmony and peace. Visit Genoa to delight in its amazing unique antique beauty.
Palazzo Rosso
A 17th century mansion-museum, in a setting of noteworthy architectural and decorative interest, it houses the historical furnishings and art collections of the Brignole-Sale family. Works by Van Dyck, Durer, Guercino, Veronese, Reni, Preti, Strozzi. Paintings and, on a rotation basis, drawings and prints by Guercino, Cambiaso, Carracci and Reni, are presented in the new rooms which have been enriched with furniture of great value. The roof-top belvedere and large terrace overlooking via Garibaldi, a 300-seat auditorium and a documentation Centre on Genoa's history, art and imagery, are available for public enjoyment.
Palazzo Bianco
This Picture Gallery, enriched with new exhibition rooms, offers a rich and articulated cross-section of Italian (Veronese, Filippino Lippi, Caravaggio, Procaccini, Morazzone) Flemish (Memling, G.David, Massys, Rubens, Van Dyck) and Genoese pictorial art from the 15th to the 18th centuries.
Palazzo del Principe
Built in the first half of the 16th century on the orders of Andrea Doria, Admiral of Emperor Charles V, and completed by his heir Giovanni Andrea about a century later, this is the only "royal palace" belonging to a city Republic.
The interiors, recently restored by the Doria Pamphili family, the owners, feature a wealth of frescoes, tapestries and wooden furnishings. Of particular note is the hall with the fresco depicting the Giganti fulminati da Giove (Giants struck by Jupiter's lightening), by Perin del Vaga (1533), and the tapestries dedicated to the battle of Lepanto in 1571.
Revealing Roman influences in Renaissance design, it was built before the palaces of the Strada Nuova, marking the passage of Genoese architecture from the Middle Ages to the Renaissance and from the city palace to the suburban villa.
The building was once encircled by gardens that stretched out to the sea on one side and the hills on the other. In the centre was the magnificent fountain of Neptune, symbolising Admiral Doria, still visible today, while on what is now the back of the villa, a statue of Jupiter once stood as an allegory of Emperor Charles V, from whom Andrea received his title of prince.