He applied his talent in chocolate industry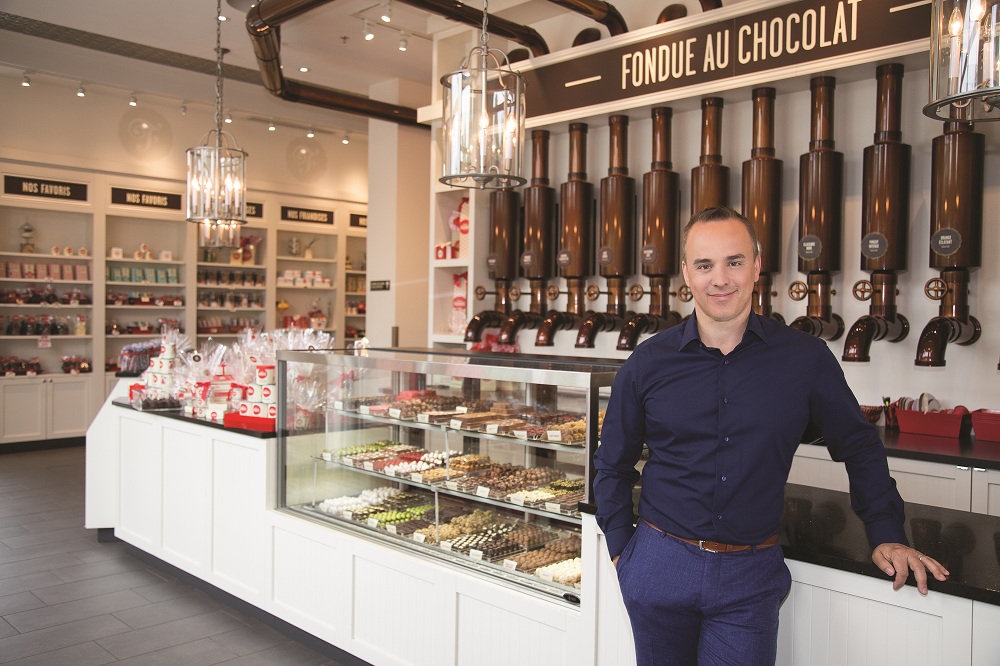 In 2012, Dominique Brown says he was the coolest dad around. "At some point that year I had a chocolate factory and a video gaming company. My kids loved it."
The 39-year-old Quebec City native has since left his gaming pursuits altogether to apply his talents to the retail scene, after acquiring three ChocolatsFavoris shops. The small chain of artisanal chocolate shops were a popular mainstay on the local scene, whose claim to fame was soft ice cream cones dipped in 100% real chocolate, among other noteworthy confections.
Since Brown took on the challenge, ChocolatsFavoris has grown to 32 shops in Quebec, Ontario and B.C., with plans to reach 40 by the end of this year.
One might think the leap from gaming to chocolatiering is a massive one. But it actually makes perfect sense for Brown.
He got off to an inauspicious start when he was kicked out of high school and ended up working full time in an arcade parlour, for minimum wage. "That was the glorious beginning of my career," he says.
But his aspirations were always much bigger than that. "I had the idea I wanted to create my own company and publish video games all over the world." The self-taught programmer left the arcade and landed a job at the only video game studio in the city at the time.
When that company pulled up stakes in 2000, he decided to stay and start his own studio. Five years later, his company, Beenox, was acquired by Activision for an undisclosed amount. "I was 26 and barely speaking English when I sold the company. It was all quite a shock for me."
Brown stayed on for seven years helping the company grow from 30 to 500 employees. That experience influenced him a lot in creating his retail concept, he says. "In video gaming, you are creating a universe for customers to immerse themselves in. I wanted to bring that to the chocolate industry."
He admits that when he bought the stores, he had no plans to stay in retail. "A non-compete agreement forced me to stay out of IT and video for a year. But I wanted to give myself and my team a new challenge: create something completely unique in the chocolate world and bring the company as far as we could in one year."
He and his team started working on rebranding the company. The revamped in-store experience launched in 2013 combines elements of both the gaming and microbrewery worlds. It was such a hit with customers, one year has now stretched to five — and the growth continues.
"When we looked at how to create a unique take on chocolate, we took an approach that was similar in video games. We went and listened to movies, looked at ads – we put everything about chocolate on a wall," Brown says. "We discovered what's so magical for people is liquid chocolate. Think about Charlie and the Chocolate Factory – it's all about chocolate rivers and waterfalls. It was the same on TV. It makes people dream and their eyes sparkle. So we built our entire concept around that."
The microbrewery influence is reflected in the design of the store, where multiple flavours of liquid chocolate are delivered through pipes and dispensers, and samples available for taste testing.
Although he started as a sole owner, Brown has since added two internal partners and three external ones, including Daniel Gauthier, the founding president of Cirque due Soleil, and Alain Bouchard, co-founder and chairman of Alimentation Couche-Tard. "I had a great team internally, but I wanted to extend further than Quebec. With what was coming, I needed as much experience on the team as I could get."
In September 2015, volume grew to the point where the company had to build a new headquarters, production and distribution facility. The design for the new 42,000-sq.-ft. building is inspired by the open concept approach so popular with tech startups. "I want all of our people to be close to the product at all times and be able to see what our chocolatiers are developing."
According to Brown, the in-store experience is all that matters to customers. "That's the future of brick-and-mortar stores. But you also need all the IT infrastructure and business intelligence to be successful. I'm lucky in that I'm very familiar with everything IT-related. I still code our business intelligence tools internally. My past helps me a lot."
Brown has now scrapped any thoughts of exiting the business. "I'm having a lot of fun. I'm not going anywhere until our company has gone global."