How to decorate a Christmas tree in 10 easy steps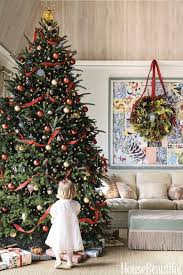 Step 1 – Pick a good location
Whether your tree is real or artificial, you need to consider where to place the tree, especially if space is at a premium in your home. Ideally it will be near a plug socket, avoiding the need for wires across the living room floor, and you can re-arrange furniture if necessary to avoid clumsy kids and wagging tails from getting in the way of your festive creation.
If you've got a real tree, pick a location that's as cool as possible (far away from radiators and fires ). This will prevent it from drying out too much ahead of the big day.
Step 2 – Measure up
Having picked the best place for your tree, measure the width, depth and ceiling height and don't forget to factor-in the height of your tree stand and the topper too. Give your tree enough room so its branches hang freely and you can decorate all around.
If you've got a real tree that's too tall, always trim it from the bottom so it maintains its triangular shape.
Step 3 – Fluffing
Fluff those branches. Yes, that's official advice from Christmas experts at John Lewis who say artificial trees especially need serious "fluffing".
Spend 45 minutes putting your tree together and fluffing the branches to give it that full and authentic look. It's all in the preparation. If you've fluffed your tree and the lights are even, you can't go wrong. Simple.
Step 4 – Get your lighting right
Spend a good half an hour or so getting your Christmas lights positioned just right. Start from the top and work your way down, weaving them around every major branch and leaving about six inches between the loops.
How many do you need? Decorators say you can never have too many. They recommend at least 170 lights per metre of tree. That's the absolute minimum. Somebody put 1,000 lights on a 6ft tree. The more the better.
If you need new lights, it might be worth investing in copper wire lights – they're much less likely to break, give a cleaner, crisper and brighter light – plus you'll barely notice the wire on the tree.
Tip: Save yourself from frustration and make sure the lights are working before you put them on.
Step 5 – Choose a colour scheme
Choosing colours that go well together and keeping to a theme can be a key part of your tree-building skill. If in doubt, stick to a simple scheme.
Reds, greens and golds fit a traditional-style for Christmas. Yellow and white lights as LEDs can give a more blue hue. For a winter look, pick silver, blues and purples or for a more minimalist tree look to white, silver and traditional wooden decorations.
Tip: Variety is key – don't go too matchy, matchy with your theme and decorations throughout your tree and your home.
Step 6 – Garland
Either beads, ribbon or foil, garlands add texture to your tree. Again, start from the top and work your way round. You'll need two strands of garland for every vertical foot of tree.
Tip:It's best to do this before the baubles and other decorations, so you don't knock them off.
Step 7 – Baubles
Now here's the fun bit. When hanging baubles, start from the inside of your tree and work out. Start with plain-coloured baubles as a base, (a cheaper, multi-pack is ideal) adding in more decorative, expensive baubles later.
Hang the larger baubles closer to the centre of the tree to give it more depth, and use smaller ones balls towards the ends of the branches. Spread them evenly and use a variety of shapes and sizes.
If you find a bauble that you like, decorators suggest buying them in multiples of three because it will give your tree balance. Never throw out old decorations either, as they might fit your colour scheme in a few years – plus they serve as lovely memories. Having said that, don't adorn your tree with every decoration you can find – be selective.
Tip: Move expensive, glass baubles to the top  – you know what will happen to them otherwise.
Step 8 – Tree skirt
Don't embarrass your tree and leave it without a skirt. Unless you want everyone to see your extension lead and the ugly plastic tree holder, you'll definitely need one. Tree skirts also catch pine needles if you've got a real tree.
Who wants to see the workings of their artificial tree. It takes away the realness of it. Tree skirts hide wires and it makes it look much cleaner and tidier.
Step 9 – Topper
Now for the crowning touch to your festive masterpiece – an eye-catching Christmas tree topper.
Traditional topper options have their roots in religion – the star representing the Star of Bethlehem which guided the Three Kings to baby Jesus, while the angel symbolises the angels who announced the birth of Jesus to the shepherds.
If you're not keen on either of these, there's lots of other options on the market to suit all tastes, including personalised toppers, snowflakes and birds, peacocks and flamingos.
Tip: Beware of toppers that are heavy – they will have to sit on the flimsiest part of your tree for several weeks so make sure your topper isn't in danger of toppling.
Step 10 – Decorate remaining trees
All the decorations are on and you're quite pleased with your efforts. Now's the time to sit back with a cuppa and marvel at your masterpiece, right? If you plan on keeping up with the Joneses, you're going to have to decorate two more trees.
A true three-tree household will have beautifully decorated do-not-touch-for-fear-of-life "show" tree, (usually in the lounge), that can be admired by the neighbours, and under which Father Christmas will deposit his haul.
The second tree will be child-and-dog proof, sitting well out of public view in the family room or play room. The perfect place for multi-coloured fairy lights, tinsel, charming, but slightly scruffy-looking toilet roll angels and garish plastic baubles.
Finally, the third tree (usually potted, about a foot tall) will sit on a windowsill or dresser in the kitchen.