Cleantech Open 2022 Global Forum in San Jose, Calif., USA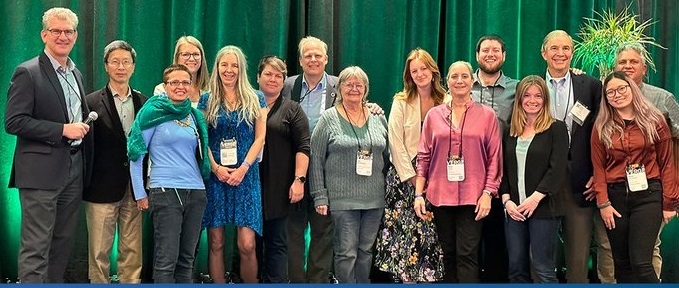 On October 27, Cleantech Open, the world's largest and longest-running clean technology accelerator, announced the winner of its annual U.S. National Grand Prize.
Renegade Plastics of Golden, Colo., won the public pitch competition held at the organization's annual flagship event, the Global Forum, in San Jose, Calif. The prize included a $50,000 SAFE note.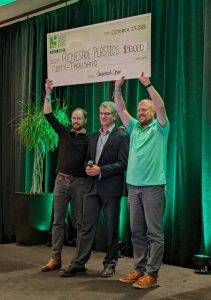 More than 90 companies joined Cleantech Open's 2022 accelerator program. 77 participated in regional competitions across the US, and 18 finalists progressed to compete at the national level at the Global Forum, hosted at VERGE22 in San Jose, California on October 25-27, 2022.
"For the past 17 years, we have supported over 1,900 entrepreneurs through business training, mentoring, and networking. We want to congratulate Renegade Plastics on their achievement and look forward to seeing the team succeed in replacing unsustainable textiles and films with non-toxic and recyclable alternatives," said Ken Hayes, Executive Director, Cleantech Open.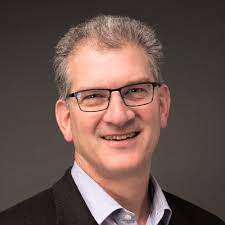 Renegade Plastics provides a toxic-free, recyclable fabric solution for the outdated dangerous flexible PVC plastics used in numerous industries from billboards to sports equipment. Renegade has exclusive rights to a polypropylene-based replacement for PVC-coated fabrics that can improve the environment from farms to school bus seats to fabric structures.
Tony Ehrbar, CEO of Renegade Plastics, commented, "Cleantech Open has been an amazing accelerator program supporting us with strategy development, customer discovery, and introductions to investors. In addition, our mentors helped us sharpen our approach, and the consulting and advice received from Cleantech Open's ecosystem was second to none. It will set us up for success in building a circular economy for the plastic fabrics industry."
The U.S. National Runner-up was Verde Technologies Incorporated of Burlington, Vt. The company develops a thin-film solar panel that is lightweight, flexible, affordable and easily installable due to its adhesive backing.
Verde Technologies Incorporated also won the National People's Choice Award which was voted for by the attendees of CTO's Global Forum event.
The National Finalists included:
Aquora Biosystems
NTP Technologies
Relyion Energy
Renegade Plastics
Tycho Solutions
Verde Technologies
For the first time since 2019, the Global Forum was held in person again, co-located at VERGE 22, one of the leading climate tech conferences in the world.
Companies from the current cohort and CTO alumni showcased their solutions in the expo area in the VERGE startup pavilion.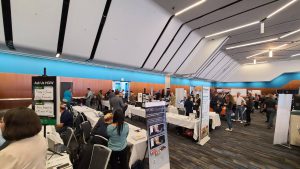 Members of the public were invited to attend the National Finals on Wednesday, October 26th and the CTO Awards Ceremony Luncheon on Thursday, October 27th.
During the main event of the Global Forum, Cleantech Open welcomed keynote speaker Joel Makower, journalist, author, and chairman and executive editor of GreenBiz.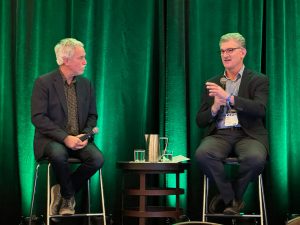 He was followed by successful CTO alumni speakers:
 Gia Schneider, CEO and Co-Founder of CTO Alum Natel Energy, a hydropower company that utilizes innovative, fish-safe turbines – eliminating the need for costly screens and structures that direct fish away from turbine. "Pay attention to your customers – test your product with your customers and do not be afraid to pivot", Gia Schneider advised to the 2022 Cleantech Open cohort.
Anas Al Kassas, CEO of INOVUES, a climate-tech company working to make buildings more efficient and sustainable by retrofitting the facades and windows with the latest energy-saving smart glass technologies.
Max Dunn, Chief Software Architect at OhmConnect, a company that provides home energy management solutions via smart meter analytics and energy market integration.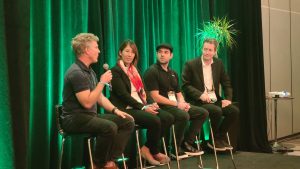 The alumni panel was moderated by Rex Northen, former Executive Director of Cleantech Open, entrepreneur, and seasoned environmental advocate with a long history of building companies.
The event was a success.
The participants of the Forum warmly thanked its organizers and sponsors for holding such an important and significant event.
By Alex Arlander, Gilbert Castro | ENC News