Stevie Winners Announced in 2017 American Business Awards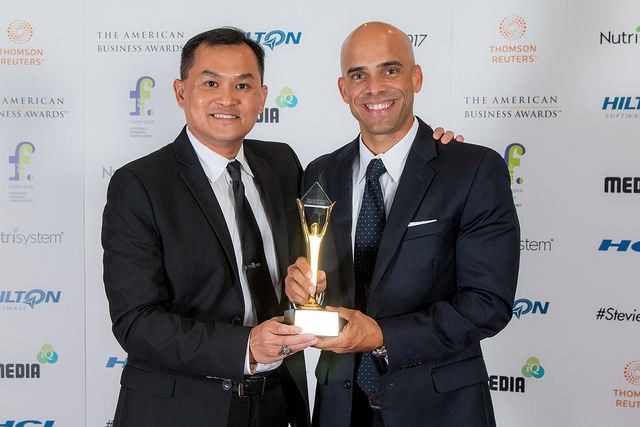 The Stevie® Awards, organizers of the world's premier business awards programs, today announced the Gold, Silver and Bronze Stevie winners in The 15th Annual American Business Awards.
All organizations operating in the U.S.A. – large and small, public and private, for-profit and non-profit – are eligible to submit nominations to the ABAs in a wide range of categories, honoring achievement in every aspect of work life, from customer service and management to public relations and product development. More than 3,600 nominations were reviewed in the judging process this year by more than 190 professionals, whose average scores determined the winners.
Among the other top winners of Gold Stevies are Momentum Worldwide (New York, NY) with eight, Cirkled (Redmond, WA) with five, Aflac (Columbus, GA) and Signifyd (San Jose, CA) with four, and BlueWheel Media (Troy, MI), Creative Lodging Solutions (Lexington, KY) and GTT Communications (McLean, VA) with three each.
Among all winners of Gold, Silver and Bronze Stevies, leading winners of multiple awards include Accenture (New York, NY), Amobee (Foster City, CA), BMO Capital Markets (Chicago, IL), FIS (St. Petersburg, FL), Jeunesse Global (Orlando, FL), John Hancock Financial Services (Boston, MA), LABOV Marketing Communications and Training (Fort Wayne, IN), Makovsky & Co (New York, NY), Merkle (Columbia, MD), Mitsubishi Electric Cooling & Heating (Suwanee, GA), Navicor, LLC (Westerville, OH), New American Funding (Tustin, CA), Rimini Street (Las Vegas, NV), Scout Exchange (Chicago, IL), SoftPro (Raleigh, NC) and TopSpot Internet Marketing (Houston, TX), among others.
For a complete list of the Stevie Award winners announced today, visit https://www.StevieAwards.com/ABA.
About The Stevie Awards
Stevie Awards are conferred in seven programs: the Asia-Pacific Stevie Awards, the German Stevie Awards, The American Business Awards, The International Business Awards, the Stevie Awards for Women in Business, the Stevie Awards for Sales & Customer Service and the new Stevie Awards for Great Employers. Stevie Awards competitions receive more than 10,000 entries each year from organizations in more than 60 nations. Honoring organizations of all types and sizes and the people behind them, the Stevies recognize outstanding performances in the workplace worldwide. Learn more about the Stevie Awards at https://www.StevieAwards.com.