Legendary comedian Jack Benny: star of radio, stage and screen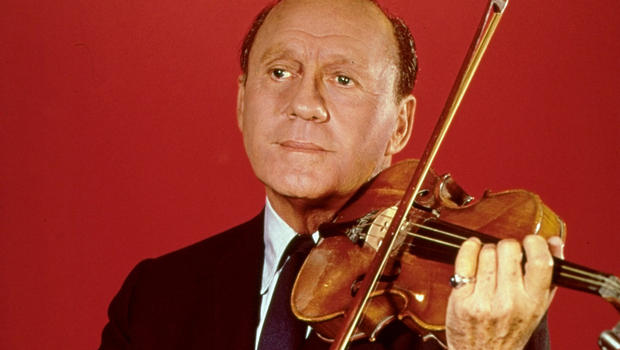 For more than 50 years, comedian Jack Benny was a star of radio, the stage and screen. His radio show, The Jack Benny Program, was a forerunner of the sitcom genre.
Jack Benny, original name Benjamin Kubelsky, was born on February 14, 1894 in Chicago, Illinois.
He was reared in Waukegan, a small city north of Chicago, where his father operated a saloon and later a dry goods store. As a boy, he helped out in the store and took up the violin. By his high-school years he had become proficient with the instrument.
In 1918, when he was taken into the U.S. Navy, he was assigned to entertainment duties. It was there that his comic talent came to light. While he remained a competent violinist in private, on stage his violin soon became little more than a prop which he played ineptly for comic effect.
After World War I, Benny returned to vaudeville as a comedian. He appeared in his first motion picture in 1927, and he completed 18 more between 1930 and 1945.
The turning point in his career came in 1932 when he entered radio and quickly gained a large following. He became the king of radio with his own show, The Jack Benny Program. In 1950, he started appearing on a television version, which alternated weekly with his radio show.
Audiences responded to Benny's type of humour. In an era of comedy characterized by broad jokes and rapid delivery, his style was subtle and languid. Over the years, he and his cast—including Eddie Anderson as Rochester, his chauffeur and valet; and Benny's wife, Sadie Marks, as Mary Livingstone, his nemesis—carefully developed his stage image as a vain, stingy man and would-be violinist. He was notable for his verbal inflection and his acute sense of timing.
His unusual comedic method and expert timing made him a legendary success in U.S. and abroad.