Astonishing teenage pianist Lauren Zhang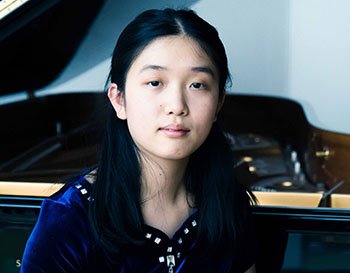 A 16-year-old pianist has won the BBC's prestigious Young Musician award, right before her GCSE exams.
Born in Albuquerque, New Mexico, Lauren Zhang began learning the piano aged 4 and moved to the UK in 2010 with her family after winning a place at the Royal Birmingham Conservatoire. She is also an accomplished violinist.
She impressed judges with her performance of the challenging "Piano Concerto No 2" by Prokofiev, accompanied by the City of Birmingham Symphony Orchestra.
She beat cellist Maxim Calver and saxophone player Rob Burton to win the award, with Kerry Andrew, chair of the judging panel, noting her performance left everyone "breathless".
Conductor Mark Wigglesworth also praised Zhang, whose performance for the BBC Young Musician competition was her first time with a professional orchestra.
"When you meet Lauren she seems… I wouldn't say 'shy' but controlled within herself and very confident about her own personality, he said. "Then you hear her play and you discover this incredible depth and range of thought and imagination. That's an extraordinary combination."
Judge Tom Poster also called her a "compelling performer", observing an "electricity in the room" as she performed. "People were really listening," he said.
Zhang said she was "astonished" after receiving the prize. "I'm pleasantly surprised and I can't believe it," she said.
"The journey, right from the start of the competition, has been incredible."
Zhang will perform at the BBC's Biggest Weekend event in Coventry on 28 May, as well as a special BBC Young Musician 40th anniversary concert at the BBC Proms on 15 July, at the Royal Albert Hall in London.