William H. Johnson: I express both rhythmically and spiritually what is in me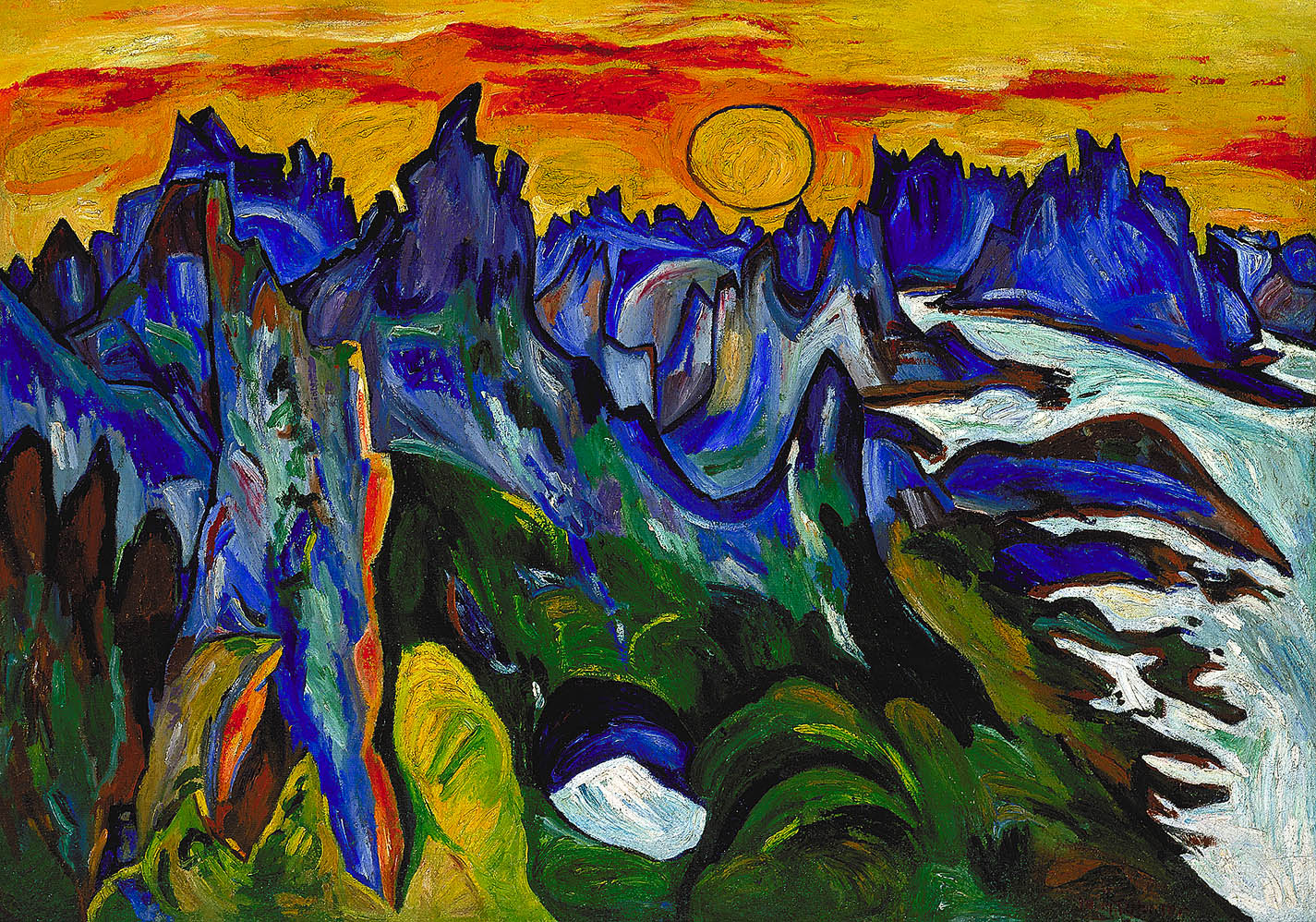 "And even if I have studied for many years and all over the world, I have still been able to preserve the primitive in me. . . . My aim is to express in a natural way what I feel, what is in me, both rhythmically and spiritually, all that which in time has been saved up in my family of primitiveness and tradition, and which is now concentrated in me." — William H. Johnson quoted in Richard J. Powell, "In My Family of Primitiveness and Tradition: William H. Johnson's Jesus and the Three Marys".
One of the most brilliant yet tragic careers of an early twentieth-century African-American artist was that of William H. Johnson. Originally from the Deep South, Johnson became a world traveler who absorbed the customs and cultures of New York, Europe, and North Africa. He completed hundreds of oils, watercolors, gouaches, pen-and-ink sketches, block prints, silk screens, and ceramics. Johnson's career also spanned a gamut of styles from the academic, through Impressionism, Cubism, Fauvism, and German Expressionism, to, finally, a "conscious naiveté".
In the 20s, Johnson traveled to France where he studied and painted in Paris, Moret-sur-Loing, and Cagnes-sur-Mer. From 1927 to 1929, he visited Corsica, Nice, Belgium, and Denmark. Johnson's earliest works in Paris and Corsica were impressionistic landscapes and cityscapes. He quickly developed a short-hand technique that included only the essentials of design. In late 1929, Johnson returned to New York with a number of his French-Corsican paintings. He exhibited some of these works in the Harmon Foundation show of 1930 and received the coveted gold medal.
In 1933, Johnson and his wife spent several months in North Africa where they delighted in the colorful Arabian bazaars and mosques, painted numerous portraits of the residents, worked in ceramics, and were taught age-old secrets of glazing and firing. Johnson's paintings of that period capture the fresh atmosphere of spring with blossoming trees, the clear water of the deep fjords, and the blues of distant snow-capped mountains. Sailing next from Aalesund, Sweden, north to Tromsö, the two artists continued to paint and immerse themselves in the beauties of nature.
In 1938, Johnson return to the United States. In a pronounced and unexpected transition in his style, Johnson became interested in religious paintings and his subjects were almost exclusively African American. Using a palette of only four or five colors and painting frequently on burlap or plywood, Johnson developed a flat, consciously naive style.
Johnson painted rural scenes inspired in part by his memories of growing up in South Carolina. In Going to church, a family of four ride on an oxcart toward a distant hill, where three crosses mark their physical destination as well as their spiritual home on Calvary. The flat composition, comprised of clashing hues arranged in stripes and color blocks, recalls the story quilts made of scraps pieced together by African American women.
In Street Life, Harlem, he portrayed an elegant couple dressed "to the nines" for an evening on the town. Style, as much as skin color, was a mark of pride among many African Americans who had come of age during the Harlem Renaissance.
In 1944, after his wife's death, Johnson traveled to Florence, South Carolina. There he painted a number of portraits of family and friends, as well as a series of paintings portraying seated women staring directly at the observer. Seated Woman with Yellow Blouse, Seated Woman in Flowered Dress are two of the series.
In 1945 Johnson began his final paintings—social, historical, and political panels including a series of narrative themes built around single subjects such as Booker T. Washington and John Brown. Untitled King Ibn Saud, Underground Railroad also belong to the series. His  paintings of that period were exhibited only once in the United States.
Late in 1946, still despondent over his wife's death, Johnson packed all of his art and returned to Denmark where he hoped to find peace among his wife's family. He exhibited his historical and political paintings in Copenhagen in March 1947, which was the last exhibition of his works held during his lifetime.
"There is quite a bit of Matisse's worship of unrestricted colors in his pictures," wrote a Danish critic of Johnson's last show, "But where Matisse is an aesthetician, Johnson goes further and shows us the working people of the southern states, the Negroes and their leaders, and their entirely strangely colorful world. . . ."
Soon he became seriously ill. By the time of his death in 1970, he had slipped into obscurity, unable to produce any art. After his death, his entire life's work was almost disposed of to save storage fees. But at the last moment, it was rescued by friends.
Over a thousand paintings by Johnson are now part of the collection of the Smithsonian Institution's Smithsonian American Art Museum.
Today Johnson is considered one of the most important African-American artists of his generation.