Every day I marvel at my good fortune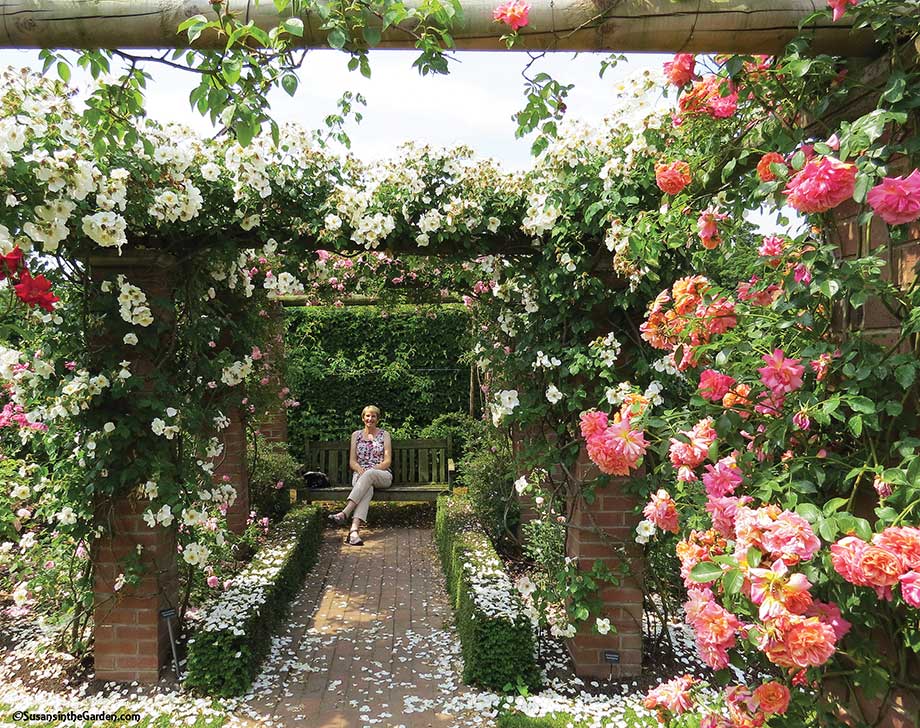 Look at a rose bred by David Austin and you may assume it has been wreathing cottage doorways and filling vases since time immemorial. And yet Austin's blooms, known as English roses, burst on to the scene only in the 1960s. Over many decades, he learned to cross the beauty and fragrance of the genuinely old rose species – the musks and the gallicas – with the disease-resistance and repeat flowering of roses bred in the modern age.
At first, nurseries would not sell them – they were seen as old-fashioned – but Austin persisted, breeding more than 200 new varieties in the past few decades. In the process, he slowly but surely changed horticulture's obsession with the stiff, scentless formality of the hybrid tea rose, embracing instead the softer, scented pastel shades that are now his signature style.
Austin has been less committed to his own back garden, however. For years, the private plot behind his Queen Anne house at the heart of his rose nursery in Shropshire was the domain of his wife, Pat, a sculptor who liked to let nature take charge. And so it had few roses: Austin, known to his staff as Mr A, was – and still is – more interested in breeding roses than in gardening with them.
Since Pat's death in 2007, the garden has undergone a transformation. It is still home to several of her sculptures, but is filled with Austin's own roses, from pure white 'Tranquillity', through rich yellow 'The Poet's Wife', to the deep crimson 'Munstead Wood'.
The garden brilliantly illustrates the many ways in which roses can be incorporated into a design. The centrepiece is a matching pair of rose beds, with a stone figure sculpted by Pat striding in the direction of the house on the grass path between them. "She was based on a lady we saw in Greece, with a basket of little ducklings on her head," Austin says. The beds are packed with roses grown en masse for an exuberant display. Choose the most vigorous and disease-resistant varieties with a more compact form, such as the apricot blooms of 'The Lady Gardener', mid-pink 'The Ancient Mariner' and soft pink 'Queen of Sweden'. Austin advises planting varieties in groups of three or more so they grow together and give the impression of one shrub, avoiding a patchy look to the display.
The beds are framed by a stilted hedge that offers privacy but still allows views to the moat to one side through the bare, twisted trunks of hornbeam (Carpinus betulus).
Between the rose beds and house is a formal area framed by lawn and a yew hedge; the beds are planted with herbaceous perennials in shades of peach, blue and dark purple, sourced from Austin's daughter Claire's nursery. Here, roses make happy bedfellows with alliums, heucheras, geums, sedums, astrantias, geraniums and salvias – clumping or spreading plants that act as skirts for the "bare legs" of the shrubs. They offer different shapes and textures, such as the spires of deep pink lupins and flowering lambs' ears (Stachys byzantina) foregrounding the soft sprays of pale pink rose 'Wildeve'; while the purple, spiky globes of Allium cristophii brush up against the buttery yellow of the rose 'Charlotte'.
On the other side of the house, lollipop-like standard roses 'Anne Boleyn' and 'Graham Thomas' stand sentinel beside a circular pond. While standards have fallen out of favour among gardeners, Austin shows how they can be employed as focal points to frame an important view in the garden and add height.
At 92, Austin is still involved in the rose business, meeting every morning with his breeder Carl Bennett to discuss progress. The breeding programme continues apace. Nearly 60 years after his first rose, 'Constance Spry', made its debut, three new Austin roses were launched at the Chelsea flower show. Each took a decade or so to develop, from pollinating the parent plant to it finally going on sale to the public: 'Tottering-By-Gently' is a buttery yellow single rose that is great for bees and has particularly good hips; 'The Mill on the Floss' is a mid-pink deeply cupped bloom; and 'Emily Brontë' is a variety with neat pale pink and apricot flowers.
For every rose that makes it into garden centres, about 120,000 will have been raised and rejected. Austin is still looking to the future – he wants to find good, disease-resistant deep crimsons and purple roses, for example.
"Every day, I marvel at my good fortune to have been able to make a life out of breeding roses," Austin has said. Visiting his garden, it's easy to see what he means.
Six of the best David Austin roses
'Sir Walter Scott' This soft pink shrub grows to 80 x 80cm. Strong old rose scent and small double flowers.
'Desdemona' The scent has 'hints of almond blossom, cucumber and lemon zest'. Pink buds open to double white flowers. 80 x 80cm.
'The Generous Gardener' One of Austin's best-loved, with musky fragrance and pale pink double blooms. A climber, to 4.5 metres tall.
'Dame Judi Dench' Grows in partial shade, with large apricot-orange double-ruffled blooms. 120 x 120cm.
'Malvern Hills' Rambling rose with pastel yellow flowers Grows to 4.5m.
'Scarborough Fair' The blooms of this pale pink are semi-double, and attractive to bees. 110cm x 90cm and disease-resistant enough to make a good rose hedge.