Fascinating 'La Bayadère': Royal Opera House, London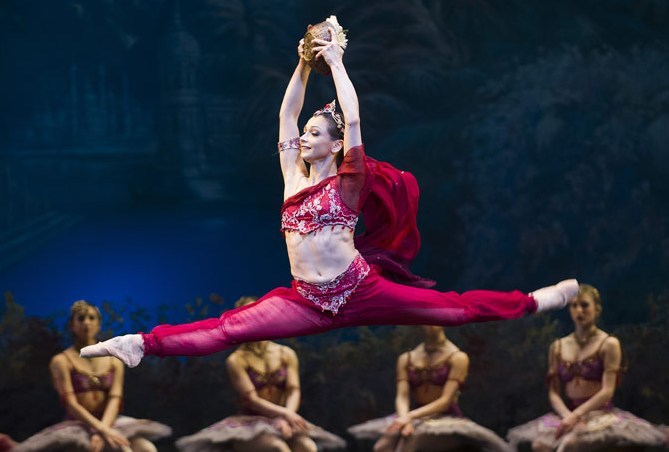 La Bayadère, Royal Opera House, London review: A night of powerful personalities and blazing dancing
The Royal Ballet's revival of La Bayadère is lit up by starry casting. Two of the company's reigning ballerinas, Marianela Nuñez and Natalia Osipova, face off as the temple dancer Nikiya and her rival, the princess Gamzatti. It makes for a night of powerful personalities and blazing dancing.
Created in 1877, Marius Petipa's ballet melodrama is set in an orientalist fantasy India, a land of tiger hunts, bared midriffs and very western ideas of the exotic. Nikiya, the bayadère or temple dancer of the title, is in love with the warrior Solor, who is pushed into a political marriage with Gamzatti. Along the way, there's a lot of seething plot, extravagant displays and the Kingdom of the Shades, a ravishing classical set piece.
The Royal Ballet dance Natalia Makarova's production with complete conviction. High Brahmins and Rajahs put weight into the traditional mime gestures, while dancing roles are cast splendidly from strength.
Alternating in the leading roles, Nuñez and Osipova make them genuine equals. Their confrontations are electric, utterly individual, with each dancer bringing different nuances to the characters. Osipova's Gamzatti is consumed with jealousy, shaking with rage when she swears vengeance. Her expressive face lights up with conflicting emotions, from yearning to "who, me?" innocence.
Nuñez makes the princess charmful. Watching Osipova's near-expressionist grief, this Gamzatti is all pearly, condescending dignity. Both soar over the ballet's technical hurdles, with whirling turns and lofty jumps.
As Nikiya, Nuñez has expressive musical phrasing and floating line. Her dancing is rich as cream in the Shades scene, while she has glowing sympathy with Vadim Muntagirov's princely Solor. Osipova has a highly romantic take on the heroine, movement surging through her body like a wave of feeling.
She's partnered by the ardent Cesar Corrales, making a big impact in his first leading role since joining the Royal Ballet from English National Ballet. His jumps are explosively high, while he finishes his steps with stylish assurance.
Ballerinas aside, La Bayadère is best known for the Shades act, one of the strictest and most beautiful tests of the corps de ballet. Their first entrance is hypnotic. Appearing one by one, performing the same steps in unison, they are like a stage full of reflections, a vision of infinity. The Royal corps were both steady and expansive, with a glowing lyricism in their swaying torsos.