Shepley Bulfinch creatively adapts historic university buildings to modern requirements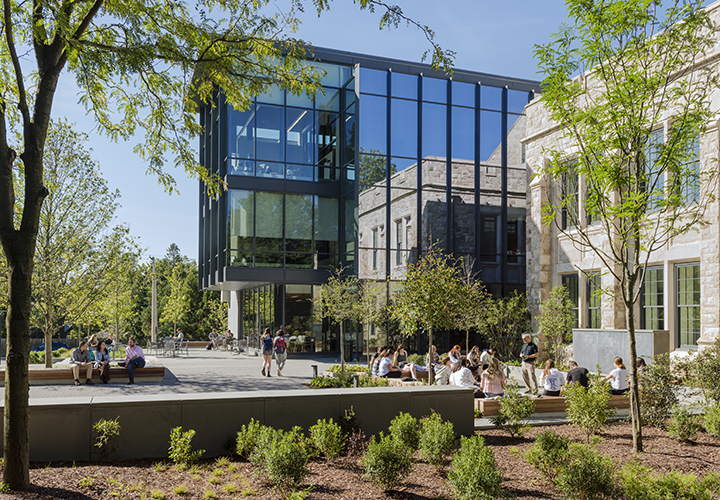 Shepley Bulfinch is an international architecture, planning, and interior design firm with offices in Boston, Hartford, Houston, and Phoenix. It is one of the oldest architecture firms in continuous practice in the United States, and was recognized by the American Institute of Architects with its highest honor, the AIA Architecture Firm Award.
Matthew Gifford, AIA, LEED AP, Principal at Shepley Bulfinch and David Whitehill. AIA, Senior Architect at Shepley Bulfinch show on concrete examples with what responsibility and creativity their company carries out the adaptation of historical university buildings to modern requirements and conditions.
The rich history of North American higher education institutions is reflected in the peculiar diversity of their campuses. At the center of a campus, are relics of the Gilded Age and pre-war period: charismatic, weathered masses of brick or stone.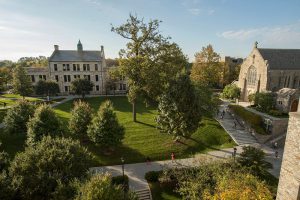 As you move through the campus, you see the challenging but distinctive results of rapid mid-20th century growth, and finally the large modern buildings of the late 20th and early 21st century, often serving science, athletics, and student-life functions.
"Our generation of architects and campus planners is faced with a steep responsibility: how can we steward these aging historic campuses while transforming them to meet the challenges of accelerating technological and societal change? And how should we think about the merits of removing the old to make way for new buildings? As we look at the benefits of transforming historic buildings, it's vital to consider three factors: authenticity, environmental sustainability, and cultural inheritance," Matthew and David  said.
Authenticity of place
College campuses are meant to transport the community psychologically—putting people in an apt frame of mind for teaching and learning. Transforming historic buildings for modern communities connects these communities to centuries of scholars, honoring the longevity of knowledge.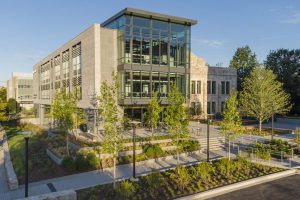 "Sometimes, we can even transform historic buildings in ways that make them more loved than they had been originally. With the Gutman Conference Center at Harvard Graduate School of Education, we renovated the space to celebrate and preserve the institution's historical resources by adapting the way they had been utilized for generations to come. We relocated the Library's existing Special Collections book storage and Reading Room out of the lower level to expand the Conference Center's offerings, which include offices, storage, and a new catering kitchen. With a flexible conference center we integrated sophisticated AV technology, operable partitions, and multiple presenter locations, to allow for multiple configurations and accommodate various group sizes. Additionally, a new feature staircase welcomes visitors with a green wall with light wells redesigned to let in abundant light, showcasing lush landscaping," they continued.
Environmental sustainability
The benefits of preserving historic university buildings extend beyond mere nostalgia. The hard costs of construction unfortunately do not consider the external burden on our environment. However, many higher education institutions have taken the lead in recognizing how we might tread more lightly on our lightly planet. Through building transformations, we have the opportunity to bring historic buildings to low energy usage of modern buildings.
Healthcare green wall interior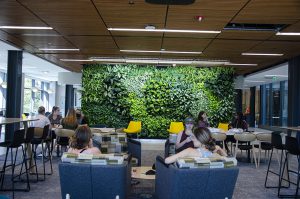 "Additionally, by maintaining the physical materials of the original construction, we conserve embodied energy, instead of burning fossil fuels to create a completely new structure. It is most efficient to upgrade building systems and energy efficiency at the same time as programmatic upgrades, rather than attempting to address these issues independently—the function and performance of buildings are integrally tied," they explained.
"Sustainability was a core value for the Miguel B. Fernandez Family Center for Innovation and Collaborative Learning at Loyola University of Maryland. The Fernandez Center renovation to the historic Beatty Hall has 100% LED lighting, with eco-friendly solutions like occupancy and vacancy sensing, time-of-day scheduling, and daylight harvesting. We used high performance glass to provide energy efficiency while maximizing daylight and views.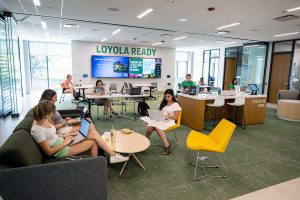 The exterior sun shades are not just decorative; they are designed at an angle that will block the high summer sun, letting in some of the low winter sun, reducing the glare within classrooms and offices, and allowing for unobstructed views out of the building," they said.
Cultural inheritance
Restoring a historic building serves as a reminder of the university's history and traditions. Alumni may have fond memories of spending time in a building during their time in college and want to see it preserved for future generations of students. A project that restores a historic building visibly supports the broader cultural heritage of the campus and region, with the potential to widen the pool of financial supporters.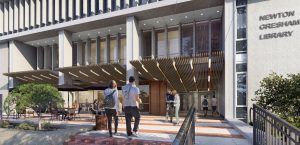 "The Newton Gresham Library at Sam Houston State University demonstrates the balance of renovating a landmark that propels into the future while still honoring its original brutalist architectural style.  This project was the first major renovation in this 1968 library's history, transforming the library from a repository for books to a comprehensive learning ecosystem that integrates the University's Academic Success Center with the scholarly experience.
The preservation and adaptive reuse of historic university buildings is not a matter of sentimentality but of practicality, progress, and preservation. We can and should adapt these structures to meet the needs of the future while respecting their past," they said.
By Alex Arlander | ENC News