To play is to learn: let kids be kids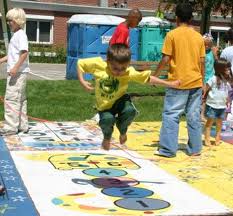 Real play is the freedom for children to engage with and learn from the world that surrounds them. By mentally and physically connecting children to the world, play empowers them to create and grow for the rest of their lives. It is a fundamental right for all children.
Research shows that play is vital to a child's development, equipping them with the skills necessary to tackle humanity's future, such as emotional intelligence, creativity and problem solving. To be a superhero is to lead; to host a teddy for tea is to organise; to build a fort is to innovate: to play is to learn.
Unilever, the LEGO Foundation and IKEA Group, the founding members of the Real Play Coalition in partnership with National Geographic, are committed to create a movement that prioritises the importance of play as not only something that lets kids be kids, but as something that sparks the fire for a child's development and learning. Partnering with children, parents, teachers, business, NGOs, stakeholders and society, our Real Play Coalition will empower and facilitate children's opportunities to grow and learn through play.
These opportunities should be granted to children wherever and whenever possible. But millions of youngsters around the world lack safe spaces for exploratory, hands-on play. In fact, 78% of parents agree that, during their childhood, the world was safer. It is critical that the freedom to play safely is not lost. Children who can play in a safe and supportive environment develop face-to-face communication, teamwork and negotiation skills, allowing them to become more resilient to life's challenges.
Many more children continue to miss out on play as it becomes less of a priority amid the pressures and distractions of our scheduled, test scored and technology-driven world. Sadly, our belief in the vital importance of play, both in and outside of the classroom, is not shared by as many as we would like. Studies have shown that, over the last 30 years, the time that children spend playing at school is fast reducing. In some countries, as many as two in three children complain that their parents organize too many activities for them outside of school, andnearly half (49%) of parents feel they struggle to find time to play with their children.
So long as our ever-changing world continues to pose new challenges to play, children's ability to develop skills that are essential to their future – and to the future of society as a whole – will be hindered. If 56% of children continue to spend less time outdoors than maximum security prisoners in the US, then the harder the search for our future leaders, creators and explorers will become.
Our fast-changing world, including the growth of technologies such as machine learning and artificial intelligence, means that children entering primary school today will be working in jobs that are yet to exist. This means we need to rethink and evolve our education systems, our on-the-job training programmes and our evaluation processes so that the children of tomorrow are poised for what the future may hold. The importance of the skills play promotes in the face of our changing world has never been higher. When children play, for instance, they practice original thinking, which is one of the main cognitive processes in creativity. Construction play in early childhood correlates to the development of spatial visualisation skills, which are strongly connected to mathematic capabilities and problem-solving skills in later life.
The more our children play today, the more prepared future generations will be. Play is needed to endow us with leaders who can resolve conflict, problem solve, build socially connected communities and inspire society to flourish. We are committed to the idea that any child, wherever they are in the world, could be such a leader. Join us in protecting their real play.