The generosity of spirit in her work amazes: ceramicist Cathra-Anne Barker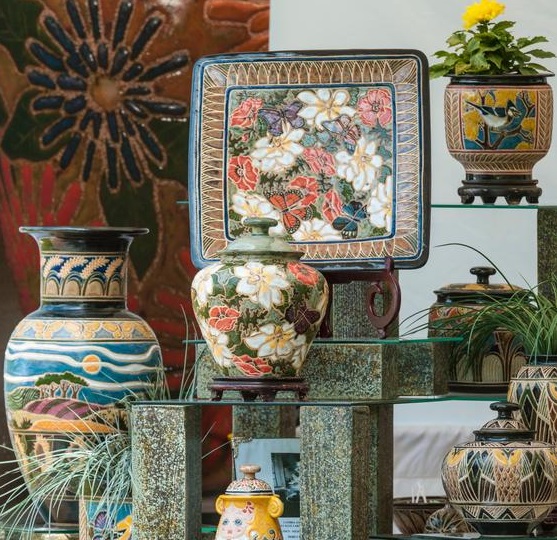 The Woodlands Arts Council announced ceramicist Cathra-Anne Barker as this year's featured artist at Fidelity Investments The Woodlands Waterway Arts Festival, set for April 14-16, 2023.
Barker is a self-taught potter with 50 years of arts experience.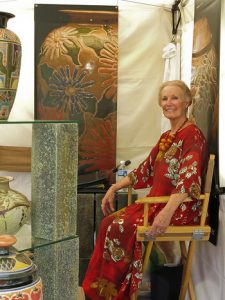 Initially a painter and a drawer, Barker was not satisfied with the flatness of those media and made the shift to ceramics. "Many artists mosey around various media over their careers," Barker says. "I didn't jump ship. I just took my brushes and palette onto pots."
Barker does everything for her artworks, from building kilns to mixing glazes. "Along with my potter's wheel these are my main allies," she says. "Also, I like making things from scratch. Hence ceramics."
Her pots are thrown and burnished, bisque fired and then have the designs drawn on freehand. Wax outlines are applied with calligraphy brushes and then layers of glazes and glaze washes are added. Barker's decorations are wax-resisted glaze with polychrome glaze washes.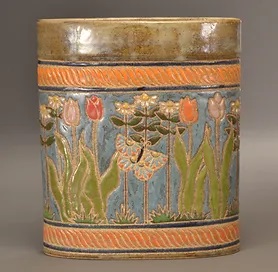 "I mix my own glazes and am constantly messing with them to see what other colors I can add to my stoneware palette," Barker says.
The pots are then fired in a kiln she built 26 years ago to around 2500 degrees.
For The Woodlands Waterway Arts Festival this year, Barker started working on pieces called "Turtle Pond" way back in May of 2022.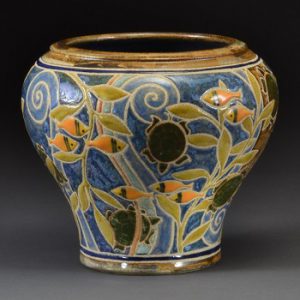 "As soon as I got home last year I threw these two pieces for this year," Barker says. "I wanted to make sure they were fine as soon as possible. If they hadn't been I would have had plenty of time to try again. They have been packed and ready to go for almost the whole year."
Barker has shown art at The Woodlands Waterway Arts Festival every year since 2008, and loves coming to The Woodlands. She won the festival's Best of Show award in 2010.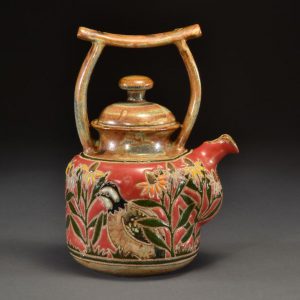 Even after Cathra-Anne Barker's migration to ceramics, her work has continued to evolve.
"After 50 years even with the same inclinations my techniques have sharpened and my friendship with glazes has deepened," Barker says.
Some of her changes have been a function of geography. The biggest change was moving from La Jolla, California to Santa Fe, New Mexico.
"Different kiln, different fuel, different watershed for water in mixing glazes, and the real blockbuster was the change in weather and elevation," Barker says. "La Jolla is right on the ocean and Santa Fe is in the foothills of the Rockies at around 7,000 feet."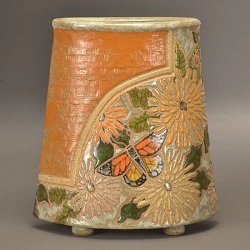 Barker has a great affection for the people who want to live with her pots and she hopes that when they see them they feel that along with a smile. When she is in her studio, especially when glazing, the artist often wonders who she is making that piece for and Barker loves that she gets to find out at The Woodlands Waterway Arts Festival.
She is inspired by nature, travel, hunks of fabric, and song. In the winter, she forgets that something is coming, and every spring, a pattern emerges that surprises her.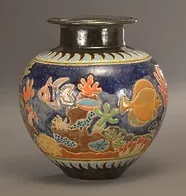 Her featured art pieces for this year are two companion vessels decorated in the pattern "Turtle Pond." The vibrant pieces will be auctioned at the Art Dash Party presented by The Woodlands Compounding Pharmacy set for the evening of April 14th at The Woodlands Waterway Marriott Hotel and Convention Center.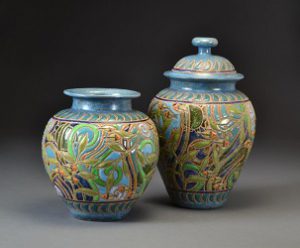 Jenny Carattini-Wright, Executive Director of The Woodlands Arts Council, producers of the festival, says, "Cathra-Anne Barker is such an incredibly talented artist, and we have been so lucky to have her at every festival since 2007. It was beyond time that we spotlighted her gorgeous work. The generosity of spirit in her work has been an incredible addition to our day as we bring our 2023 Festival to life!"
By Gilbert Castro | ENC News