Bonds of friendship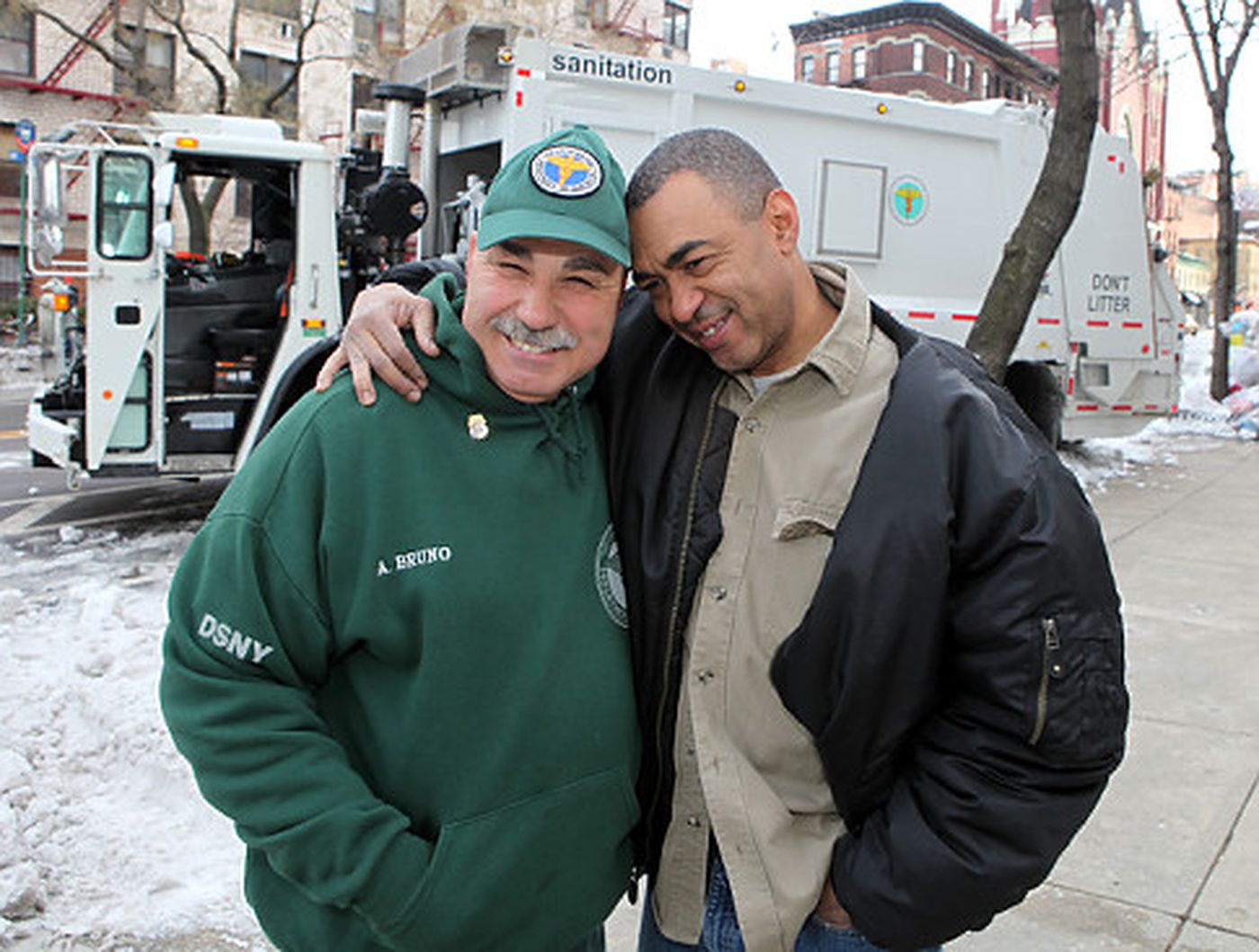 Angelo Bruno, 68, and Eddie Nieves, 63, talk about their friendship bonds they forged working together to clear garbage in New York City. Both have since retired from sanitation work, but their friendship hasn't gone to waste.
Angelo Bruno now manages six floors of a New York City office building. And Eddie Nieves occasionally walks their old route to keep in touch with friends.
So, you still keep in contact with each other?
Bruno: Yeah, and we get together for dinner every few months with Eddie.
Did you like your job?
Nieves:  We did. It is greatly important for the city. We cleared more than 14 tons of garbage from the city streets each day.
Bruno: We worked together for nearly 10 years. Everybody would just come out just to talk to you. People along their route in Manhattan's West Village neighborhood would greet us and offer us coffee or breakfast.
Nieves: And nuns on our route would kiss us.
Bruno: The younger guys would ask me, 'How did you get that?' It's just a little good morning, have a nice weekend. Hey, you look great today.' I could do 14 tons of garbage. And I told myself 'Can't I lift a baby carriage off a step and carry it down? Or can't I hold someone's baby when they went to get their car?' We were friends with these people. That was great.
Are some events from those days still in your memory?
Bruno: Well, when I first came on the job, there was one old timer … I remember Gordy Flow his name was. One day, he stopped the truck. He tells me, 'Angelo, you look down this block first. See all the sidewalks are all crowded up with garbage?' So I think nothing of it. My father always told me to respect my elders. I get to the end of the block, and he stops me again. 'Get out of the truck, look back. Nice and clean, right? People could walk on the sidewalk. Guys can make deliveries. Be proud of yourself.
Do you remember the day you were retiring?
Nieves:  I remember the day when Angelo was retiring. We went maybe a block or two blocks, and six people came up to him saying, 'You're crazy. What am I going to do when you leave?'
Bruno: I never thought that last day would be so emotional.
Nieves:  He was crying. They were crying. I was crying watching them cry. And I've been very lucky, because he's been the best partner I ever had. We used to try and take the same vacation, and try to take the same day off. And I miss my partner.
You also miss your former partner, Angelo, don't you?
Bruno: Yeah, greatly. I feel the same way as Eddie. I'll be honest — I miss him terribly. I'm like the little kid looking out the window now when I hear the truck. I think I could have done another 31 years.