New RBS £10 note featuring Scottish astronomer Mary Somerville to be released in October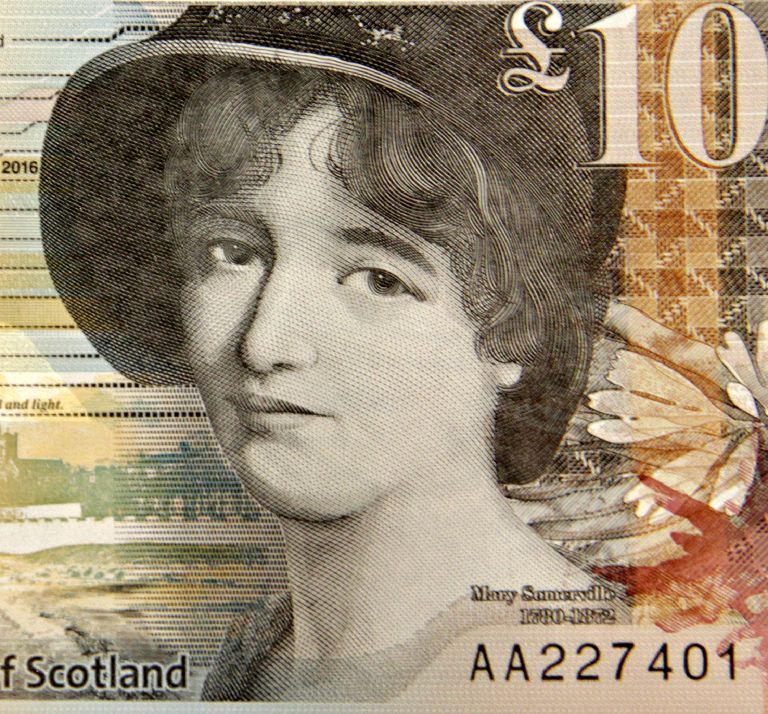 The Royal Bank of Scotland's brand new polymer £10 note featuring pioneering Scottish scientist Mary Somerville is to be issued on 4 October.
The note will have the secure features put in place by the £5 notes issued by the Bank of England and the RBS in 2016.
RBS says the new note will include braille for the blind and visually impaired.
The £10 plastic note will feature Scottish astronomer Mary Somerville, a pioneering mathematical genius appointed as the first female member of the Royal Astronomical Society, in the nineteenth century.
Born in 1780, she is credited with the discovery of Neptune due to her suggestions of a planet near Uranus.
A Facebook campaign advocated for the scientist to appear on the note after RBS put the matter as to who should be on the new polymer note to an online public vote.
Somerville had been leading the polls until the last day of voting, when a surge in last minute votes for Thomas Telford, a famous civil engineer, toppled her into second.
Facebook and RBS declared the result void following the discovery that much of the last minute surge came from India and other countries.
The bank's chief executive Ross McEwan said that after 30 years, the time had come for RBS to produce a new £10 note.
"We wanted the public to help influence the design," he said. "They helped influence our theme of 'fabric of nature' and helped us consider the impact Mary Somerville has had on our understanding of the world in which we live."
He added: "It is fitting that our most advanced note yet will carry her portrait."
The £5 note released by the bank last year featured the image of novelist and poet Nan Shephard – the decision to use her portrait made by the RBS Scotland board.
The bank also revealed Catherine Cranston has the new face of the RBS £20 note, to be issued from 2020.