Thomas Cole, America's leading landscape painter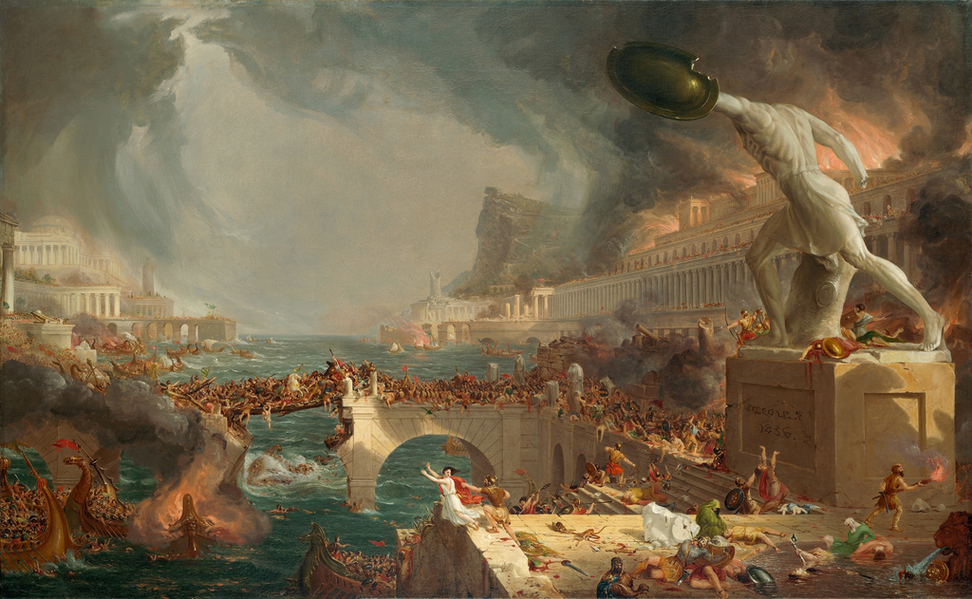 Thomas Cole, America's leading landscape painter (1805-1848) was born in Bolton in Lancashire. His family immigrated to the USA. At the age of 18, he arrived in Philadelphia determined to be a painter. Various trips back to Europe – first to the National Gallery, and then to Italy – saw him sucking up influences like a greedy sponge: Claude, Turner, Constable. He was mightily impressed by the ruins of Tivoli.
Cole was greatly influenced by the elemental turbulence of Turner, the cloudscapes of Constable. Back in the USA, he created a celebrated cycle of five paintings about the rise and fall of civilisation called The Course of Empire (1834-6).
It begins with hunter-gatherers innocently lolloping about the American wilderness, and ends with an epic scene of the destruction of a great classical city, which seems to be both a brilliant piece of faux-classicism of the kind that might have been painted in Europe during the eighteenth century, and, in its sweep and panache, to anticipate Cecil B. de Mille.
Most of all Cole loved the American wilderness of the Catskill Mountains and New England, and he became known as the founder of the Hudson River School. Here is the American pastoral dream: sublime, Arcadian, immense. Cole was a witness to the incursion of the railroads into the Hudson Valley (you can see some diabolical puffs of smoke in View on the Catskill – Early Autumn (1836-7), and he hated the destruction of this virgin landscape with a passion worthy of John Ruskin.
His greatest work is The Oxbow (1836), which shows a view of the Connecticut River from the high vantage point of Mount Holyoke, with land, untamed and tilled, existing peacably side by side, stretching away. You can admire the pour and the boil of these clouds.