I forgave my mum and dad, when my daughter was 5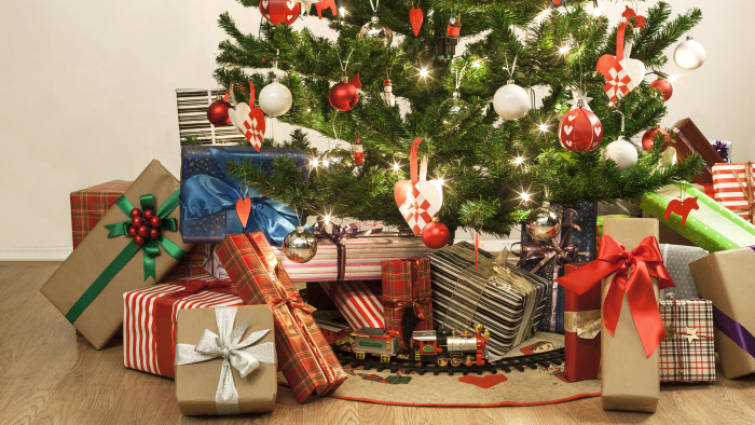 When I was a kid, between the ages of about four and 12, I was often taken to the local hockey club on a Saturday.
Every December, the hockey club put on a Christmas party – the clubroom was filled with plastic pop-up tables coated in patterned Christmas covers, bowls of crisps and ham and jam sandwiches and see-through plastic jugs of the strongest, most delicious orange and blackcurrant squash.
At about 6pm, once we'd all downed at least 20 cups of squash, popped and sniffed the party poppers, and stuffed our faces with as much sliced battenburg as we could manage, a tinkling of tiny bells would begin outside. One kid would notice first, then a whisper to other little ears and the news would spread quick as lightning, until we'd hurl ourselves in a group frenzy towards the slightly opened back doors.
Straining for a glimpse, which, as a short-arse kid, I didn't find easy, we could just about see Santa. We'd watch in amazement, that Santa had arrived, sat on a wooden sleigh filled with a huge sack of presents, pulled by two "reindeer".
We kids did not notice the reindeer artificial accessories. Instead, we stared and we screamed; those honest, joy-fuelled screams that so many of us lose the ability to release in adult life. We would be told to keep calm, to be quiet, to behave, threatened with make-believe tales of Santa's dislike of loud noises or claims that "you'll frighten the reindeers". And then, all threats failing to contain our bursting, we would simply be dragged back into the club room by our parents and told to sit on the big rug and wait.
The Santa who came to my local hockey club was not the real Santa, of course – but I didn't know that at the time. This belief was the reason that, when the presents were dished out, I cried a lot and asked to go home and then cried the whole way home in the car.
I remember a girl who sat next to me on that rug one year when I was five, maybe six, dressed in a purple dress, neat as a Laura Ashley violin lesson. Long hair plaited with silken ribbons, perfectly bowed, sweetly smiling at me as I sat cross-legged in the pink velour tracksuit and blue wellies I refused to change out of for the first eight years of my life. I smiled back at her, pleased to make such a glamorous new friend.
Santa paced the room, ho-hoed and hoed some more, dished the presents out one by one, built the tension terrifically, eventually stopped in front of me and my new best mate. He said our names. He said our first names and our second names and I couldn't believe that Santa knew my second name. I wiggled, but clenched on the floor.
Santa pulled out two presents, the first a huge cube wrapped in paper covered in silver swirls and baubles, as big as the biggest Barbie Dream House box I'd spied the day before in Savacentre. Then a second gift wrapped in smiling snowmen, this time perhaps the size of the Christmas edition Cadburys selection box that they sold in our local newsagent's.
He passed us our gifts. The girl next to me unwrapped her Barbie Dream House. I unwrapped my Christmas Edition Cadbury selection box and one paper aeroplane and attempted to kill the girl next to me with my frown. I looked around, grumpy as a Monday school run. I watched my brother unwrap his Christmas Edition Cadbury selection box, while peering incredulously at the boy beside him, who was throwing lashings and lashings of bubblewrap out of a big box, the exact size of a brand new remote controlled car.
When my mum and dad, having failed in their pleas that I should be grateful, and guilt-ridden when I asked why Santa bought the other kids better stuff, informed me later that that was not the real Santa but merely an impostor hired by the club, that the parents had been told to buy the presents for the kids and that there was a £5 limit. "A bloody £5 limit!" my mum would repeat for the 50th time 20 years later, as I told this same story at yet another family Christmas, I still did not forgive them.
I ate the Christmas edition Cadbury selection box and threw the paper aeroplane once. My parents were the only ones in the whole clubhouse who had stuck to the £5 limit.
Two years ago, when my daughter, five years old, came home from school after the Christmas break and asked me why Santa had only got her one gift and a stocking, but had paid for her friend's entire bedroom to be redecorated and for their whole family to go to Spain, I finally forgave my parents.
I told my daughter that those parents were lying: that Santa Claus did not have time to redecorate children's bedrooms en route around the world and that he definitely does not buy package holidays. Which is true: he doesn't.
So I guess this is a thank you to my mum and dad for sticking to the rules with that delicious Christmas edition Cadbury selection box, and a winter plea to prepare any fellow Santa lovers for next year. If you would like to buy your beautiful little ones 500 presents for Christmas, which you are by all means entitled to do, at least give yourself the credit for the first 499 of them.