Shake off the winter blues with the promise of sun, sea and palm-fringed sand.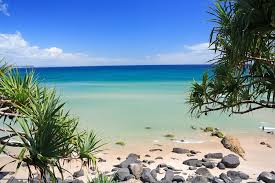 Kirra, Gold Coast, Australia
Queensland's Gold Coast often conjures glitzy and over-the-top scenes of Surfers Paradise, but 25km away, at the southern tip, the azure waters are lined by quieter suburbs that have the feel of a quiet beach town but with the perks of a city.
Kirra is afavourite place of many tourists in Australia, due to a mixture of good old-fashioned sentimentality and genuine gorgeousness. The beachside suburb may be a wonderful place to live with a family.You can spend mornings soaking in the ocean, watching dolphins frolicking just metres away.
You can stay in Kirra Beach Apartments, which has large balconies and breezy rooms.It's around the corner from a fantastic bakery and a couple of cafes, with the beach just a five-minute stroll away.
Kirra Surf Club schooners are great to overlook the ocean. Thenyou may walk around the hill to the buzzing restaurant strip of Coolangatta, which is bursting with Mexican, Japaneseand Greek food.
If you take asnorkelling trip to nearby islands where the water is clearer and you can see all kinds of colourful fish and sea creatures.