Honoring the Best in Innovation and Innovators: the 36th Edison Awards in Fort Myers, FL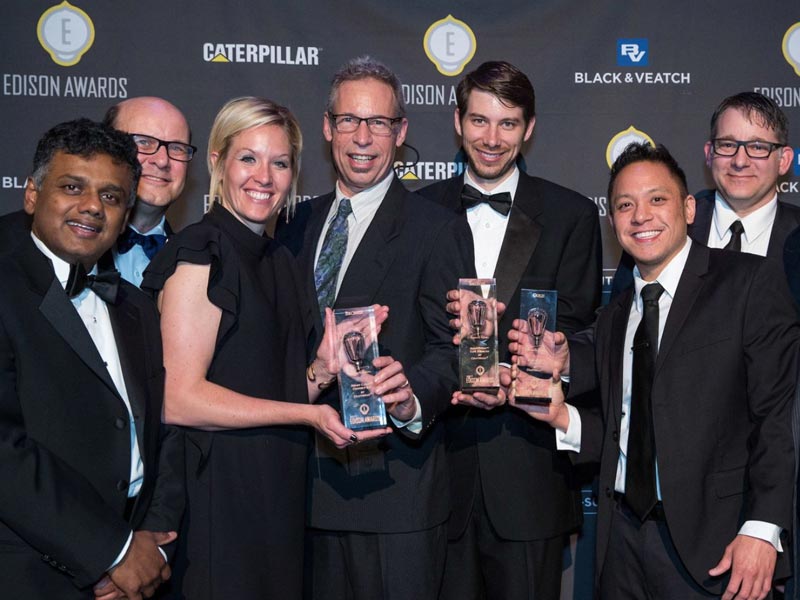 The 36th annual Edison Awards was held on April 19-21, 2023 in Fort Myers, Florida.
Since its start in 1987, The Edison Awards mission is to be a leader in globally recognizing, honoring, and fostering innovation and innovators to create a positive impact in the world. Each year a global community of 500+ industry leaders, representing more than 150 companies from around the world attend the event in Fort Myers, Florida.
"The prestigious Edison Awards not only recognizes world-changing innovations, but also the brilliant minds behind them," said Frank Bonafilia, Executive Director of The Edison Awards. "We are looking forward to celebrating innovation and providing attendees with unforgettable experiences and having them walk away feeling inspired."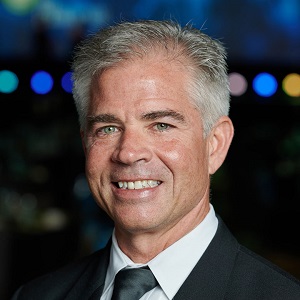 The event opened with the Meet the Innovators Forum. The executives and experts from around the world highlighted a variety of future-focused topics including sustainability, economic development, infrastructure innovation and other critical subjects.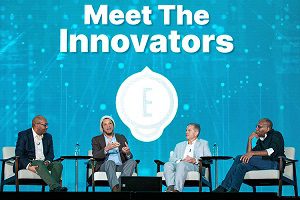 Between sessions, attendees visited the Innovators' Showcase to get a first-hand look at some of the finalists' products and services.
The Gold, Silver and Bronze winners were announced at the Edison Awards Gala on the evening of April 20. The winners were chosen as the "best of the best" within their respective categories by some of the world's top senior business executives, designers, academics and innovation leaders.
2023 Edison Achievement Award.
The Edison Achievement Award honors one or more individuals who, through their careers, their leadership and their achievements, have distinguished themselves by making a significant and lasting contribution to the world of innovation.
Pat Gelsinger, CEO of Intel, and Sir Jonathan Ive, Co-founder of LoveForm and the mastermind behind Apple's most iconic products, were honored with the 2023 Edison Achievement Award.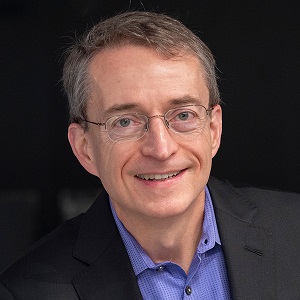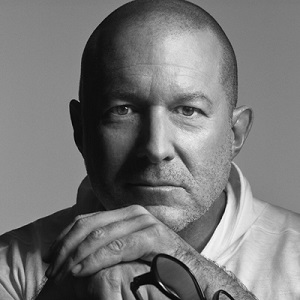 2023 Edison Best New Product Award Winners
The Edison Best New Product Awards honor excellence in new product and service development, marketing, human-centered design and innovation. Among the 2023 Award Winners were:
AEROSPACE & FLIGHT TECHNOLOGIES
Gold – Vision Jet by Cirrus Aircraft.
The Vision Jet features the Cirrus Airframe Parachute System (CAPS) and Safe Return Autoland by Garmin. CAPS is a first-of-its-kind whole airframe parachute system and Safe Return Autoland transforms the aircraft into an autonomous vehicle to safely land the aircraft in the event of an emergency. These safety systems are designed to save lives.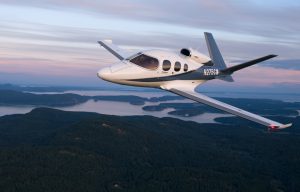 Silver – Lilium Jet by Lilium.
Lilium is creating a sustainable and accessible mode of high speed, regional transportation for people and goods. Using the Lilium Jet, an all-electric vertical take-off and landing jet offering leading capacity, low noise, and high performance with zero operating emissions, Lilium is accelerating the decarbonization of air travel.
HIGH-PERFORMANCE DESIGN
Gold – E-Jet® by Twelve
E-Jet® is carbon-neutral jet fuel made from CO2 via Twelve's carbon transformation process which transforms CO2, water and renewable energy into chemicals traditionally made from petroleum. E-Jet is drop-in ready and made to ASTM D7566 specifications, with the same quality and performance as fossil based jet fuel, and 90% lower lifecycle emissions.
Silver – Kevlar® 1 mil N636 paper by DuPont
DuPont's new ultra-light Kevlar® 1 mil N636 paper enables 20-30% lighter weight core panels than the next best competitive solution. This weight reduction enables reduced CO2 emissions during flight from reduced fuel consumption which accounts for most of the carbon footprint of the aircraft.
CONSUMER SOLUTIONS
Gold – Essency EXR Water Heater by Essency
With the EXR on-demand tank water heater, Essency revolutionizes the residential hot water industry. The EXR delivers unprecedented performance, reliability and durability. Using the tank-stored water as a thermal battery source to heat incoming tap water on demand to household users, the EXR is the industry's all-around best water heater choice.
Silver – The Harvest Pod by Harvest Thermal™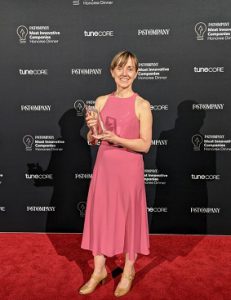 Harvest Pods transition homes to the cleanest heating, hot water and cooling, comfortably and safely, while saving money and supporting clean, resilient electric grids. The Pod operates a third-party heat pump when electricity is cleanest and cheapest, stores the energy in a thermal battery and delivers it as heating and hot water whenever needed.
CRITICAL HUMAN INFRASTRUCTURE
Gold – Virtual Grid by Ivy Energy
Virtual Grid by Ivy helps pave the way for building owners to provide their tenants with an equitable and grid-supportive solar energy experience. Owners can generate $500-$1200 per unit in annual net operating income (NOI) on the Virtual Grid Platform, while tenants see savings of 10-15% on their monthly energy bill.
ENGINEERING & ROBOTICS
Gold – AmberSemi's Silicon Chip by Amber Semiconductor
AmberSemi's mission is to transform electrical product power management architecture globally from outdated, 1950's-era technologies to smaller, safer, and smarter silicon chips – its a second electrical revolution of silicon-based, arc-free electricity management and sensing that is more reliable silicon architecture with embedded intelligence.
Silver – Rheem® Renaissance™ 15-25 Ton by Rheem® Manufacturing Company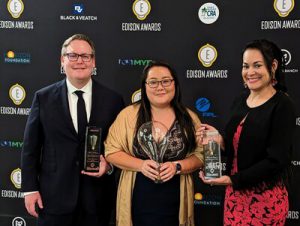 The products are the first in the industry to feature indoor/outdoor interlaced MicroChannel coils, adding to the durability and reduction of refrigerant charge needed. Units are easy to service/install. The PlusOne® ServiceSmart package includes a Qwik-Clean drain pan, the Qwik-Slide indoor blower, a removable Qwik-Slide Velocifin™ Heat Exchanger.
MEDTECH
Gold – EXALT™ Model B Single-Use Bronchoscope by Boston Scientific
This bronchoscope has evolved the standard of care within bronchoscopy. The working channel was designed to enhance suction capabilities over its reusable counterpart, while providing high-quality imaging through a tablet to provide a full system platform with ease of mobility. All of this while eliminating the risk of cross-contamination.
Silver – Invitrogen Attune CytPix Flow Cytometer by Thermo Fisher Scientific
With a high-speed brightfield camera that records images of individual events as they pass through the flow cell, Attune CytPix helps to ensure the events are single cells. This is useful in almost any flow cytometry experiment to help researchers understand the morphology of each cell population and crucial in cell and gene therapy research.
Bronze – Smart Elderly Care Solution for Nursing Homes by UBTECH Robotics Corp Ltd.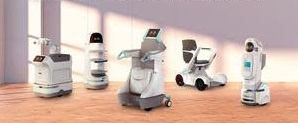 Robots, smart devices, sensors, and artificial intelligence are integrated in a solution to help seniors, nurses, and caregivers at nursing homes. The system is automated planned and coordinated to perform functions of delivering items, transporting people, walking assistance, physical rehabilitation, psychological care, operations assistance, etc.
BOTANICAL SOLUTION
Gold – Spacemilk™ Cell-Based Protein Supplement by Spacemilk™
Spacemilk cell-based protein powder is safe for every body on Earth. Naturally complete, and profoundly more sustainable than any animal- or plant-based protein, it means we finally don't have to choose between nutrition, safety and ethics. By also addressing our impending food crisis AND innovating spacefaring, it's unlike anything in the world.
Silver – SimPure™ RF 92260 by Cargill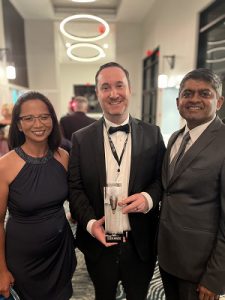 SimPure RF is a breakthrough soluble rice flour (SRF) and 1:1 alternative to maltodextrin for a broad array of foods. SimPure RF offers high solubility and neutral flavor while enhancing creaminess and body. An easily understood ingredient by consumers when reading labels, it boasts higher net perception rates amongst consumers vs. maltodextrin.
SOIL AND CROP
Gold – Blue Urea by SABIC Agri-Nutrients
Urea is one of the widely used nitrogen fertilizers in agriculture. Urea production is linked to production of its precursor ammonia, which is linked to considerable CO2 emissions. Our innovation is mainly focused about offering Blue or Low carbon Urea that is produced utilizing third party certified (TÜV-R) Blue Ammonia with zero Carbon Footprint.
Silver – PhycoTerra® ST by Heliae® Agriculture
PhycoTerra® ST, our award-winning microalgal seed treatment, feeds the beneficial microbes in the spermosphere – your seed's first interaction with the soil. By coating the seed with a high-quality carbon source, PhycoTerra® ST improves soil quality and structure, supporting crop germination, establishment, and vigor – leading to optimized yield.
HEALTH, MEDICAL & BIOTECH
Silver – Coordinated Supramolecular Complex (CSC) for Posterior Eye Delivery by Industrial Technology Research Institute (ITRI)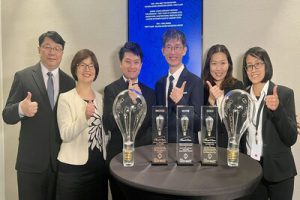 This innovation uses coordinated supramolecular complex (CSC) technology to develop an eye drop formulation for treating wet age-related macular degeneration (AMD). CSC for posterior eye delivery addresses the shortcomings of current treatments, providing a non-invasive and self-administrable alternative for patients.
ADVANCED THERAPEUTICS
Gold – Vivistim® Paired VNS™ System by MicroTransponder, Inc.
The FDA-approved Vivistim® Paired VNS™ System is a first-of-its-kind breakthrough technology that uses vagus nerve stimulation in conjunction with in-clinic rehabilitation therapy to help generate 2-3 times more hand and arm function for ischemic stroke survivors than rehabilitation therapy alone.
Silver – Nose It All™️ by Product Motif, Inc.
Nose It All™️is a medical-grade oral device that stops nosebleeds at the arterial source, up to 3x faster than any traditional method. Inserted under the top lip, pressure is directed upwards toward the anterior artery using the patented bite tab, stopping nosebleeds in as little as 3 minutes, hands-free, without tissues, sponges, or chemicals.
INTELLIGENT DIAGNOSTICS
Gold – Auria by Namida Lab, Inc.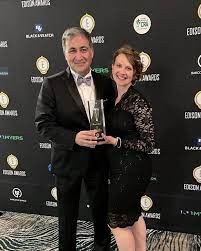 Through tears, the Auria at-home breast health test determines if proteins are elevated due to any breast abnormality, providing a score and classification to assist in the timing of when to schedule a mammogram. The test kit includes all components to collect and return your tear sample and a consultation with a breast health specialist.
Silver – Galleri® by GRAIL
"The Galleri test detects a shared cancer signal across 50+ types of cancer with a single blood draw. This groundbreaking technology finds more cancers at earlier stages—even before symptoms appear and when treatment is more likely to be successful. This could help prevent ~39% of cancer deaths that would otherwise occur in the next 5 years."
MINIMALLY INVASIVE MEDICINE
Gold – RetroPerc Nephrostomy Puncture Wire Set by RetroPerc, Inc.
Prior to RetroPerc, 99.9% of renal punctures were created by advancing a needle from 'outside to inside' direction. RetroPerc allows urologists to advance a needle from the 'inside to outside' direction, thus improving the safety of the kidney puncture for PCNL.
Silver – Continuous Tracking Surgical Assistance System (CTSAS) by Metal Industries Research & Development Centre(MIRDC)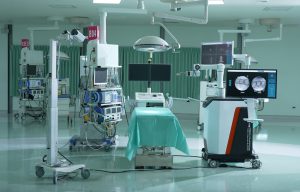 CTSAS is the first surgical navigation system using the dodecahedral tracker which provides maximum viewing angles with a greatly reduced size. Combined with real-time visualization and navigation corrections of patient's anatomy, the system can track each vertebra with improved accuracy, especially in the procedure of multilevel spinal surgeries.
NOVEL APPLICATION
Gold – Coronary Intravascular Lithotripsy (IVL) by Shockwave Medical, Inc.
Shockwave's first-of-its-kind Coronary Intravascular Lithotripsy (IVL) treats patients with severely calcified coronary artery disease (CAD) by cracking calcium in the heart to restore blood flow. The technology is a novel application of kidney stone lithotripsy that has been reverse-engineered to make it safe and effective for use in the heart.
Silver – DermaSensor by DermaSensor, Inc.
The world's first point-and-click skin cancer detection device for Primary Care Providers. DermaSensor equip America's most common provider to detect the most common cancer. Their CE-marked, FDA Breakthrough product is a handheld device that employs patented optical spectroscopy and machine learning technologies to effectively detect all common skin cancers.
OPERATING ROOM INTEGRATION
Gold – MetaSCOPE by MediThinQ
Loupes- small magnifiers mounted on glasses used by surgeons and dentists – have to be manually adjusted and also cause back/neck problems from constantly bending over patients. MetaSCOPE displays video in front of the eyes and work can be performed in natural, comfortable positions. Operations can be watched in real time through connected monitor.
Bronze – NEBULAE® SRS by Northgate Technologies Inc.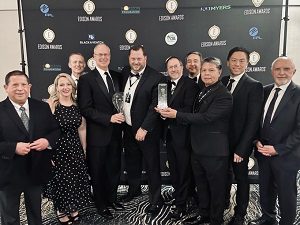 The NEBULAE® Smoke Removal System (SRS) is a closed-loop laparoscopic smoke removal device that can maintain pressure while removing surgical smoke from the patient. The SRS reduces CO2 gas usage, lessens surgical time and improves the hospital's carbon footprint, while minimalizing exposure to surgical smoke hazards.
TREATMENT OPTIMIZATION
Silver – VYVGART® by argenx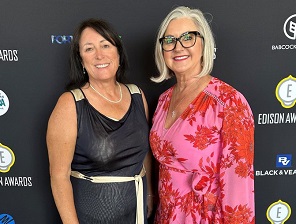 VYVGARTⓇ (efgartigimod alfa-fcab) is a pioneering medicine filling an urgent unmet need for adults with generalized myasthenia gravis (gMG) who are AChR antibody positive. It's the only approved FcRn blocker, establishing a new class of drugs, and the first approved therapy designed to reduce pathogenic IgGs, the driver of 100+ autoimmune diseases.
Bronze – Cell-Cultured Human Milk by BIOMILQ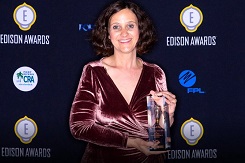 A whole-human milk product that bridges the nutritional gap between infant formula and breast milk. Used as a new alternative infant feeding option or as supplemental nutrition, BIOMILQ's whole-human milk brings many of the benefits of breastmilk with the practicality of formula.
USER-CENTERED DESIGN
Gold – Wheely-X by Kangsters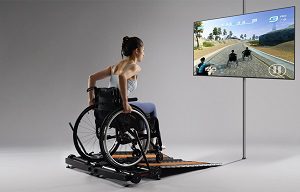 Exercise is essential for a healthy lifestyle, especially for someone who is seated all day long. For wheelchair users, exercise and cardio-fitness is a cumbersome, inconvenient process that's often hard to access. Wheely-X makes it easy for users to enjoy their favorite fitness activities and cardio workouts conveniently in their own wheelchair.
Silver – Watchmile by VEStellalab Inc.
Watchmile is an indoor parking navigation system that helps drivers find empty parking spaces without the need for GPS. Watchmile guides drivers using the parking lot's CCTV cameras, the driver's smartphone sensors, and our Vision AI and IoT sensors. Once parked, Watchmile provides the exact location of the vehicle and duration of time parked.
LIVING, WORKING, & LEARNING DESIGN SOLUTIONS
Gold – Babcock Ranch by Kitson & Partners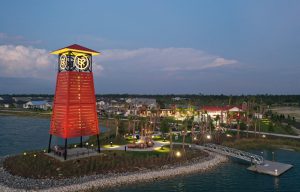 Put to the ultimate test by Hurricane Ian, Babcock Ranch is making the case for more resilient design and construction to withstand the forces of nature. Babcock Ranch is built upon core values, with Storm Safety protocols and best practices proven successful once again by Hurricane Ian.
Silver – Vantem builds affordable, energy-efficient, climate-resilient homes at scale, by Vantem Global Inc
Vantem's innovative construction makes it possible to deliver affordable, energy-efficient, climate-resilient homes globally and on a large scale. Vantem homes are an average of 20% less expensive, up to 70% more energy efficient, and have up to 90% less embodied carbon than traditional homes.
AUTONOMOUS VEHICLE
Gold – Autonomous Work Vehicle by American Honda Motor Co., Inc.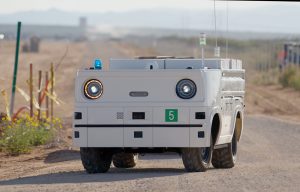 Honda AWV is a rugged off-road autonomous solution, especially where workforce constraints and safety concerns make other solutions impractical. The ability to operate autonomously, or via remote control and carry large loads, along with the potential to add attachments and tools, makes the Honda AWV a suitable platform for many work environments.
GREEN REMEDIATION
Gold – Certified Circular Ocean Bound Plastic by SABIC
SABIC's newest innovative offering, ocean bound plastic, is made from post-consumer plastic waste recovered from areas and rivers up to 50km inland. Together with Polivouga and the Nueva Pescanova Group we have developed the world's first frozen food packaging solution using SABIC's certified circular polyethylene from ocean bound plastic.
Silver – Wuning Wastewater Treatment Project by Jiangxi JDL Environmental protection Co., Ltd.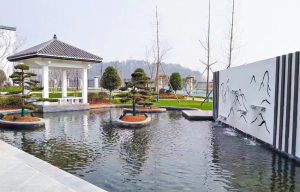 The Wuning project treats 20,000 m3/d of wastewater and serves 150,000 people, eliminating water pollution in a developing area. JDL adopts the concept of "Park above ground, facilities underground" to transform the wastewater treatment plant into a garden for the community.
This years' Lewis Latimer Fellowship recipients were also presented at the event.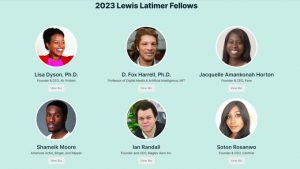 The event wrapped up with a Community Day on April 21 that is designed to engage students and the community in future-forward thinking. The day consists of educational opportunities around leadership and overcoming obstacles, a Hertz electric vehicle car show, an introduction to the Young Edison Challenge student winners and a "Shark Tank" pitch panel featuring 2023 Edison Award finalists.
"We are thrilled to host the Edison Awards and help bring together some of the world's most inspirational thinkers, innovators and inventors," said Kevin Anderson, Mayor of Fort Myers. "Our students in this community will benefit tremendously as they will get the opportunity to experience these award-winning inventions in the hopes that it will inspire them to dream big."
For more information and a complete list of winners, please visit: https://edisonawards.com/2023-edison-awards/
By Alex Arlander, Gilbert Castro | ENC News