Homeless pet owners frequently choose to stay on the streets rather than give up their furry companions in favor of stable housing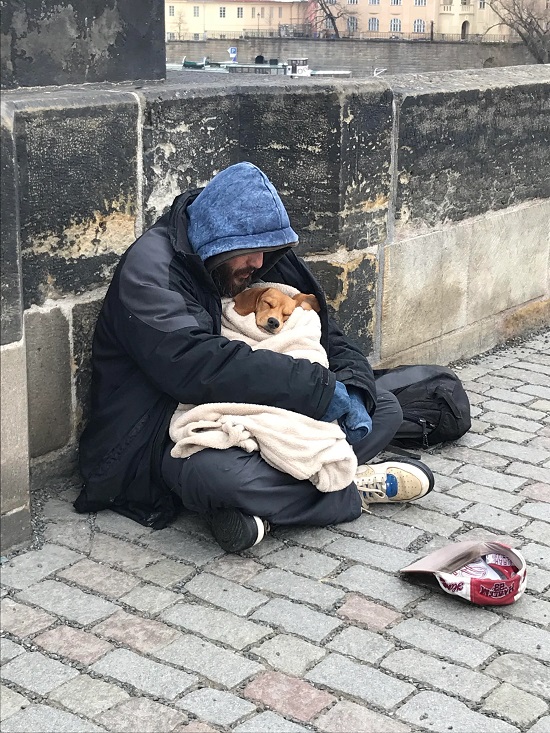 For millions across the globe, a regular morning includes spending time with their fluffy companions, and the thought of losing them is devastating. It's no surprise, then, that people experiencing homelessness are just as loyal to their pets.
Like anyone else, they find solace, protection, and companionship through their pets, and they, in turn, want to protect their pets. With limited resources, this often means putting their pets before themselves.
"The animal-human bond is especially strong for people experiencing homelessness because those animals are with their people 24/7," says Genevieve Frederick, Founder and President of Feeding Pets of the Homeless.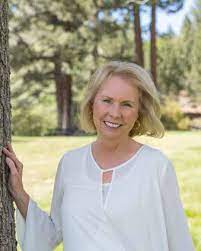 "Companion animals reduce isolation and can provide hope. Sometimes the pets are the only things that keep people going. Such friendship is priceless." she says.
Most shelters, transitional and supportive housing programs, though, turn away pets. As the animals provide comfort, companionship, protection and love, pet owners frequently choose to stay on the streets rather than give up their furry family members in favor of stable housing.
In fact, many people who are homeless arrive in that situation bringing their pets.
According to the U.S. Department of Housing and Urban Development, more than 582,000 people were homeless in 2022. About 25 per cent of those people have pets.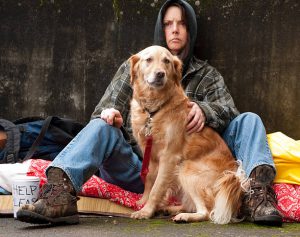 In 2008, Genevieve Frederick founded the first national non-profit Feeding Pets of the Homeless to provide pet food and care for the thousands of companion animals of those experiencing homelessness.
Since 2008, the organization has worked in every U.S. state to provide food, and routine and emergency veterinary care to more than 26,000 animals that homeless pet parents wouldn't otherwise have access to.
Funded solely through donations and grants, Feeding Pets of the Homeless has provided nearly 900 tons of pet food and supplies distributed through local food banks, soup kitchens and boots-on-the-ground volunteers to ensure pets are not hungry.
When people ask Genevieve Frederick why she decided to start this non-profit, she says they may find the best answer to their question watching the video Meet Andy, a Homeless Man and His Dog Bailey, posted in October 18, 2018.
The video is about a homeless man named Andy and his beautiful pit bull mix named Bailey whom he purchased from a beggar when the dog was just four weeks old. Ever since the dog has been cherished company in what is often a very lonely life.
"This dog saves my life on a daily basis," Andy says.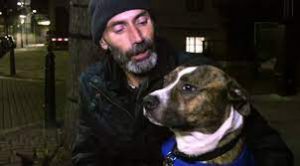 Being responsible for Bailey convinced Andy to quit a 15-year heroin and crack addiction. He stays on the right side of the law because who would take care of Bailey if Andy were thrown in jail? And when Andy hit rock bottom and contemplated suicide, it was Bailey who convinced him not to jump off a bridge.
"Because there is communication there," Andy says. "It may not be words, but it's there."
Back in 2005, Genevieve encountered a man much like Andy on the streets of New York City. She was in town to receive an award for a book of dog owner tips she had co-written called "Happy Tails," and she says might have not even noticed the man but for the beautiful dog that was obviously his companion.
The encounter left Genevieve, who had recently retired from a career in marketing, with many questions. What had led this man to become homeless? Why would someone with so little take on the responsibility of a pet? Wouldn't it make it hard for him to stay in a shelter or impede his ability to find a permanent home?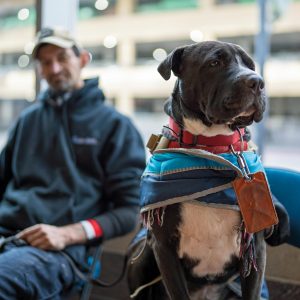 When she got home to Carson City, NV, Genevieve started doing some research.
Through the National Coalition for the Homeless, she discovered that in 2008 there were 664,000 homeless people in the United States. And it was estimated that about 10% of them had dogs and/or cats.
Men and women living on the streets were devoted to these pets, who provided everything from unconditional love and companionship to warmth and protection.
"Most people who experience homelessness are homeless for a short period of time and usually need help to find housing or a rent subsidy," Genevieve writes on the nonprofit's website.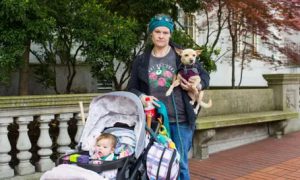 "Unfortunately for those with pets, it becomes more difficult. Many are forced to choose between their pet and a roof over their head. Surprisingly, most choose to stay on the streets with their pets."
The more Genevieve learned, the more she was moved. And then she had a lightbulb moment: she could help these pets. She could establish locations where people could donate food and then get it to the places where the homeless got their own meals.
"That one day in New York changed my life," Frederick notes on her website.
She started with her own vet, who agreed to accept donations of dog and cat food.
She submitted a press release to her local paper, which put the story on the front page. Donations came pouring in and a year later, Pets of the Homeless was born.
In the dozen years since the nonprofit has expanded dramatically. Its services now include free medical treatment for pets, and providing crates at homeless shelters so they can accept men and women with dogs and cats. There are 457 donation sites nationwide and hundreds of volunteers collecting and distributing food.
Here is just one case from the life of Feeding Pets of the Homeless:
Robert Smith is disabled and lives on the streets of San Francisco with his three-year-old mixed breed dog Colby. They're together nearly every minute of every day and stable companions to each other.
In January, the Society for the Prevention of Cruelty to Animals (SPCA) referred Smith to Feeding Pets of the Homeless when he told them Colby needed help. The pup had hot spots on the side of his face and blisters on his ears. His wounds were bleeding and infected.
A case manager with Feeding Pets of the Homeless helped Colby get an exam and wound care. He received updated vaccinations, antibiotics and medication for the painful infection, and an Elizabethan collar to prevent scratching.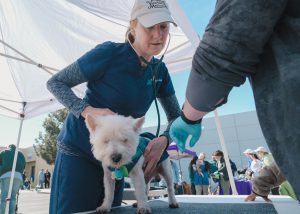 Feeding Pets of the Homeless contributed $638 toward Colby's care and today he is a happy, healthy pup and an important helpmate to his owner.
For her volunteers and supporters, Pets of the Homeless is a cause that warms their hearts.
For its clients, the nonprofit is a resource that makes life on the streets just a little easier.
And for Genevieve, Pets of the Homeless is the culmination of many things – a career in marketing, a passion for animals, a desire to do good in the world, and a chance sighting of a man and a dog on the streets of Manhattan.
Each day is a struggle for those experiencing homelessness, and their pets have little recourse. No matter where they live, no pet deserves to go hungry or suffer from illness or injury. With our help, the lives of these pets and their devoted owners can be made a little easier, healthier, and happier.
For more information on how to get help, volunteer, or donate, visit petsofthehomeless.org
By Alex Arlander | ENC News