Alice Sara Ott: Her performance is breathtaking. Her technique is dazzling.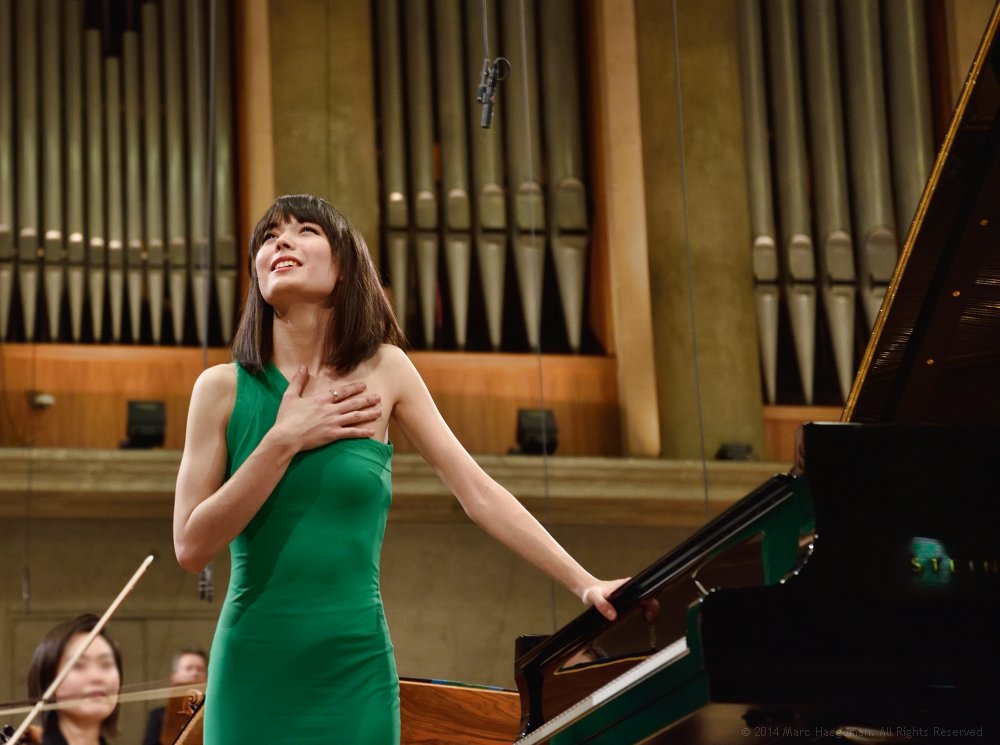 "Her technique is -­ dazzling, her tone -­ wonderfully varied, from ­crystalline purity to powerfully raw, and the energy propelling her playing seems unstoppable." (The Guardian)
The 2018/19 season marks a significant year for German-Japanese pianist Alice Sara Ott, one of the world's most in-demand classical pianists. She releases her latest album, Nightfall, featuring works by Satie, Debussy and Ravel. The album marks ten years since Alice has been signed as an exclusive recording artist to Deutsche Grammophon. She will tour the recital programme across the world, with European dates including Paris's La Seine Musicale, Stuttgart's Liederhalle, Vienna's Mozart Saal, Munich's Prinzregententheater, Baden Baden's Festspielhaus, London's Wigmore Hall and the Klavier-Festival Ruhr in Duisburg. These European dates are in addition to a nine-date recital tour across Japan, including Tokyo Opera City.
A prominent figure on the international classical music scene, Alice Sara Ott regularly performs with the world's leading conductors and orchestras. In 2018/19 Alice will perform with NHK Symphony Orchestra Tokyo (Gianandrea Noseda), Philharmonia Orchestra (Santtu-Matias Rouvali), BBC Scottish Symphony Orchestra, Bergen Philharmonic (Edward Gardner), London Symphony Orchestra (Elim Chan), St Petersburg Philharmonic Orchestra (Yuri Temirkanov), and for a European tour with Gothenburg Symphony (Santtu-Matias Rouvali). She continues her collaboration with London Symphony Orchestra via her chamber music residency at LSO St. Luke's, where she will give several Alice and Friends concerts with fellow artists.
From Bartók and Bach to the wit of Victor Borge and the pioneering pop of the Yellow Magic Orchestra, the pianist shares her musical loves
How do you mostly listen to music?
Mostly on my cheap CD player at home, but I recently bought a wonderful old record-player, so as soon as I find the time to fix the needle, that will be my new device.
What was the first ever record/CD you bought?
I think it was a Naxos collection of famous overtures. My pocket money at that time was very limited, and that was the only album I could afford.
What was the last piece of music you bought?
I found a nice score of Bartók's third piano concerto at an antiques shop in Budapest.
What's your musical pleasure?
Japanese pop songs from the 70s and 80s.
If you found yourself with six months free to learn a new instrument, what would you choose?
The cello. I generally like the lower voices, and also it has always been a dream of mine to play Bach's fifth cello suite. My mother used to play cello when she was young, and we have a broken one at home. I would get it fixed and start taking lessons.
Is applauding between movements acceptable?
Any emotions are most welcome.
What single thing would improve the format of the classical concert?
To get rid of etiquettes and dress codes.
Do you enjoy musicals? Do you have a favourite?
I have to admit I'm not the biggest fan, but there are a few I still like. As a child, I loved The Sound of Music.
Which conductor or performer of yesteryear do you most wish you could have worked with?
If we're talking about classical conductors and performers, there are too many. So I would have loved to be part of Victor Borge's show. Music comedy is really not easy, and he did it with such witty humour and effortlessness. And I don't know any musician who doesn't have the dream of taking someone's piano chair away!
Which non-classical musician would you love to work with?
There's three. I love Tom Waits for his voice and song lyrics, and it's always his songs that help me in difficult periods. My all-time favourite is Broken Bicycles.
And well, who doesn't love Pink Floyd? My mother went to their concerts – I am so jealous because I didn't have that chance. It's my dream to be in the crowd when they start singing " … we're just two lost souls swimming in a fish bowl, year after year".
And finally, people nowadays probably know Ryuichi Sakamoto better as a solo artist, but in the 70s he and two other musicians were in a trio called the Yellow Magic Orchestra, and they were pioneers in the electropop genre. The other day I went to a ramen shop and freaked out when I suddenly heard through the speakers. I was so happy to get to hear their music and immediately asked the people in the shop whose iPod was playing it, but they told me it was just the radio and they had no idea who or what YMO was. I guess it's a generational thing!
What do you sing in the shower?
The Russian folk song Katyusha.
It's late, you're in a karaoke bar. What do you choose to sing?
I would choose Pink Floyd's ballad Hey You.