Everywhere I look in my home makes me happy: Tales of the unexpected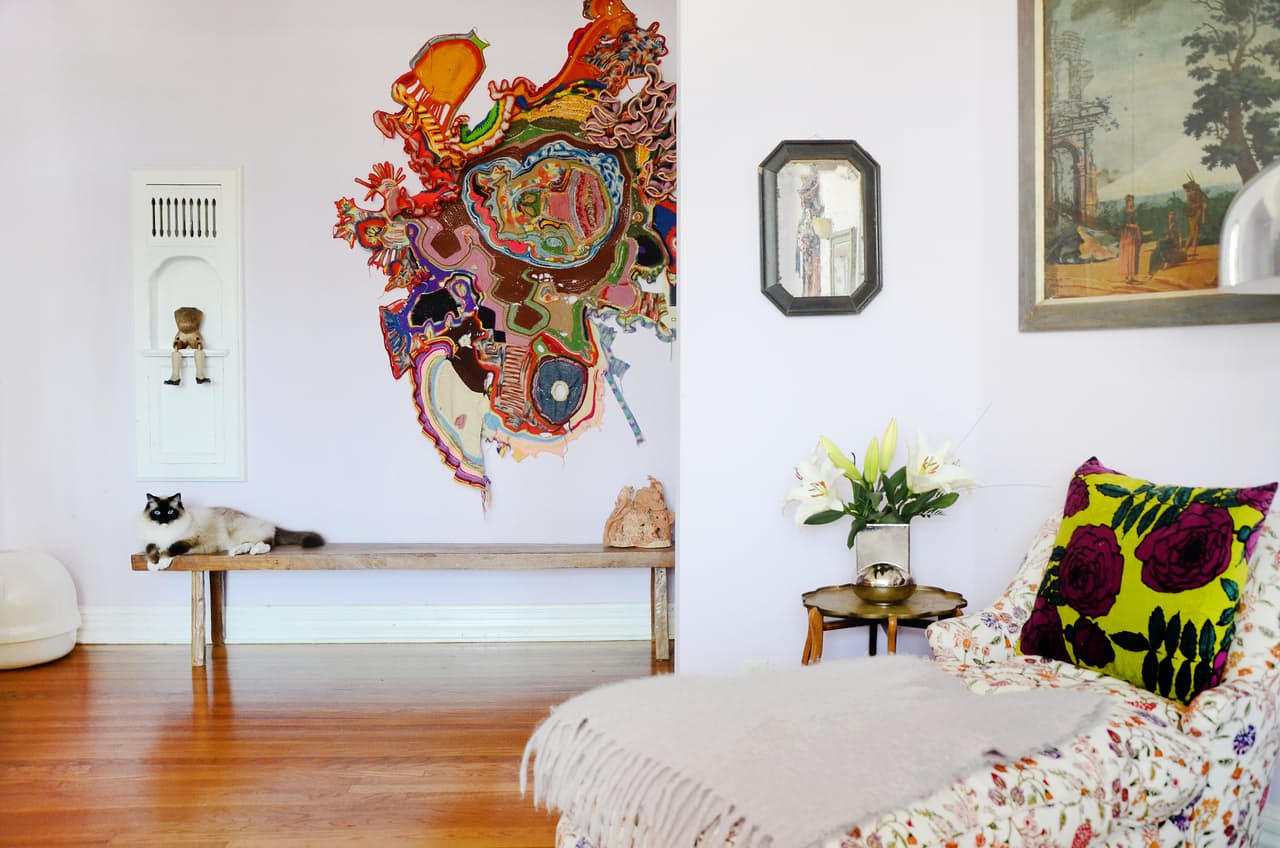 For many couples, moving into a new home means a series of compromises. There comes a point in the process of blending two tastes when most of us end up sulkily settling for off-white paint. "No, that was never going to happen," fashion historian Amber Butchart says, surveying the Margate flat they have just finished refurbishing with RobFlowers. It's an ode to exuberant colour, pattern and texture – and to a marriage of visual minds.
"Basically, Rob and I share the exact same aesthetic," Butchart explains. "We have the same favouritecolours: green, orange and yellow. We're both hoarders – we actually first met when we were working at Beyond Retro, the vintage clothing store in London. We're obsessed with charity shops and jumble sales. And we already had incredibly strong ideas about what we were going to do with wherever we bought."
Living in east London, they dreamed of owning their own home, which felt hopelessly out of reach. So a few years ago they started to look further afield, and lit upon Margate's bracing ocean air and elegant architecture. The town has always attracted visitors from the capital, from Turner and TS Eliot to Banksy and Chas & Dave, for all sorts of reasons; recuperation, amusement, anonymity, escape. "Fashion is now leading her votaries out of town," one 18th-century journalist tutted at the height of Margate's Regency boom, "to those places which, not many years ago, were intended for the abodes of disease and quiet."
'Walk in our door and you're in a totally unexpected place. It's that eccentricity you get in seaside towns'
For Butchart, who grew up in the fishing port of Lowestoft, and has written a book devoted to the history of nautical fashion, the seaside context couldn't have been more perfect. She and Rob quickly found a two-bedroom flat on a waterfront crescent in Cliftonville, one of the resort's genteel Victorian suburbs. The property came with the right bones: high ceilings, tall windows, wrought-iron balconies and a good working layout. But it also came coated with magnolia paint – which was the first thing that had to go.
Butchart and Flowers's reference points are an eclectic mix of Elvis's Jungle Room, Del Boy Trotter's lounge and Pugin's Houses of Parliament interiors. Each room has been lovingly, lavishly considered, with waist-height dado rails reintroduced to allow for two wallpapers (boldly painted Anaglypta below, retro deadstock prints above). "We wanted as much pattern and as much surface decoration as we could get," Butchart confirms. She cites Margate's Shell Grotto as an inspiration – an underground chamber of unknown purpose, fantastically embellished with shell mosaics, which was discovered in 1835. "This is a gorgeous Victorian seafront building. But you walk in our door, and you're suddenly in a totally unexpected place. It's that eccentricity you get in seaside towns, which we love."
All this maximalism could feel overwhelming, but Butchart and Flowers have carried their scheme through with such aplomb that it doesn't. In the kitchen, vivid orange cupboards and leopard-spotted lino are set off by wall tiles printed with Flowers's colourful vegetable drawings. The couple's bedroom is done out in breezy marigold tones, with vintage Biba posters, animal-print furniture and a midcentury dressing table. There's a living room in vivid emerald greens and a home office with geometric tangerine shelving where the couple work side by side – Flowers on his illustrations, Butchart on research for her new BBC4 series on the history of fashion, A Stitch in Time.
Everywhere you look, there are shelves and sideboards stacked with scavenged treasures (Butchart's charity shop tips include Môr Margate and Cats in Crisis) and eBay finds. But the flat's pièce de résistance has to be their spectacular bathroom, an Art Deco fantasia straight out of a Busby Berkeley musical. Its stepped tiling in black and duck-egg blue frames a 1970s bathroom suite sourced (like many of the objects in the flat) from eBay. "Our carpenter, Greg Holmes, subsequently said it's the most difficult room he's ever worked on," Butchart confesses. "But it's probably the one he's proudest of, too."
The whole interior is such a roller coaster of references – Victorian postcards, crochet-square throws, Art Deco lamps, 1970s posters – that it's hard to know how best to sum it up. "Baroque with a midcentury twist?"Butchart suggests. "One of my oldest friends was trying to describe it to another friend, and she said: 'If you imagine Amber and Rob as a flat, that's what it is.' And it's true. Everywhere I look makes me happy. Our only regret is that we didn't have enough money to put Anaglypta on the ceilings, too. That's possibly phase two."