Positioning Illinois To Be Competitive In Emerging Industries: The Executives Club of Chicago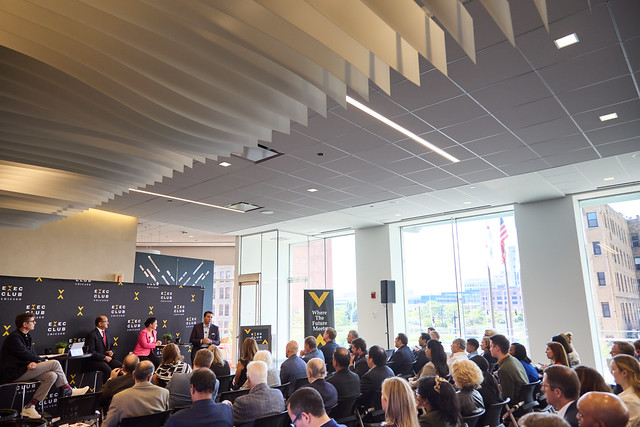 On September 14, 2023, the Executives Club of Chicago held a roundtable discussion addressing the issues of Positioning Illinois To Be Competitive In Emerging Industries.
A number of industries are expected to grow significantly over the next decade. Given its location as an intermodal hub, its globally-recognized academic institutions, and its deep professional workforce, Illinois is well-positioned to be competitive in these industries which could drive substantial economic growth across the State. Yet, a number of challenges remain, including Illinois' and Chicago's long-term financial health.
To explore Illinois's competitiveness and what it will take to win, the Exec Club held a roundtable discussion touching on these issues.
The Speakers of the Moderated Conversation were: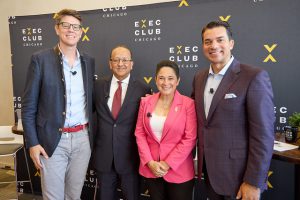 Rashid Bashir, Ph.D. Dean, The Grainger College of Engineering, University of Illinois at Urbana-Champaign
Rashid Bashir is Professor of Bioengineering, the Grainger Distinguished Chair in Engineering, and is currently the Dean of Grainger College of Engineering.
Susana Mendoza, Comptroller, State of Illinois
Susana A. Mendoza serves as Illinois' Chief Fiscal and Accountability Officer. As Comptroller, Mendoza has been a vocal advocate for stability, comprehensive budget solutions and transparent financial reporting.
Jimmy Samartzis. CEO, LanzaJet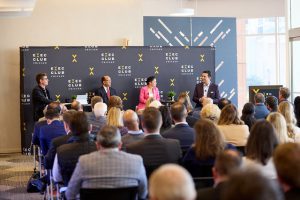 Jimmy Samartzis is the CEO of LanzaJet, Inc., a global leader in sustainable fuels technology and production of sustainable aviation fuel (SAF) and renewable diesel from low-carbon and waste-based sources.
SAF possesses a lot of environmental advantages while maintaining all of the quality and operational characteristics of fossil based jet fuel.
LanzaJet's technology uses waste-based, sustainable ethanol as the starting point and converts it into sustainable aviation fuel and sustainable diesel. These fuels at the end of the day, have a life cycle, greenhouse gas emissions reduction of more than 70%, and they also reduce sulfur completely and reduce particulate matter. Thus, these fuels are much cleaner and have favorable properties for engine performance as well.
These fuels have a higher energy density than the typical fossil based jet fuel. To operate the large jets on long-haul flights, SAF is considered a great solution both in the near term and longer term.
Jimmy's career has focused on climate change and in particular advancing the decarbonization of industries reliant on fossil fuels. He is known for his inspirational leadership, building private/public partnerships, and impact by enabling change across industries, governments, companies, and teams.
Brad Henderson, Moderator, CEO, P33
Brad is the founding CEO of P33 where he is leading the nonprofit organization to drive global technology leadership for Chicago and inclusive economic growth for all.
For more information about the event, please visit https://www.executivesclub.org/digital-event-program/
By Alex Arlander, Gilbert Castro | ENC News