The seeds planted 10 years ago have exploded into a global community of women of power and purpose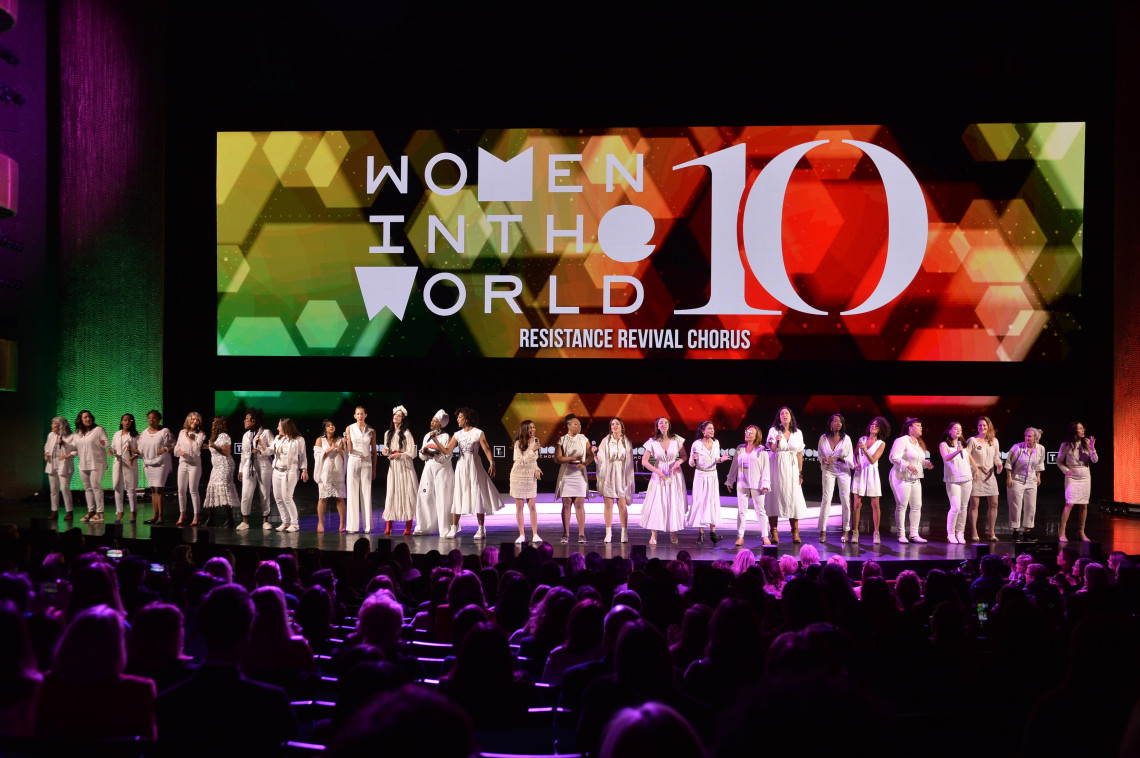 10th Anniversary Women In The World Summit
Tina Brown, Founder and CEO, Tina Brown Live Media/Women in the World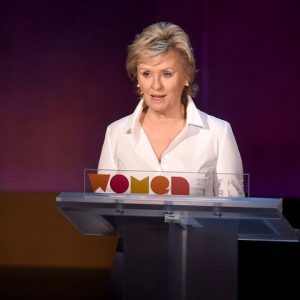 Tina Brown's 10th Annual Women in the World Summit was held on April 10-12, at Lincoln Center in New York City.
"This year's Summit is such a milestone event with our 10th anniversary; it is clearer than ever that the mission has met its moment," said Tina Brown, founder and CEO of Tina Brown Live Media/Women in the World. "The seeds we've planted as far back as 2009 in a small midtown theater have exploded into a global community of women of power and purpose."
Founded in 2010, Women in the World has since grown into one of the largest, most visible platforms for women to share their stories and discuss the issues that matter most. Tina Brown notes that a key differentiator from other 'women's conferences' is that Women in the World is globally focused, featuring champions of change that may not ordinarily be in the spotlight. "The drive behind it is deeply journalistic," says Brown of the annual summit. "It's not what I call a sort of woman's empowerment, a lean-in situation, it really involves telling global."
Female activists, scientists, actors, journalists, and leaders came together to confront society's most pressing issues; from human rights violations to climate change, social media misinformation to reproductive rights, and how to solve these problems, as women, together. The evening opened with a special performance by inaugural Youth Poet Laureate of the United States, Amanda Gorman, along with choreographer and dancer Sherrie Silver.
Women in the World Founder Tina Brown then took the stage to introduce the evening, describing the annual event as a blend of the Seneca Falls Convention and Coachella – "Burning Woman!"
The annual event features speeches and panel discussions that address the central question, "Can Women Save the World?"
Oprah Winfrey, Philanthropist and Global Media Leader
Oprah Winfrey opened her remarks with a rousing performance of Sojourner Truth's famous "Ain't I a Woman" speech, which was originally delivered at the Women's Convention of Akron, OH in 1851.
Those who need inspiration should just look in Ms Ardern's direction, according to Winfrey. Oprah Winfrey said she interviewed the biggest names and most prominent world leaders of our time. But New Zealand Prime Minister Jacinda Ardern's response to last month's Christchurch mosque massacre was a display of leadership she's "never seen". "I've never seen such leadership. The prime minister is a woman who has such courage in her convictions and has set a global standard for leadership with her response."
"We have to make the choice every single day to channel our own inner Jacindas; to exemplify the truth, and the respect and the grace that we actually wish for the world," she said.
On the need for women to redefine the American conversation: "We live in a country that has somehow confused cruel with funny, serious with intelligent, attitude with belief, personal freedom with stockpiling assault weapons, and what is moral with what is legal. So it is time for women in the world to set the agenda. It's time for women to redefine the message. We need to make that message a positive one. Let's make it ambitious, and inclusive, and brimming with hope."
In her keynote address, Oprah Winfrey delivered a rousing speech in answer to the question at the center of the summit: 'Can women save the world?'
"If we want to save the world, we've got to continue to rock the boat. To join forces, to scrap the rules. And then when the smoke clears and all the naysayers who said it couldn't be done settle down, we need to reinvent the game. I don't need to tell any of you that the game was not built on an even playing field."
"We protest, we persevere, we get knocked down, but—to paraphrase a memorable moment on the floor of the senate—still we persist! We prove ourselves again and again and again. We maintain a healthy skepticism, but we refuse to be cynical," she said.
"We believe in justice for all—regardless of race, religion, or checking account… We are there for aging parents, divorcing friends, and scary teenagers. We are good listeners and we are badasses. And above all, we show up. We! Show! Up! Can women save the world? I'd say we've been doing exactly that for so many years," she added.
On what women should do next: "Save yourself, and then offer what you know to save your family, and then your community, and then your world."
SAUDI'S WAR ON WOMEN
Facing imprisonment, surveillance and censorship, Saudi Arabia's women continue to courageously speak out against their homeland's oppressive regime.
Safa Al-Ahmad, Saudi Filmmaker and Journalist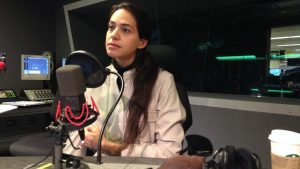 On Saudi Arabia's regime: "It's a dictatorship. There are no rights for anyone. They do not believe in the rights of their citizens….We have to push for more complex understanding of the endemic suffering of the people themselves, and the structure of Saudi Arabia as it is right now is oppressing everyone, top to bottom."
Manal Al-Sharif, Author and Women's Rights Activist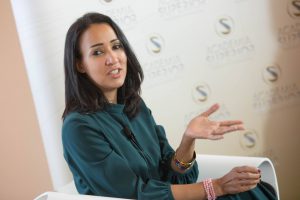 On male guardianship laws in Saudi Arabia: "I'm turning 40 this year and by law, I'm still a minor. My son, when he turns 18 this year, will become my legal guardian…Women in my country living under male guardianship, that means from the time she's born to the time she dies, she needs permission from a man."
On her self-imposed exile: "We're witnessing a country where the main two exports are oil and terrorists. People leave my country to live. That tells you a lot about my country."
Lina Al-Hathloul, Sister of Women's Rights Activist Loujain Al-Hathloul 
On using her voice on behalf of imprisoned Saudi activists: "For a long time. I believed staying silent was the best way to protect Loujain from further harm. I have no choice but to speak out and use my voice, because my sister cannot. Tonight, I ask you to join me. Speak up, and fight for my sister. For all the Saudi activists who have been unjustly imprisoned and brutally tortured. Share their stories….our silence will not keep them safe."
CAN WOMEN RESCUE OUR DYING PLANET?
Last year, scientists warned that after almost 50 years of predictions about catastrophic climate change, humanity has only 12 years left to act before facing cataclysmic consequences for our the planet. Here's why women can be the saviors of Planet Earth.
Dr. Mae Jemison, Former NASA Astronaut and Leader, 100 Year Starship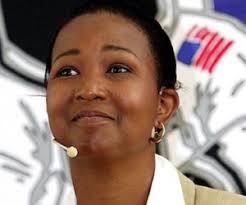 On the future of climate change: "We actually have incredible and sufficient amounts of technology, sufficient amounts of data, sufficient amounts of knowledge to know that we have to do something…We are not connected, we don't see ourselves as involved. We think we can wait it out."
Christiana Figueres, Founding Partner, Global Optimism
On supporting youth activism about climate change: "If that outrage falls into cynicism and despair, we are literally fried. That outrage has to be folded and forged into a really stubborn optimism, which is living and working in the conviction that together we have everything it takes to do the right thing."
Nina Lakhani, Journalist and Author
On the water crisis: "Water has become, like lots of things, a political issue. You have officials come in making very good plans which require a 10-20 year investment, and no politician wants to do that. They're thinking about the political timeline of 4-6 years."
On women leading the charge against climate change: "Women and children are at the forefront of leading resistance against climate change and environmentally destructive projects, because they're the ones who are affected the most."
Cristina Mittermeier, SeaLegacy Co-Founder, National Geographic Photographer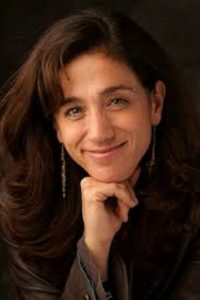 On the problem with addressing climate change: "The problem with climate change is not a problem of science. We know. It's a problem of communication. We have not invested enough to make sure everyone is engaged, alarmed, and activated…Climate change is going to be the defining issue of our generation. We cannot solve this problem if 50% of our population is disenfranchised."