The creative collaboration of two friends that brought joy to the world of kids and adults: Walt Disney and Ub Iwerks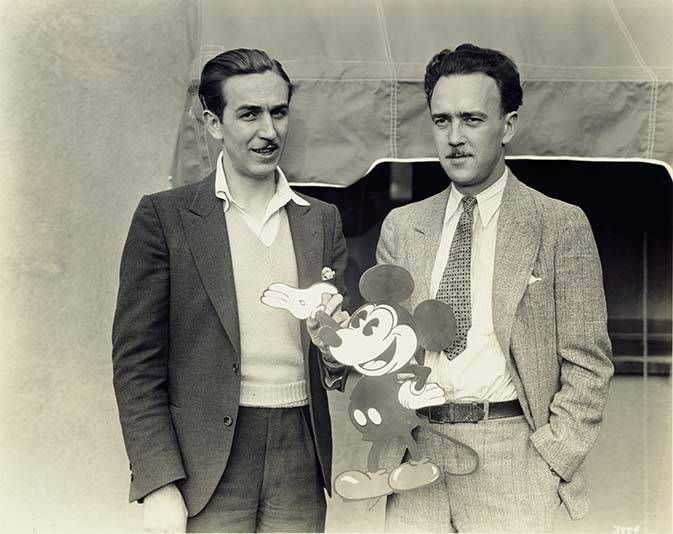 The name Walt Disney is one of the most recognized in the world.
His name is associated with the Walt Disney Company and the legendary Mickey Mouse.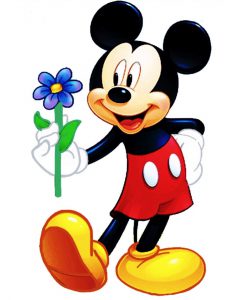 The co-creator of the favorite of kids was a talented Kansas City animator Ub Iwerks, Walt Disney's friend and collaborator.
Walt and Ub met in 1919 while working at the Kansas City commercial art studio. Walt was a natural-born salesman, Ub – a natural-born artist.
The mysterious world of animation attracted the teenagers with its novelty and unprecedented perspectives of realization of their artistic vocation.
At the Kansas art studio they were introduced to a behind-the-scenes of motion picture production. It was a close-up look at the nascent medium of drawings in motion that so captivated Ub and Walt.
Walt Disney's life story is well known to all cartoon lovers. The life story of Ub Iwerks is less well known.
Ub Iwerks was a Dutch and German descendant. His father, an amateur inventor, introduced Ub to an astonishing world of film. And from an early age, Iwerks was fascinated with the idea of bringing still images to life.
Before moving to Hollywood, two friends went through a series of ill-conceived and failed business concepts.
Their most notable work was at the Laugh-O-Gram Studio. At that studio, Iwerks and Disney made short films for a movie house in addition to "Alice's Wonderland," a live-action film starring a 4-year-old girl.
In 1922, Disney and Iwerks opened their first animation studio. "It was a bunch of kids hanging out and making art," says Butch Rigby, the chairman of Thank You Walt Disney. "The owners were Ub and Walt and they were 21 years old and they recruited these 18-year-olds with an ad in the paper that said, 'If you'd like to draw cartoons, come to the Laugh-O-Gram Studio.'"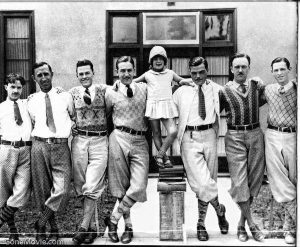 Like Iwerks and Disney, many of the early Laugh-O-Gram animators ended up in Hollywood and went on to become pioneers of American animation.
Ub was quiet, but a genius. And Walt recognized that. Iwerks was an artistic and engineering fellow with the ability to creatively solve any problem. Disney, meanwhile, was a dazzling storyteller. Walt and Ub together were able to do just about anything.
Mickey was born out of an extremely tense, stressful moment. Walt Disney had just lost the rights to his first hit character, Oswald the Lucky Rabbit, and all of his animators had abandoned him. Everyone except Ub Iwerks, the co-creator of Oswald.
So while the departing animators finished up the final Oswald cartoon, Disney and Iwerks worked behind a locked door to hastily sketch out a new character. And Mickey could have just as easily been a frog. Or a cow.
After a record 700 drawings a day, Ub Iwerks animated the first Mickey Mouse cartoon in 1928. He did it single-handedly in two weeks, something that would have taken other animators months.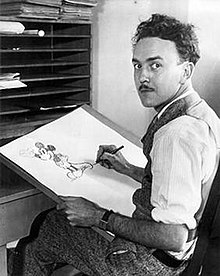 At first Disney called the new character Mortimer. The moniker didn't last. Disney's wife convinced him to change it.
And ultimately Mickey Mouse came to be. Walt defined Mickey's personality. It was adventurous and hugely optimistic.
During the early years, Mickey was drawn by Ub Iwerks. and Disney himself provided Mickey's voice until 1947.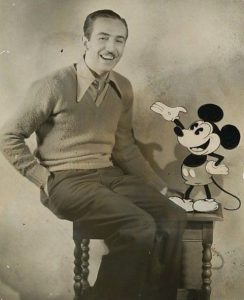 The cartoon's major innovation was synchronized sound. For the first time the soundtrack corresponded to the actions on the screen with the characters acting in cue with the voices and music.
In 1930, Iwerks left Walt Disney Studios to start his own animation studio, citing "personal differences with Walt." It wasn't the first storm the two friends weathered, and it wouldn't be the last.
Ten years after he left Walt Disney Studios as an animator, Ub Iwerks returned in 1940 as a special effects problem solver.
The two friends worked side by side until 1966.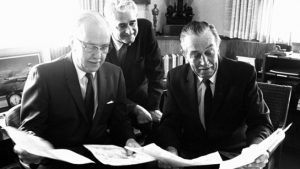 Walt Disney died at the age of 65. Ub Iwerks said Disney's death was "the end of an era."
They were two sides of the same passion in a sense.
In addition to being a prolific animator, Iwerks was also the genius inventor behind Disney's greatest special effects. He is the one to thank for the iconic scenes in "Mary Poppins", "Sleeping Beauty," and Alfred Hitchcock's "The Birds."
Iwerks not only helped create Mickey, but he was also a precursor to today's Walt Disney Imagineering and created many of Disneyland and Walt Disney World's key attractions.
This is an inspiring example of lifelong fruitful collaboration and friendship.