5 key trends for the future of healthcare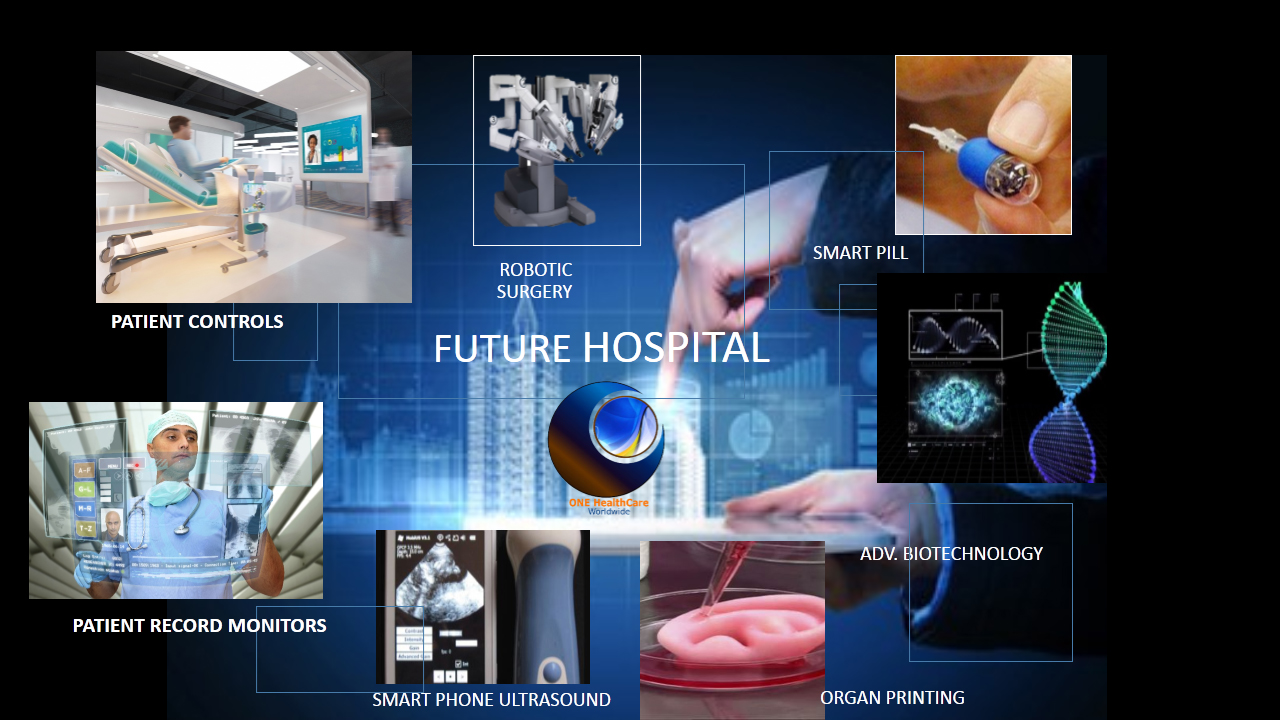 A human embryo's DNA is "edited" to take out a disease. Surgeons practice complicated procedures on models created by 3-D printers. A pre-programmed drone collects blood samples from residents of a rural village and travels back to the capital.
These awe-inspiring scenarios have all recently unfolded in what is undoubtedly a golden era of innovation in healthcare, scientists believe.
"Rapid change and unprecedented opportunity are now the hallmarks of the biopharmaceutical industry. But the future of health won't just be defined by the innovations we set out to create; it will be equally shaped by how we respond to – and anticipate – the challenges and consequences of each great advancement. The more we know, the more "known unknowns" are revealed. The boundaries of areas left for researchers to explore constantly expand, while possible applications of new technologies proliferate", says Albert Bouria, CEO of Pfizer.
"As we map out new healthcare territories, he continues, we must make sure each route leads back to patients. Large-scale changes driven by tech innovation are only as valuable as their impact on individual people's lives, lives we are constantly striving to improve and extend. I believe that the best way to protect and treat the people we all serve is to identify the potential benefits and the potential challenges of each new breakthrough. Leveraging innovation wisely will let us help more patients than ever before.
New therapies, new questions
Immuno-oncology
Consider the field of immune-oncology – a promising strand of cancer research that coaxes the body's own immune system to fight the disease. Unlike traditional approaches such as radiation therapy and chemotherapy, which kill healthy cells along with cancerous ones, immunotherapies target cancer cells by enhancing the body's own innate ability to fight off rogue invaders.
Immunotherapies have produced remarkable results in many, but not all, patients. The challenge of immuno-oncology is how each discovery unlocks new questions. The future fight against cancer will rest on understanding why some tumor cells may begin to resist these therapies, and developing novel treatment combinations that are based on the unique characteristics of tumors and individual patients. Finding answers to such complex quandaries requires true collaboration, which is why Pfizer is relentless in the pursuit to advance cancer therapy by cultivating the right partnerships.
Gene therapy
Another burgeoning area in healthcare is gene therapy, which targets a missing or non-functioning gene in a patient's DNA and adds or replaces it with a working gene that can make a needed protein. Thereafter, the affected tissues or cells that rely on that protein will be able to function normally. Ideally, the patient won't need ongoing treatment.
"While it might seem like a fairly straightforward "potential cure", we don't yet know how long the body will respond to gene edits, and we also don't know how people's immune systems will react to these interventions over time (or even initially, in some cases). Also, more than one gene is implicated in many diseases. We're confident that our partnerships with gene therapy specialists such as Spark Therapeutics will push the field forward", says Albert Bouria.
Personalised medicine
Personalised medicine tailored to the unique needs, genetic makeup and lifestyle of each patient will continue to be an important trend in healthcare. Moving past a one-size-fits-all approach could lead to fewer ineffective interventions and better outcomes. For instance, a recent PriceWaterhouseCoopers report found that using a genetic test on breast cancer patients reduced chemotherapy use by 34%.
"As we move into a healthcare landscape increasingly customised for some patients – both in treatment and service – we must also make sure that we're expanding access so that more patients can benefit from its advantages". Albert Bouria says.
A digital future
Artificial Intelligence
The computing power of AI will drastically cut the time scientists spend analysing data and testing molecular combinations as they tweak formulas and develop new ones. Already, pharmaceutical R&D labs are using AI to predict the relationships between biological mechanisms and disease symptoms. AI has the potential to improve the diagnosis and treatment plans of patients, too.
"But we must still be sure that expert human judgment can be applied to AI's findings. Massachusetts Institute of Technology (MIT) is a hotbed of AI discoveries, so its recent multi-million dollar initiative with Harvard to develop ethical standards in the field is a good example of matching an eagerness to advance AI with a commitment to also understanding its limits", scientists say.
Wearable digital devices
Data captured by these gadgets are playing an increasingly powerful role in healthcare. Not only are devices like the Apple Watch more ubiquitous, they are poised to become a valuable tool for incentivising healthy behaviour. This autumn, life insurance provider John Hancock said it would offer its policyholders an Apple Watch for just $25, provided they exercise regularly for the next two years. (Those who don't maintain the regimen will have to pay off the full price of the watch in installments.) And it's been reported that Aetna may be considering something similar.
Wearable devices can generate real-time data about patients and allow them to report their own subjective symptoms more accurately. Our Oncology business recently launched a free app, LivingWith, that helps cancer patients connect with loved ones, manage appointments and record how they're feeling. The app also syncs with fitness wearables, allowing patients to share a more complete portrait of their health with doctors. And for patients with haemophilia, the Rare Disease business developed HemMobile Striiv Wearable, a device for tracking activity and heart rate, and logging infusions and bleeding episodes. Such detailed information will truly allow healthcare providers to deliver personalised care, and also empower patients to assume a more active role in managing their own health.
"But as we embrace the potential of personal health data we must also be mindful of pitfalls we might encounter on the way to a more data-driven future. Privacy, of course, is of utmost importance. While data sharing can open the door to potentially transformative conveniences and benefits for patients, in the wrong hands, data can also expose patients to unnecessary risk and discrimination", Albert Bouria says.
In tech circles, it's been popular to embrace a "fail fast" mentality or to espouse the belief that "done is better than perfect". And while I certainly value iterative, lean start-up thinking, I also believe that the most meaningful changes in healthcare will come from the right blend of innovation and deliberation. As we eagerly push the boundaries of new discovery – and imagine the potential they have to give more patients personalised and improved care – we must simultaneously build mechanisms that explore each innovation through a prism of social, economic and political filters to better anticipate the consequences" he adds.
"With patients at the top of mind, I look forward to harnessing the promise of tech-driven discoveries and facing their attendant challenges, as we settle into this fascinating and very hopeful era in healthcare", Albert Bouria concludes.