BMW Vision iNEXT: a new set of values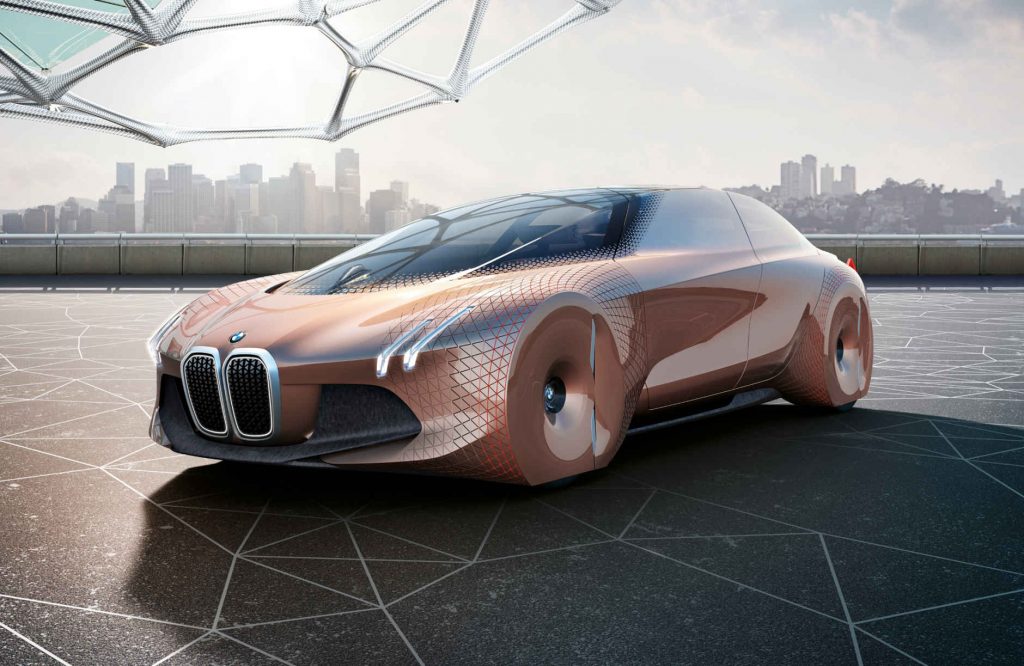 "This is the new normal: We will offer safe fully autonomous driving by 2021," declared Klaus Fröhlich, the BMW board member responsible for development. By 2025, Fröhlich claimed, BMW will offer 25 hybrid and electrified vehicles for sale, 12 of them fully electric.
Fröhlich was standing at a matte-copper and rose-colored car, the so-called Vision iNEXT, a four-person pure-electric SUV that allows drivers to either drive themselves in "Boost" mode or be driven in "Ease" mode.
The BMW Vision iNEXT has an oblong, interlinked double-kidney grille, large side windows, a long panoramic roof, and blue accent surfaces at the front, sides and rear.
"The focus of this car is not that it's electric; that's normal for us, we have been doing it since 2013," he said, referring to the i8 supercar and i3 economy car launched then. "We are now making what will be your favorite space."
The point of the conceptual exercise, he explained, was to explore a new set of values in a car. Rather than focusing on what has long been BMW's mantra—creating "the ultimate driving" machine—the Vision iNEXT instead highlights aspects of car travel that have nothing to do with driving.
With no combustion engine to require cooling, the kidney element now on the grill serves as an "intelligence panel" housing various sensors and radars.
"This car has to add something to the experience, something that is more about human connection," Fröhlich said.
BMW's star designer Adrian van Hooydonk designed the Vision iNEXT "from the inside out" to make sure his team remained focus on the comforts and helpful amenities BMW should be offering passengers. "It's high-tech, but it's ultimately human," he said that day. "Our customers who love driving don't mind letting the car drive for two or three hours on a long trip or commute, but people still want to feel something warm and comfortable and easy to understand."
The interior was inspired by boutique hotels, he said: "The materials we used, the textures, are sophisticated and sensual. It's about surfaces that are easy and inviting to touch."
In other words, automakers need to start thinking about their passenger seats the way airlines do: with convenience and personal luxury in mind.
"Autonomy has a big potential to fundamentally alter how people go from point A to point B from a business context," said Colin Nagy, the head of strategy for Fred & Farid, a global creative agency. "When you can potentially get in a car in New York and arrive at Chicago in the morning, you are looking at a business class experience. You need to think about what the cars are offering in terms of comfort."
Designed from the Inside Out
Indeed, the interior of the Vision iNEXT looks almost retro, with jewel-toned carpeting lining a cloth-covered lounge-like back seat. The wooden console and flooring in the front look faintly like something you'd buy at Ikea. Two captain's chairs in front are covered in something suede-adjacent; the long thin bench seat in the back, tall windows, and panoramic rooftop provide enough room for four adults to recline comfortably, drenched in daylight.
The front passenger seat has a headrest that folds back to encourage conversation with the back-seated guest; the flat dashboard includes two visible digital display panels and a steering wheel that can be pushed back when not in use. The color scheme was mostly neutral tones, with elements of brown, beige, and something BMW calls "Purus Rosé," accented in metallic bronze. There was also a center console in the front made with a cross-hatched pattern of light and dark wood; a crystal glass shell underneath the top layer of wood refracts incoming light to bathe the interior in light reflections. Could it feel like being inside a kaleidoscope? Yes, for better or worse.
When Performance Is Beside the Point
The vehicle will likely, according to Fröhlich, have a range approaching 300 miles; power equivalent to 600 horsepower; and a 0-60mph sprint of less than 4 seconds.
Those are roughly standard to what we see today with the Tesla Model X and Jaguar I-Pace SUVs. And it's worth noting that while BMW is perfecting consumers' new "favorite space," which isn't due out for several more years, Audi, Jaguar, Tesla, and Porsche are all producing pure-electric people-movers today.
Those brands will have all those years to improve the basics. "Range and speed are fundamentals are that still need to be addressed," said Rebecca Lindland, the executive analyst for Kelley Blue Book and Cox Automotive. "And it is a valid concern of whether BMW has something of a middle step they can give us while they work on the iNEXT."
But Fröhlich says that for the Vision iNEXT, performance specifications are beside the point. The key to winning the race to autonomy is giving consumers something nice to do with all that extra time on their hands.
Experts like Fred & Farid's Nagy agree.
"One of the biggest opportunities for this space is the media opportunity," he said. "If you have attention automatically diverted from eyes on the road to free space, that changes the dynamic of when it comes to entertainment."
Volvo and Tesla have led the field so far when it comes to general tech, with futuristic back-seat media systems and entertainment packages that were clearly high priorities for those brands to develop, he said.
And some of the things in the Vision iNEXT aren't extraordinarily revolutionary: Small screens hidden in the back seat are activated by touch and illuminated by hundreds of tiny lights; that's relatively simple technology that has been available at tech gadget stores for years. Cameras on the exterior assuming the job of the side mirrors have long appeared on conceptual cars as well, while Tesla has similarly touch-sensitive doors that open without the use of conventional locks already in production.
But it's fair to say that BMW, too, has set plenty of precedents. By the end of 2019 BMW will have already sold half a million of its electric vehicles worldwide. The Vision iNEXT comes with a sleek and special back-set projector screen that plays films on a wide, white paper book, far improved over the standard back-seat TV screens of today. And it has produced novel technology packages dating back to its iDrive system from 2001.
While that was initially criticized for being unintuitive at best, and distracting and dangerous at worst, it was undoubtedly the first infotainment program of its kind to offer highly connected driving and entertainment. It also gradually improved over time to be relatively good; there is such a thing as a learning curve, especially for far-reaching ideas.
"BMW has some very bright senior people who are studying and implementing real progress in mobility," Nagy said. "I don't think the vision for full autonomy is happening any time soon, but BMW has been very progressive."
Manufacture of the production version of the Vision iNEXT is slated to begin in 2021.
The pricing on the Vision iNEXT will be comparable to others of BMW's large SUVs.