The Metropolitan Art Collection On view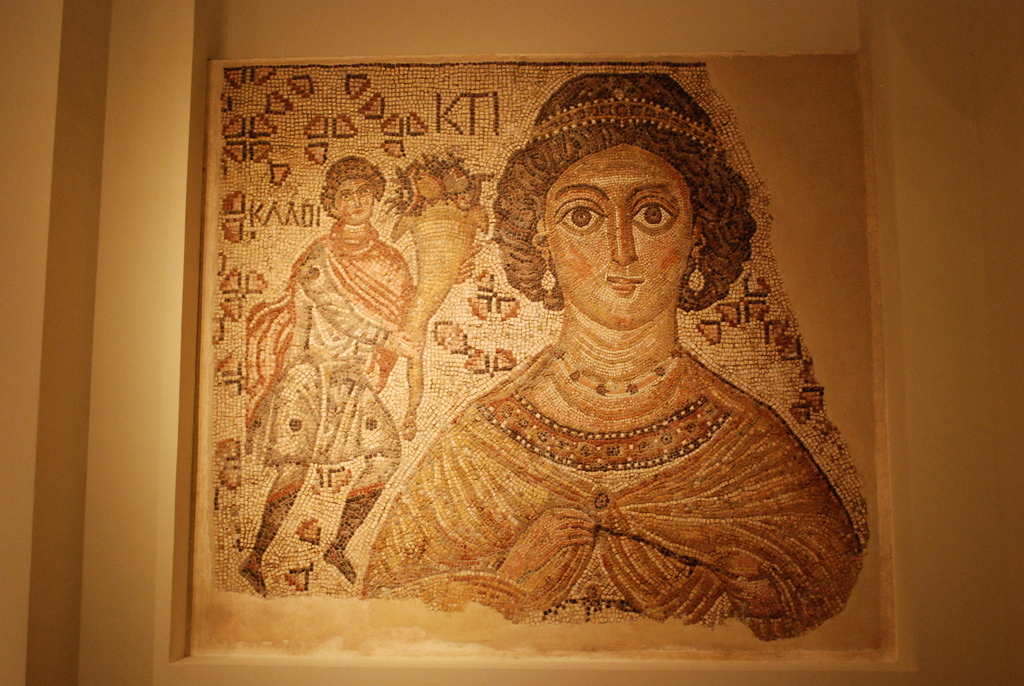 Fragment of a Floor Mosaic with a Personification of Ktisis (500-550) with modern restoration. Represents Byzantine culture.Medium: Marble and glass. Dimensions: 151.1 x 199.7 x 2.5 cm.
The bejeweled woman, holding the measuring tool for the Roman foot, is identified by the restored Greek inscription as Ktisis, a figure personifying the act of generous donation or foundation. The man with a cornucopia, originally one of a pair flanking her, has the Greek inscription "good" by his head, half of a text that probably said, "good wishes." The fragment, made of marble and glass tesserae (small pieces of colored material), is typical of the exceptional mosaics created throughout the Byzantine world in the 500s. The Metropolitan Museum, after acquiring the two figures independently, has restored them in accordance with a dealer's photograph showing their original arrangement while in storage before separation.
On view at The Met Fifth Avenue in Gallery 301
The Holy Family with Saints Anne and Catherine of Alexandria(1648),by Jusepe de Ribera (called Lo Spagnoletto) (Spanish, Játiva 1591–1652 Naples).Oil on canvas.Dimensions:209.6 x 154.3 cm
Spanish by birth, Ribera lived all of his adult life in Naples, which was ruled at the time by a Spanish viceroy. During his early years in Rome, he adopted Caravaggio's practice of working directly from posed models. In this work, figures drawn from everyday life are translated into compelling images of saints. Key to the impact of his paintings was his use of formal compositions derived from his study of Raphael. Ribera's art brings together in a unique fashion the two strands of seventeenth-century Italian painting: Caravaggesque naturalism and classical idealism.
On view at The Met Fifth Avenue in Gallery 610
The Palace of Westminster (1906–1907) by André Derain(French, Chatou 1880–1954 Garches).Oil on canvas.Dimensions: 78.7 x 99.1 cm; framed: 102.5 x 121 x 7.6 cm.
In 1905 and 1906, Derain traveled to London at thesuggestion of the art dealer Ambrose Vollard to paint the Houses of Parliament and the Thames, in changing light. As Derain later recalled, these canvases were
inspired by Claude Monet's own views of London, which were painted only a few years earlier and which had "made a very strong impression on Paris." The long, broken brushstrokes and bright bold colours of the present canvas signal the influence of the Neo-Impressionists Paul Signac and Henri-Edmond Cross, as well as that of Henri Matisse, with whom Derain spent the summer of 1905 in the south of France.
On view at The Met Fifth Avenue in Gallery 962