Breathtaking splendor of blossoming sakura: Uzhhorod, Ukraine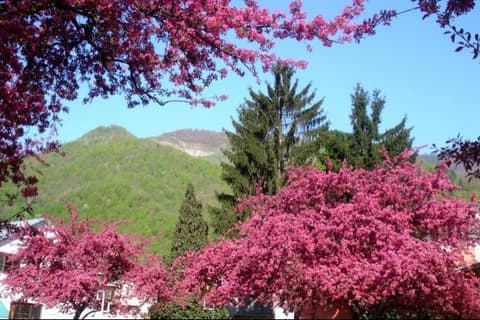 Warm weather has finally set in and nature is awakening from its long winter sleep. Zakarpattya region in the south-west of Ukraine is famous for its picturesque landscapes of fields, forests, orchards and vineyards. Mild weather of the region is favorable for lush vegetation. In the streets of Uzhhorod, the administrative center of  Zakarpattya region, you can see thousands of blooming trees and flowers.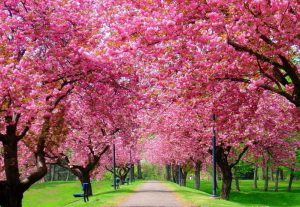 Uzhhorod is a tourist attraction, with its ancient castle, mini sculptures, splendid cathedrals and folk architecture. The streets of Uzhhorod are crowded with people in spring.
Anzhelika Pashchenko, a city dweller: Yes, really so. It's great to see the blossoming cherry trees. They blossom between mid-April and early May for a week or two. It's a time of renewal and optimism. The beauty is fabulous, no words can express it.
This sounds very poetic.
 Anzhelika Pashchenko: Not a shadow of exaggeration. In the time of blossoming of Japanese cherry trees, Uzhhorod turns into a city of art. Under almost every cherry tree sits a painter with an easel and paints the city in pink.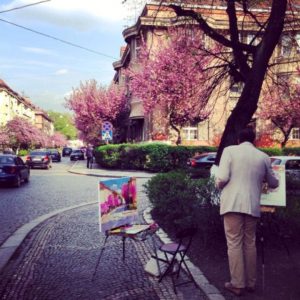 On these days, numerous art events are held in Uzhhorod: spring exhibitions, literary, musical, dance evenings, theatrical performances, contests, and master classes. It's our annual Sakura-fest matched to cherry blossoms.
How did sakura trees get to your city? Uzhhorod is very far from Japan.
 Anzhelika Pashchenko: A legend says that once a Japanese delegation visited Franz Joseph, Emperor of Austria-Hungary. One of their gifts was sakura seedlings. Sakura is a symbol of Japanese culture. For the Japanese, it is a tree of philosophers, poets, and thinkers.
Oh, how interesting!
 Anzhelika Pashchenko:  Local thieves thought that the trees were very valuable, since they were brought from such a distant land. They stole the seedlings and planted them. In spring, the thieves were overjoyed to see their trees covered with beautiful pink multi-petaled flowers.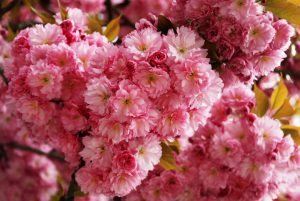 But when the blossoms fell, there was nothing left on the trees but young leaves. The thieves gave up and left the trees to the city.
How did the Japanese heat-loving trees take roots in this region?
Anzhelika Pashchenko: Our soils are fertile, our climate is mild, with rather warm winters. When sakura blossoms, Uzhhorod turns into a flower paradise. At this very time, magnolias, Japanese quinces, and Chinese apple trees start blooming. The beauty and fragrance are ineffable!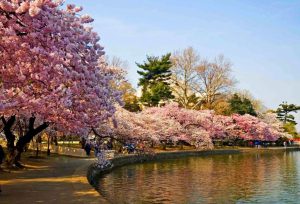 You should be happy to live among this fascinating beauty. To delight in it. And you needn't take expensive trips to Japan.
 Anzhelika Pashchenko: You're right. In former times, sakura blossoms were perceived as an exclusively Japanese traditional spectacle. And now people of different counties can enjoy this miracle. Sakura grows almost all over the world, including Ukraine.
I'm sure you can tell me something about 'hanami".
 Anzhelika Pashchenko: Well, I'll try to. Though my knowledge is rather poor, I'd say. As far as I know, hanami or "flower viewing" is the Japanese traditional custom of enjoying the transient beauty of flowers. Poets, inspired with the pink cherry blossom, create traditional Japanese poems called haiku. Most often, haiku are verses containing several units, each of them consists of three short non-rhymed lines. Contemplating the physical world, poets try to see things deeper, to comprehend the very nature of being. Haiku restore in our mind the beauty of springtime, the fleeting beauty of sakura. I enjoy haiku. Listen to one of my favorite haiku.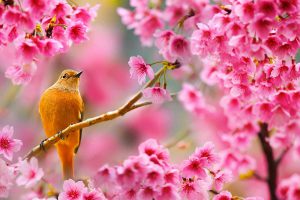 "The bell fell silent in the distance.
But the scents of flowers
Are carrying its echo.
My heart too
Is floating in the air
Together with cherry blossoms."
Many thanks, Angela. Our talk was so interesting. And the verse was really beautiful.