The 2019 BNEF Summit in NYC: a new milestone in the development of the modern world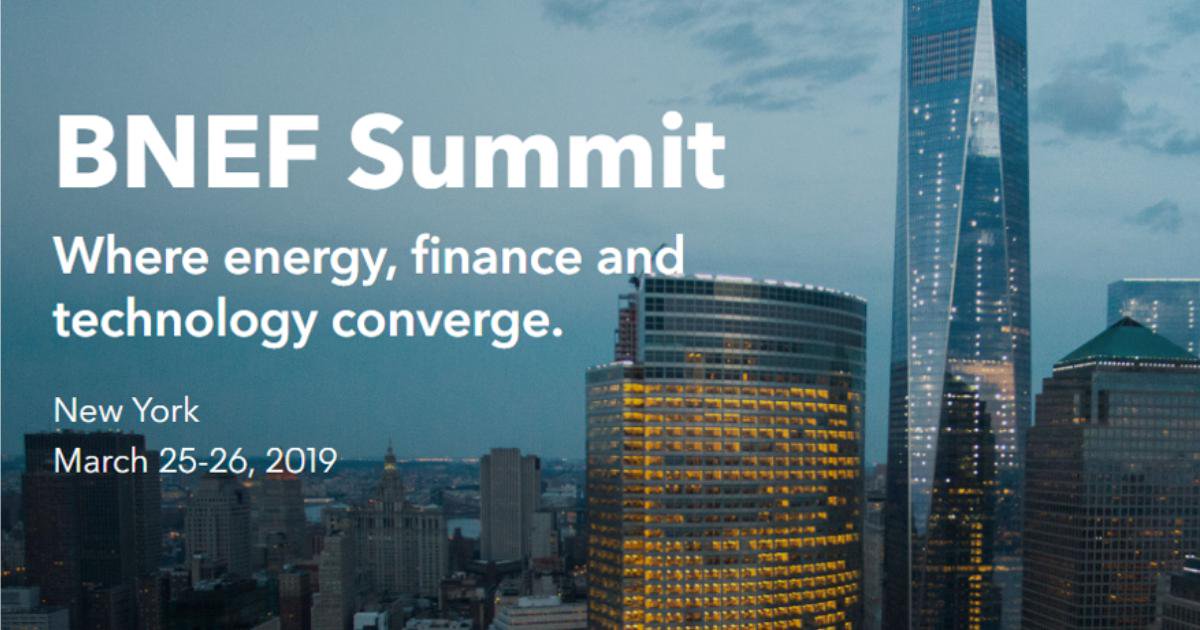 The 2019 BNEF Summit in NYC is a new milestone in the development of the modern world. The Summit considered a number of the most important issues of the present and future.
Michael Bloomberg Calls for Leadership from Utility Sector in Global Decarbonization Efforts
Michael R. Bloomberg, founder of Bloomberg LP and Bloomberg Philanthropies, announced at the BloombergNEF (BNEF) Summit plans for a new Decarbonization Tracker for utilities. It will track the progress made by utility companies transitioning away from fossil fuels, as part of the larger global effort to reduce carbon emissions to levels in line with those established by the Paris Agreement.
Bloomberg was joined on stage by executives from Xcel Energy and ENGIE, two utility companies that have both made commitments to decarbonization.
"Utilities have a critical role to play in reducing the emissions that drive climate change – and stopping the destructive effects it is already causing," said Bloomberg, who also serves as UN Special Envoy for Climate Action. "We've long known that replacing coal with clean energy is good for our health, but increasingly, it's good for our pocketbooks, too. The trouble is: we don't have access to data that would reveal how utilities are doing in reducing greenhouse gas emissions. Thanks to the leadership of companies like Xcel Energy and ENGIE, the Decarbonization Tracker will help change that."
The Decarbonization Tracker will    provide clear metrics that demonstrate each company's progress in converting to clean and renewable energy sources – serving as a useful tool for the utility sector, as well as investors seeking to adhere to recommendations made by the Financial Stability Board Task Force on Climate-related Financial Disclosures (TCFD). With a deeper understanding of the financial implications of the reliance on unsustainable energy sources like coal, they will then be able to better align their business plans and investment strategies with long-term climate goals.
Bloomberg's announcement supports his continued leadership on global climate-finance efforts, which is strengthened through his role as chair of the TCFD, as well as the UN-backed Climate Finance Leadership Initiative, which seeks to scale up private sector investments in climate solutions.
Ben Fowke, Chairman, President and CEO of major U.S. utility Xcel Energy, which last year announced its plan to provide 100 percent carbon-free electricity by 2050 said, "As a national leader in renewable energy we're committed to providing our customers with more low-cost, clean energy while working toward our 100 percent carbon-free vision. Our carbon reduction goals are bold – the most ambitious in the industry – and we're proud to advance this clean energy transition."
Grzegorz Gorski, Managing Director of Power Generation at major international utility ENGIE, which is in the process of selling or closing its remaining coal plants said, "ENGIE strategy is to be the leader of the zero-carbon transition. With exits and closures of our coal fired power plants, over the last 4 years, we reduced share of this technology in our fleet from 13 to 6%. We massively invest in renewables, aiming at adding 9GW of new capacity in the next 3 years. We are also helping our clients to become zero-carbon, reducing their consumption through energy efficiency, signing green corporate PPAs with them and installing decentralized renewable generation on their premises."
The Decarbonization Tracker for utilities will be developed in consultation with key stakeholders, and is slated to be released in full at the UN Secretary-General's Climate Summit in September 2019.
Lithium-ion batteries and offshore wind are at the center of the unfolding low-carbon energy transition
Two technologies that were immature and expensive only a few years ago but are now at the center of the unfolding low-carbon energy transition have seen spectacular gains in cost-competitiveness in the last year.
The latest analysis by research company BloombergNEF (BNEF) shows that the benchmark levelized cost of electricity, or LCOE, for lithium-ion batteries has fallen 35% to $187 per megawatt-hour since the first half of 2018. Meanwhile, the benchmark LCOE for offshore wind has tumbled by 24%.
Onshore wind and photovoltaic solar have also gotten cheaper, their respective benchmark LCOE reaching $50 and $57 per megawatt-hour for projects starting construction in early 2019, down 10% and 18% on the equivalent figures of a year ago.
Elena Giannakopoulou, head of energy economics at BNEF, commented: "Looking back over this decade, there have been staggering improvements in the cost-competitiveness of these low-carbon options, thanks to technology innovation, economies of scale, stiff price competition and manufacturing experience.
"Our analysis shows that the LCOE per megawatt-hour for onshore wind, solar PV and offshore wind have fallen by 49%, 84% and 56% respectively since 2010. That for lithium-ion battery storage has dropped by 76% since 2012, based on recent project costs and historical battery pack prices."
The most striking finding in this LCOE Update, for the first-half of 2019, is on the cost improvements in lithium-ion batteries. These are opening up new opportunities for them to balance a renewables-heavy generation mix.
Batteries co-located with solar or wind projects are starting to compete, in many markets and without subsidy, with coal- and gas-fired generation for the provision of 'dispatchable power' that can be delivered whenever the grid needs it (as opposed to only when the wind is blowing, or the sun is shining).
Electricity demand is subject to pronounced peaks and lows inter-day. Meeting the peaks has previously been the preserve of technologies such as open-cycle gas turbines and gas reciprocating engines, but these are now facing competition from batteries with anything from one to four hours of energy storage, according to the report.
Tifenn Brandily, energy economics analyst at BNEF, said: "Solar PV and onshore wind have won the race to be the cheapest sources of new 'bulk generation' in most countries, but the encroachment of clean technologies is now going well beyond that, threatening the balancing role that gas-fired plant operators, in particular, have been hoping to play."
Offshore wind has often been seen as a relatively expensive generation option compared to onshore wind or solar PV. However, auction programs for new capacity, combined with much larger turbines, have produced sharp reductions in capital costs, taking BNEF's global benchmark for this technology below $100 per MWh, compared to more than $220 just five years ago.
Giannakopoulou said: "The low prices promised by offshore wind tenders throughout Europe are now materializing, with several high-profile projects reaching financial close in recent months. Its cost decline in the last six months is the sharpest we have seen for any technology."
Although the LCOE of solar PV has fallen 18% in the last year, the great majority of that decline happened in the third quarter of 2018, when a shift in Chinese policy caused there to be a huge global supply glut of modules, rather than over the most recent months.
BNEF's LCOE analysis is based on information on real projects starting construction and proprietary pricing information from suppliers. Its database covers nearly 7,000 projects across 20 technologies (including the various types of coal, gas and nuclear generation as well as renewables), situated in 46 countries around the world.
The initiative that will scale up demand for much-needed efficient and clean cooling systems
Basel Agency for Sustainable Energy and Kigali Cooling Efficiency Program launch a new initiative that will scale-up demand for much-needed efficient and clean cooling systems. Cooling as a Service (CaaS) is an innovative pay-per-service model for cooling, overcoming key market barriers to implementing clean and efficient cooling in buildings and industry, such as upfront investment and ongoing servicing costs.
The 1.6 billion air conditioning systems in use globally consume 2000 Twh of electricity every year, the equivalent of 760 mid-sized coal plants. This will more than triple by 2050, equal to China's electricity demand today.  Human-made hydrofluorocarbons (HFCs) used in cooling are thousands of times more potent than carbon dioxide in causing global warming. These must be phased-out and replaced with existing alternatives as outlined by the Kigali amendment to the Montreal protocol. The market for this transition is worth 6.9 trillion USD over the next 30 years according to the IEA Future of Cooling report.
"We are hoping to scale up a financial strategy for cleaner and more efficient cooling systems, to support the goals of the Kigali amendment to the Montreal Protocol. The global market for replication of our model is immense and we are excited about what comes next.", said Daniel Magallón, Managing Director of BASE.
CaaS offers a pay-per-service model with integrated financial tools to recapitalize technology providers who own, maintain and operate the equipment, thus aligning financial needs with support for climate change mitigation. Providers optimize the operation of the equipment to reduce running costs, and customers benefit from the lower life-cycle cost of the most efficient technologies on the market. CaaS can also encourage manufacturers of cooling technology to design for reuse rather than obsolescence, thus supporting the circular economy.
In March 2019, BASE and K-CEP's CaaS model was recognized as one of the years' most innovative new financing instrument by the Global Innovation Lab for Climate Finance. "Investors in the Lab network picked CaaS because they see potential for it to help drive transformation in this crucial sector," said Dr. Barbara Buchner, Head of the Global Innovation Lab for Climate Finance.
BASE and K-CEP are launching for the CaaS Initiative, which aims to mainstream the model among investors, providers and key stakeholders. The Initiative will institutionlize CaaS through an alliance, standardize mechanisms to help the private sector implement the model; and demonstrate CaaS in flagship buildings around the world.
"Cooling as a Service can help the much needed transformation of the cooling sector so that the cooling needs of consumers, businesses and governments can be met without blowing the world's carbon budget", says Dan Hamza-Goodacre, Executive Director of K-CEP.